If you are looking for Ethereum Hosting, you've hit the jackpot. In this article, we will present the 10 Best companies to buy hosting with Ethereum.
Since the first mention of cryptocurrency to this day, the world has come a long way. Today, more and more people use cryptocurrencies or "digital money" to pay for things online.
Ethereum is a programmable blockchain that has a native cryptocurrency called Ether (ETH). If you are wondering "What can I buy with Ethereum" or "Where can I spend my Ethereum" then let me tell you that one of the things you can use it for is to pay for web hosting.
If you're in need of a good hosting company but you'd prefer paying it via Ethereum, you're in the right place. Below, you'll find a list of top 10 hosting companies that accept Ethereum.
Let's break them down one by one, and see what each has to offer.
CHECK ALSO: Buy Hosting With Bitcoin
Ethereum Hosting – Table of Contents
AbeloHost is a web hosting company that focuses on providing offshore hosting with maximum data security and customer privacy.
They promise to protect and value your data privacy, protecting you from anyone's attempt to retrieve your data and possibly abuse it.
AbeloHost offers the following:
Offshore Hosting
Maximum Data Privacy
Different Offshore Shared Hosting Options
Different Offshore VPS Solutions
Ethereum Payments
A wide range of different packages and solutions will help you find exactly what you need for your business. You'll be able to feel almost like you've chosen a customizable package since you'll be able to choose:
RAM Memory Size
SSD-Hosted Webspace
Bandwidth
Number of IP Addresses
In addition, you'll be provided with instant setup, 24/7 customer support, as well as a 30-day money-back guarantee. They even have a daily backup plan that starts at only €5.00.
You'll be able to pay for their web hosting services using Ethereum via CoinGate and CoinPayments – cryptocurrency payment processors.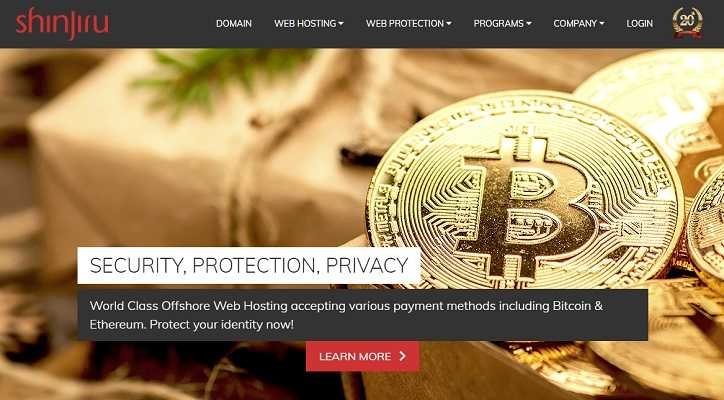 Shinjiru is a web hosting company founded in 2000, that has been running strong since then. They are based in Malaysia and their mission statement is "Building Trust Online Through Continuous Innovations".
They offer numerous benefits and features that would be worth investing your money in:
8 Offshore Hosting Locations
Support Team Operating 24/7
Maximum Data Privacy
Anonymous Payment
Fast Loading Time
Ethereum Payments
Most importantly, they offer various web hosting plans, to ensure every business or individual finds exactly what they're looking for.
In addition, almost all of their plans are budget-friendly and generous. For example, their basic plan that is $3.95 monthly offers:
100GB Web Space
Unmetered bandwidth
1GB Memory
30 Days Money Back
Plus, you get to pay for their services via Ethereum which makes the whole thing even better for you.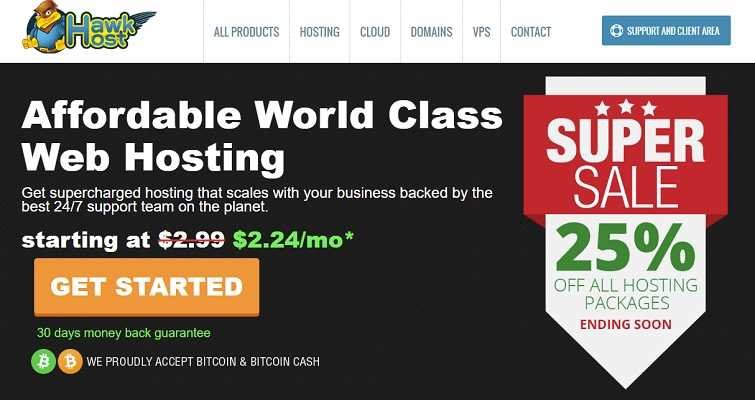 HawkHost is a web hosting company that likes to point out that they're "beyond experienced" since they've been operating successfully since 2004.
They're based in Canada but provide hosting in Dallas, Los Angeles, New York City, Amsterdam NL, Singapore SG, Hong Kong China, and Toronto CA.
The features that make them one of the top hosting companies you can choose are:
Shared, Reseller, Semi-Dedicated, and Virtual Hosting
24/7 Support Team & Free Migration Support
Cloudflare Optimized
LiteSpeed Web Servers
SSD Disks
Ethereum Payments
They too offer a 30-day money-back guarantee, and they have pocket-friendly options for everyone.
You'll be able to choose between different plans and decide which one fits your needs best. Make sure to read about the features, applications, technical specifications, and reviews for each plan.

Another web hosting company that you need to check out is HostSailor. It's considered to be one of the best and most reliable hosting companies at the moment.
HostSailor will offer you all the features you might be looking for in a web hosting company:
VPS, Dedicated Server, and Shared Web Hosting Plans
Personalized 24/7 Customer Support
highest Security Levels
Free SSL Certificate
99.9% Uptime
60-Day Money-Back Guarantee
Ethereum Payments
Host Sailor is convinced you'll find their services satisfactory, which is why they offer a 100% money-back guarantee. They point out that they offer "service beyond what is the industry standard".
In case you've already had experience with them, we invite you to write about it in the comments section and share it with the rest of us. Use Write Scout or Grammarly in case you need help with your writing.
Their wide variety of plans, solutions, and platforms will ensure you find the right match for your needs.
They allow payments via Ethereum and were one of the first companies to accept bitcoins as a payment method.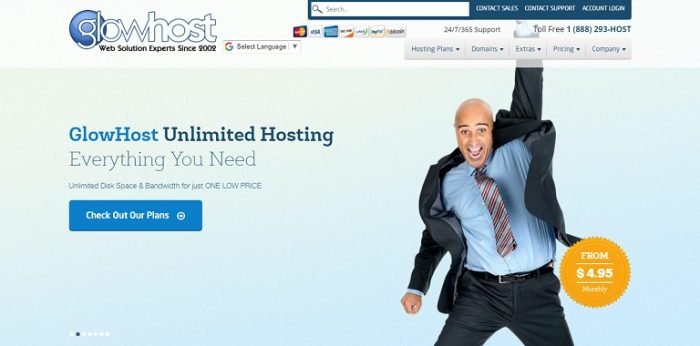 GlowHost has been providing web hosting solutions since 2002.
The company has servers available in 18 geographically separated data centers across the globe. That means they can deliver their services to you, wherever you are, at extremely high speed.
The hosting company's most remarkable features include:
Shared, VP, and Dedicated Hosting
24/7/365 Customer Support
91-day Money Back Guarantee
Website Transfer Service
Daily Backups
Free Domain Name
EPA Certified Green Power Partner
Ethereum Payments
"Glow Host is a hosting company I trust, thanks to its security policy and a wide selection of plans. On top of all that, they're environmentally friendly and have been donating to several charities," says Morgan Faber, a writer at Top Essay Writing.
This ethereum hosting company promises to "work with you until you are 100% satisfied". We believe that it is a web hosting provider worth dealing with.
HosterBox is a web hosting company based in Canada, created in 2005. They operate in more than 170 countries around the world. They offer services "for everyone from entrepreneurs to webmasters".
Their services include:
Shared, Reseller, Dedicated, VPS & E-Commerce Hosting
99.9% Uptime Guarantee
Security and Data Protection
30-day Money-Back Guarantee
Perl, Ruby on Rails, Python, SSI, Curl, and GD Support
Ethereum Payments
HosterBox offers affordable and versatile solutions for you to scale with your business. They'll also help you move from package to package as your business grows and your needs change.
Abaco Hosting was founded in 2007, which makes them an experienced and trustworthy company. Their hosting solutions are designed to fit the need of any business, regardless of their size or industry.
They offer solutions that include:
Cloud Website Backup
SSL Certificates
Sitelock Website Security Plans
Ready-Made Combo Plans
Ethereum Payments
Their plans will allow you to choose the features you need the most.
However, you can take a look at their ready-made combo plans that combine multiple features you might be needing. These combinations offer a great discount on several services you'd pay more for if purchased individually.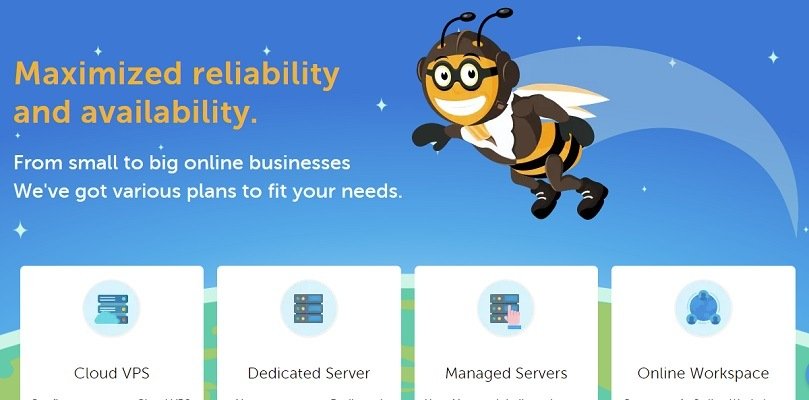 Snel.com was founded in the Netherlands, in 2010. During their decade of dedicated work, they've managed to provide smart and simple web hosting solutions.
Their company motto revolves around honesty, extraordinary professionals, and building friendly relationships with their customers.
Snel.com has a unique brand identity and they offer:
A wide variety of web hosting plans
Hardware RAID
100% Uptime
Ethereum Payments
They also offer the possibility of building a customized plan in case you don't find exactly what you need in their pre-made plans. That means you'll be able to consult an expert and get your Custom Server plan. They vow to make server management easy for everyone.
Temok is a web hosting company that's been in business since 2014. it might seem like they're a young company, but they've already gained the trust of thousands of customers thanks to their team of dedicated professionals.
Temok states their mission is to "help their clients improve productivity, build their brand, increase sales, reduce costs, and retain customers", and that's exactly what they're doing thanks to the options they offer:
Offshore Hosting
Shared, Reseller, and VP Hosting
Free SSL
24/7 Technical Support
Ethereum Payments
They offer numerous detailed plans and options to choose between. Some features are included in every plan:
unlimited bandwidth
unlimited domain names
99% Uptime Guarantee
free setup
You can choose the billing cycle that suits your needs and find a plan that will help you move forward with your business.
Finally, the last web hosting company on our list is AltusHost. They're available in the Netherlands, Switzerland, Bulgaria, and Sweden.
The company has been operating successfully since 2008.
The features they offer include:
SSL Certificates
24/7 Technical Support
Advanced Security & Protection
Ethereum Payments
Apart from their pre-made plans that will offer a solution you might find suitable for your needs, they strongly encourage asking for a Custom Server that will fit your business perfectly.
What is Ethereum
Ethereum is a decentralized platform that runs smart contracts: applications that run exactly as programmed without any possibility of fraud or third party interference. Ethereum is a distributed public block chain network that offers a programming language which developers can use to build and deploy decentralized applications.
Ethereum was proposed in 2013 by Vitalik Buterin, a cryptocurrency researcher and programmer. Development was crowdfunded in 2014, and the network went live on 30 July 2015, with 72 million coins premined. Ethereum since then has become the largest and most well-known decentralized application platform, powering thousands of decentralized applications.
Ethereum has one of the largest developer communities in the world. The Ethereum Foundation, a non-profit organization, provides support and funding for Ethereum's research and development. The foundation is overseen by a team of 3 full-time employees and 11 part-time employees.
The Ethereum Virtual Machine (EVM) is a Turing complete software that runs on the Ethereum network. It enables anyone to run any program, regardless of the programming language given enough time and memory. The EVM makes the creation of blockchain applications much easier and more efficient than ever before.
Ethereum Hosting – Final Thoughts
If you're looking for hosting companies that accept Ethereum as a payment method, look no further. The list above provides the 10 best Ethereum hosting companies you can choose between.
All you need to do now is analyze each of the company's offers until you find the plan that you need to satisfy your needs. In case you want to share your experience with some of the hosting companies, but need help with writing, Classy Essay or Studyker can help you out.
Also, if you feel that this Ethereum Hosting Article has helped you, feel free to share it with the rest of the blogging and cryptocurrency communities.