If you are looking for a GlowHost Review, you've come to the right place. Here's my story on how I stumbled upon this hosting provider and what my experienced are with them.
I've been running a small e-commerce website for a couple of years, and I've gained a lot of experience by using a broad range of services from many hosting providers over the years.
Due to a sudden increase in the amount of traffic, my website loading speeds were severely affected.
So I wanted to give a try to a new hosting provider called GlowHost to see if they could help me with my website's performance and handle a significant increase in traffic.
I will be sharing a concise review of the hosting company and their services below to help you decide if they are really worth it.
But before we jump in, here's a quick summary of my GlowHost Review
GlowHost Review
Name: GlowHost
Best for: Users who are looking for a cheap and reliable hosting provider who accepts crypto as a form of payment.
PROS
Free Domain Registration
Free Private SSL Certificate
Free SEO Tools
Free Dedicated IP Address
24/7 Technical Support
Latest Caching Technology
Instant Setup and Activation
Scalable Hosting
Accepts Cryptocurrency
100% Network Uptime Guarantee
91 Day Money Back Guarantee
Website Builder
CONS
High Price Point of Packages Compared To Alternatives
No Solutions For Full Anonymity
Mixed reviews on Trustpilot and other hosting review platforms
What is GlowHost?
GlowHost is a website hosting company that has been in operation for the last 20 years. They have been providing trusted solutions to hundreds of thousands of clients all over the world through 18 high-performance datacenters located in Europe, Japan, Mexico, the USA, Hong Kong, Australia, and Canada.
GlowHost has built a positive reputation by offering high-quality services and focusing all their efforts on redundancy, reliability, performance, and speed of delivery to satisfy their clients.
Their customer support team consists of some of the best industry experts to help you with all your hosting needs to ensure exceptional customer service experiences.
GlowHost has been promoting usage of environmentally friendly energy sources through their Green Web Hosting Initiative since the company's beginning 15 years ago, because of which they have become popular amongst users who want to support clean and viable energy solutions.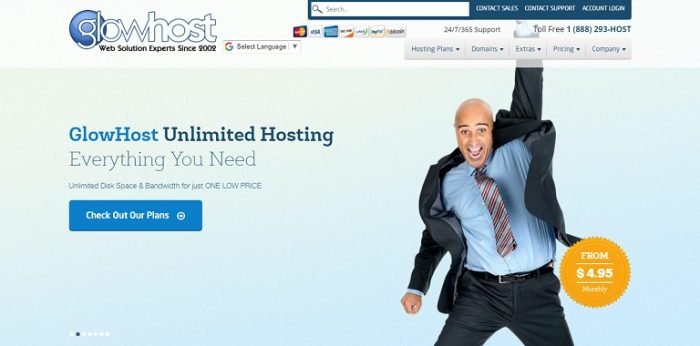 Plans & Pricing
GlowHost offers many hosting options, including shared hosting, semi-dedicated hosting, reseller hosting, and elastic sites hosting along with their managed dedicated servers and virtual dedicated server plans.
Shared Hosting – Their entry level shared hosting plan starts at just $3.47 and goes up to only $12.57 for a whole slew of added features and functionalities to make it worth your while.
Semi-Dedicated Hosting – The semi-dedicated server hosting plan starts at $49.99 and goes all the way up to $149.99, offering increased disk space with each new package.
Reseller Hosting – Glow Host's reseller hosting plan starts at $24.95 and goes up to $129.95, divided into 5 levels with each level offering increased disk space and number of cPanel accounts.
Elastic Site Plan – This plan starts at just $13.49 and goes up to $54.99, providing customers with a service between Managed VPS and Dedicated Server for fulfilling their needs with an easy solution.
Managed Dedicated Servers – GlowHost offers 4 different dedicated hosting and managed server plans, starting from $129 and going all the way up to $299.
Virtual Dedicated Server – They offer 3 different packages for their virtual dedicated server services, starting at just $49.95 and going up to $149.95, offering more disk space and CPU cores as you keep leveling up.
GlowHost Best Features
Here are the best features of GlowHost:
Free Domain Registration – GlowHost offers free domain registration with purchase of any plan from a selection of different options depending on your hosting needs. I was very happy that they offered this service free of cost because hosting companies rarely offer free domains.
Free Private SSL Certificate – These certificates make sure that information on your websites remains safe, secure, and private at all times to prevent sensitive information from being compromised in any manner. With their price point, I expected them to include a free domain but these certificates were definitely an added bonus.
Free SEO Tools – GlowHost offers many free SEO tools for helping you in generating traffic and managing optimization processes through an easy to use dashboard.
Free Dedicated IP Address – You can avail the many benefits of a dedicated IP address free of cost. This helps in significantly improving site speed and security.
24/7 Technical Support – The staff was super helpful with their technical support services and assisted me with all problems to ensure a memorable customer experience which felt very nice when compared to the many alternatives in the market.
Optimum Cache – GlowHost uses cutting-edge caching technologies to improve responsiveness of your websites and ensure fast loading time to give you an edge over competitors.
Instant Setup and Activation – I was able to set up and activate my website instantly without any hassles due to the amazing support of their extremely courteous and friendly staff.
Scalable Hosting – With a variety of different hosting options and plans, all kinds of users can make use of Glow Host's scalable hosting services. Their elastic site package is particularly great in this regard for its scalability.
100% Network Uptime Guarantee – GlowHost prides itself on its 100% network uptime guarantee. They make sure your website keeps running at maximum performance even through long periods of hardware failure and any scheduled maintenance activities by utilizing their redundant infrastructure.
91 Day Money Back Guarantee – GlowHost offers a 91 day money back guarantee to build a bond of trust with their customers. I felt at ease using their services because I knew I could get my money back if I wasn't satisfied with their performance at any time.
Accepts Cryptocurrency – They offer payments through Bitcoin for paving the way to a decentralized future with mass crypto adoption.
Website Builder – You can create your own customized websites with a search engine optimized design by using their site builder with a free trial and affordable package plans.
You might want to check our lists on Ethereum Hosting: TOP 10 Companies to Buy Hosting With Ethereum and Buy VPS With Bitcoin: The Top 10 List. The most popular of them all with over 40,000 views is Top 10 BEST Companies to Buy Hosting With Bitcoin [2022].
GlowHost Reviews
Here is a curation of the rating scores GlowHost receives (until now) on popular hosting review platforms, from paid customers and industry experts.
On SiteJabber people seem to love them..
The same goes on WebsitePlanet. GlowHost is ranked 112 from almost 4000 hosting providers..
Again on hostadvice GlowHost has a total score of 4.8 from 17 reviewers..

On Trustpilot we see mixed reviews and a score of 3.3 out of 5. Of course, there are only 5 reviews, so not sure what's going on here..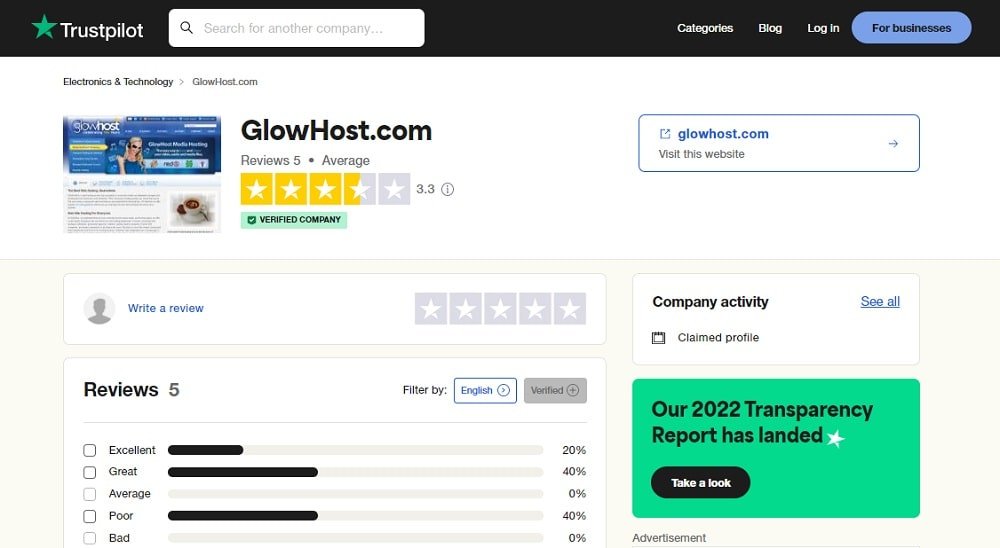 What do you think? Does GlowHost pass your review or not?
Final Take
I was surprised by many of the freebies that GlowHost offered with even their most basic and standard packages. While the prices are a little higher than what you'd expect, their reliable services, optimal performance level, and fast website loading speeds definitely make their high price point worth it.
I was satisfied with Glow Host's solutions and was particularly impressed with their prompt customer service, which made the experience go that much smoother.
Keep in mind that even if their standard prices are high, their high-quality services with a great uptime more than make up for it.