Nowadays, there is plenty of information about people online, and malicious people use them to carry out inappropriate activities. If you want to keep your identity anonymous while hosting a website, this article will guide you. Furthermore, we are going to share the best anonymous web hosting platforms.
Anonymous web hosting can help you build an untraceable website. It will protect your identity and keep your privacy from prying eyes.
The problem is finding the right anonymous web hosting provider because services are different, and with a minor loophole, someone can track your identity. Below, we list the best web-hosting providers to protect your identity entirely online.
Best Anonymous Web Hosting Companies That Accept Cryptocurrencies
1. Shinjiru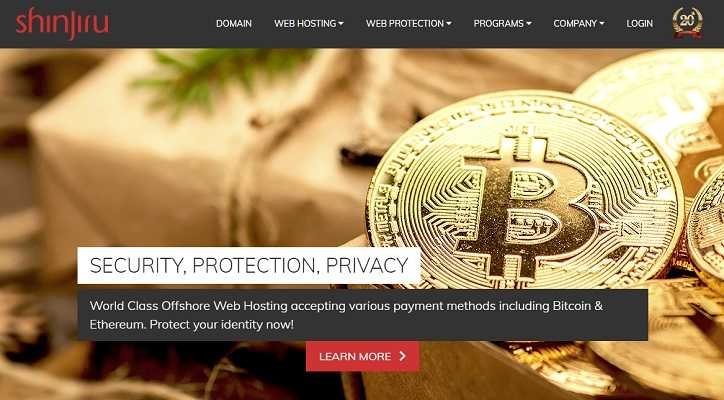 Shinjiru has been in existence since 2000, and it offers 100% anonymous web hosting with eight offshore locations to host websites. They also have their anti-DDoS attack network, virtual private server packages, and dedicated server options.
Shinjiru will allow you to pay for hosting using anonymous cryptocurrencies like Bitcoin and other regular methods. You will also get a free domain name and protection for your information using their private data protection feature.
Shinjiru has many hosting plans, including a dedicated WordPress plan. You can also migrate your website to Shinjiru if you have a website already. Migration is free, and their technical team will handle the migration for you.
Their hosting plans also come with a 30-day money-back guarantee if you don't like the service.
2. Orange Website
Orange Website has been offering anonymous web hosting since 2009. They encourage freedom of speech and accept payment in Bitcoin.
You will sign up anonymously on the website, and it has an uptime of 99.9%. Orange Website has different hosting plans, including dedicated server hosting and VPS. After payment, you will get access to a cPanel, a free SSL certificate, and a web builder.
They have customer support available 24/7 and a thirty days money-back guarantee if you pay in Bitcoin or through PayPal.
If you want to publish content without the fear of censorship or anyone tracking your information, the Orange Website is one of the best anonymous web hosting providers.
3. AbeloHost
AbeloHost was created in 2012, and from the beginning, the company's mission has been to provide offshore web hosting services. The platform is one of the best offshore hosting companies with over 5000 domains.
In addition, they take their clients data privacy and safety in high regard. You can create any content on your website using AbeloHost services, and they also own all of their hardware which means no one has access to it, only company staff.
AbeloHost is available in multiple languages, including English, Japanese, and Spanish. They have different web hosting plans with a unique WordPress and dedicated hosting plan.
Setting up is easy; you can also move your website to AbeloHost if it exists already. Uptime is 99.95 percent which Is okay, and they also accept payment in cryptocurrency.
4. Bitcoin Web Hosting
BitcoinWebHosting offers anonymous web hosting services and payments in Bitcoin, Litecoin, Ethereum, etc.
They have a 99.99% uptime with 15 server centers on different continents. In addition, you will get free domain registration and a free SSL certificate when you choose any of their web hosting plans.
The company's priority is to provide anonymity for their customers, and it is not surprising that they only accept payments in cryptocurrency.
They have a cPanel used to install any hosting app or CMS you might need. You will also get enough storage and unlimited bandwidth regardless of the hosting plan.
Pricing is clear and transparent on the website, and you can get your crypto back after 45 days of initial payment.
5. Palexweb.com
Palexweb was established in 2015 with data centers across Europe. They offer shared hosting, VPS, and dedicated hosting; customers can also pay in Bitcoin to keep their identity anonymous.
Unfortunately, you can't get a refund if you pay for any of their services which don't help beginners. There are also some reports that your one-year plan can be suspended if you don't visit for a while.
They have a 99.98% uptime with unmetered bandwidth. They have a cPanel that is easy to use, and they offer unique WordPress plans. There are different affordable web hosting plans and features you can benefit from on Paxelweb.
6. The Onion Host
The Onion Host is one of the best anonymous web-hosting providers with excellent services. Onion Host was founded in 2018, and since then, they have had over 2000 customers. They have their servers around Europe, making their service fast in the continent.
The online web host will give you a free SSL certificate and unmetered bandwidth. In addition, they have a 99.9% uptime with DDOS protection for your website.
They don't offer a free domain like other companies listed above, but you can get your money back after a month if you don't like the service. The platform doesn't have a web builder, and you need to know web design or hire an expert. It will be difficult for beginners to set up their website using Onion Host.
Like other hosting platforms, they have a cPanel, but it lacks a website builder. They have shared hosting plans as well as dedicated servers and VPS. Their customer support is available 24/7, and they help with any technical problems.
7. Virtual Systems (VSYS)
Virtual System VSYS is an offshore web hosting platform that focuses on keeping the identity of its clients private. They also offer paramount protection against DDoS attacks. You won't have to share too much information about yourself while signing up, and payment is in Bitcoin.
You share minimal information about yourself that way from payment to services, and your data is protected. Migration to VSYS is quick and efficient if you already have a website. They have a dedicated team of experts that can help you.
The platform has different hosting plans starting from shared hosting to dedicated servers. They have a 99.97 percent uptime with enough storage to keep your website up. VSYS customer support is also available 24/7 in case you have any difficulties.
The Virtual System Company has to be on the list of the best anonymous web hosting companies.
8. Superbit Host
Lastly, we have Superbit Host, and it offers total anonymity when signing up for a web hosting plan. Payments are made using Monero, Litecoin, and bitcoin to keep everything private. They have servers in eight different locations with a 99.9% uptime.
SuperbitHOST has different hosting plans, including VPS hosting and dedicated servers. Unfortunately, domain registration is not free, and you have You also have to pay for the SSL certificate.
Their customer support is available 24/7 to help you with critical problems. In addition, you can use the web hosting platform to host any website and use cryptocurrency to pay. As far as anonymity, you should be assured that no one will try to steal your data from Superbit Host.
Related: 8 Of The Best Bitcoin Offshore Hosting Providers For 2022
What is anonymous hosting and what are its Benefits
Anonymous hosting can be provided on a leased server or use the resources of the client's own system and connect to the internet through an anonymous third party, providing more protection for privacy.
The benefits include anonymity, no mandatory service agreement for a fixed time period (usually 1 year), several payment options are available and there is also blacklisting protection which means that your domain will not be added to blacklists if you suffer from unfortunate events such as being hacked by other parties.
How anonymous hosting works?
With anonymous hosting nobody will know where your site is hosted. You could have the world's best site that lives in a tiny town in Alaska; as far as anyone knows it was created by some random person who happened to be in Japan at the time his or her email was registered.
Hosting anonymously means there are plenty of ways to avoid data theft and providing contact information only when necessary without revealing your true identity.
Email addresses associated with hosting services can provide insight into an individual's whereabouts, work schedule, and interests – sometimes even their medical history if they are suffering from illness or disease.
Anonymous hosting acts as an excellent buffer between you and potential perpetrators for this reason.
Additionally, sites that might be controversial – such as those with political or adult content – are often better off being hosted anonymously.
If a site is critical of governments or powerful organizations, the owner may be at risk if his or her identity were to be revealed.
In some cases, people have even been killed for speaking out against powerful entities. By hosting a site anonymously, the owner can help protect him- or herself from potential harm.
Of course, there are also plenty of legitimate reasons to host a site anonymously – you might not want your personal information made public for simple privacy reasons, for example. Whatever your reasons for wanting to remain anonymous, there's a hosting provider suitable for your needs.
Related: Top 10 BEST Companies to Buy Hosting With Bitcoin [2022]
How to choose the right anonymous hosting provider?
When choosing an anonymous hosting provider, the first thing you need to consider is how much data you want to store. Some providers offer limited storage space, while others offer unlimited storage.
You should also consider the level of security that the provider offers. Make sure that their servers are protected with firewalls and anti-virus software. You'll also want to make sure that the provider has a good reputation and is reliable. If your website becomes popular, you don't want it to go down because of server issues with your anonymous hosting provider.
Finally, consider the price of the service. Some providers charge a monthly fee, while others charge a one-time fee. Choose the option that best suits your needs and budget.
With these factors in mind, you should be able to find a good anonymous hosting provider that meets your needs.
Related: Buy Domain With Bitcoin: Top 7 Domain Registrars That Accept Bitcoin [2022 Guide]
Rounding Up
Your identity will be hidden using the web hosting companies above, and you won't even have to provide too much information while signing up. They accept payment in cryptocurrency, and it is also a way of keeping your identity hidden. If you pay using PayPal or credit cards, your information like full name and home address will get in the hands of the company.
If you want to keep yourself anonymous while hosting your website, you should pick one from the list above. That's it for this article hope it will help you find the best anonymous web hosting company. If you have any questions, please ask them in the comment section below