This page reviews Abelohost – a european hosting company that can be used for offshore hosting. We are writing this Abehost Review because Abelohost accepts cryptocurrency as a payment method and because it has been featured in many of our crypto hosting lists.
Review Summary| What is | Plans & Pricing | Best Features | Pros & Cons | Reviews | Conclusion
It is difficult to find a reliable hosting company offering safe, secure, and totally private offshore hosting solutions. AbeloHost checks all these boxes and provides all of the above mentioned services with many more additional functionalities and features.
Switching hosting companies is a major move that can break your website if not done in a correct and proper manner. Moreover, the insane workload needed to do it can definitely cause a headache because we have to transfer everything under it which can be a harrowing experience.
However, shifting to AbeloHost is worth the risk and the trouble. It has everything you'd want from a hosting service provider. All of their hosting solutions have left many people impressed by the quality of their services.
Today we will be discussing them below in this detailed Abelohost review.
Abelohost Review
Abelohost Review
Summary
Abelohost is best known as a European Offshore hosting providers with datacenters around the world. They do accept bitcoin and other cryptocurrencies and they receive raving reviews online. This hosting provider is not suitable for simple bloggers rather than more experience users that wish to safeguard their online properties offshore and with a decent form of anonymity.

What is AbeloHost?
AbeloHost is a Netherland based reliable and secure offshore web hosting company which provides its customers with high quality services in affordable and cheap prices within a market predominated by a lot of competitors.
Their emphasis on confidentiality and privacy of its clients is what sets them apart from other alternatives. Currently they have around 6000+ registered domains with at least 11,000+ clients that are using their services around the globe.
The website offers a user-friendly and intuitive interface with all of the information available which makes navigating through the site extremely easy and beginner-friendly.
Their flexible payment plans coupled with their focus on data protection and privacy laws really makes them a very viable option as a hosting solution.
The cryptocurrency enthusiasts will rejoice at the sight of scalable payment plans with fully supported cryptocurrency payment options as it is all the more feasible and secure for to use Bitcoin for maintaining privacy.
You can use Bitcoin along with a selected range of altcoins accepted by Coingate to fulfill your payment needs for paving the way to a future with mass crypto adoption. Furthermore, this additionally ensures full anonymity to prevent privacy breaches for promoting security and confidentiality.
Plans & Pricing
AbeloHost offers a broad range of pricing and payment plans for their customers, including their Offshore Web Hosting, VPS Solutions, and Dedicated Server options.
The prices go down by significant margins of 5% to more than 20% if you buy them in bulk for more than a full year or a few months together in a bundle. You can also configure all the deals in accordance with your requirements.
Offshore Web Hosting Options
Their fully secure and anonymous offshore web hosting pricing plans begins just in €5.99 and goes till €28.99 payment options which provide a whole lot of bang for your buck.
The best thing when compared to the cheaper alternatives with general web hosting is its ultra-fast speeds.
It is easily the best option for a normal functioning website that can support user interactions from medium range to heavy amounts of traffic.

>> Click here to check Abelohost's Offshore Web Hosting Plans
Offshore VPS Solutions
The most basic package begins with €9.99 to €58.99 where RAM memory and SSD can be increased along with the number of cores as you go ahead with the high paying options.
If you're someone who wants to fully customize their hosting setup and don't want to use the pre-configured shared hosting option, then you should opt for VPS solutions. While the costs can be a bit more on pricey side of things, the pros of these services certainly outweigh their costs.
All of the packages come with super-fast speeds and maximum processor power for running all your applications without breaking a sweat.
RELATED: Buy VPS With Bitcoin: The Top 10 List
Netherlands Dedicated Servers
Fully dedicated servers with supreme performance can be purchased with varying degrees of prices dependent upon how much can you afford to spend and your usability scenarios.
The budget servers begin with a monthly price of €52.80 and can go as high as €1346 for added functionalities and services.
Business that want to support their user interactions in high-traffic website environments without significant performance downgrades can utilize their 250Mbps high bandwidth and customizable dedicated servers.
Abelohost Features
Free Dedicated IP address – A free IP address dedicated solely for your website will be provided to you on the purchase of any packages within the given payment plans. This will act as the safe entry point to access all the data resulting in maximum security.
Free SSL Certificates – The free SSL certificates make your site more secure with a higher level of encryption to provide you with an additional layer of safety. The encrypted connection not only improves your security, it also builds trust amongst your user and lets them know that the site is safe.
Offshore Domain Availability Checker – Their offshore domain availability checker will let you know which domains are available for use while also providing you guidance regarding vulnerable domain options for taking the best decision.
Server Management Services – They offer multiple management options for handling your server needs, including semi-management and full management options for both virtual and dedicated servers. The difference between semi-management is that you will have to access a ticket system for their services but with full management option, you get a personal system administrator that will identify and eliminate all the problems for you by being fully proactive during the tenure.
Customized Website Development – AbeloHost not only gives you hosting solutions, but they can also help you build and launch your websites on to the internet in affordable and cheap prices by providing you with the services of a professional web developers with WordPress. They even give you the option to have custom logos made with unlimited revisions until you're satisfied.
Daily Backup Function – All your data is securely backed up in case of any unforeseen circumstances that may hit you during unfortunate times, which will help you get back on your feet with minimum effort through effective data management practices and server migration solutions.
30-Day Money Back Guarantee – If you're not happy with the services, the company offers you a 30 day money back guarantee option. This helps you in deciding if they're really worth it or not without having to suffer through a full-time payment plan with no option of backing out.
Full cPanel Integration – All hosting options come with cPanel integration that helps in making your website much more efficient through the use of graphical interface and effective automation tools for complete website and server management purposes by putting the necessary means in the palm of your hands.
Free Website Migration – Abelohost supports FTP option for easily and smoothly migrating your website from your old hosts in a relatively short period of time.
High Speeds with SSD Hosting – AbeloHost delivers unparalleled and unmatched speeds by using the latest SSD drive options instead of HDD drives that makes the experience much better compared to the alternatives.
24/7 Support & Monitoring – Their support system is great and they do everything in their power to resolve even the most major issues without suspending your prior arrangements like most other providers.
Abelohost PROS & CONS
PROS
Fast Speeds with SSD servers
Maximum Security with Offshore Management
Anonymity through Cryptocurrency
Accepts Cryptocurrency
Free SSL Certificates
Free IP address
Superior customer service
Ease of Use
Reliability
Dedicated Servers
Prevention of DMCA notices
CONS
High prices if you're looking for general hosting services
No Free Domain for first-time users
No website builder provided
Abelohost Reviews
Still thinking if Abelohost is the right offshore hosting provider for you? Check these Abelohost reviews from users around the world.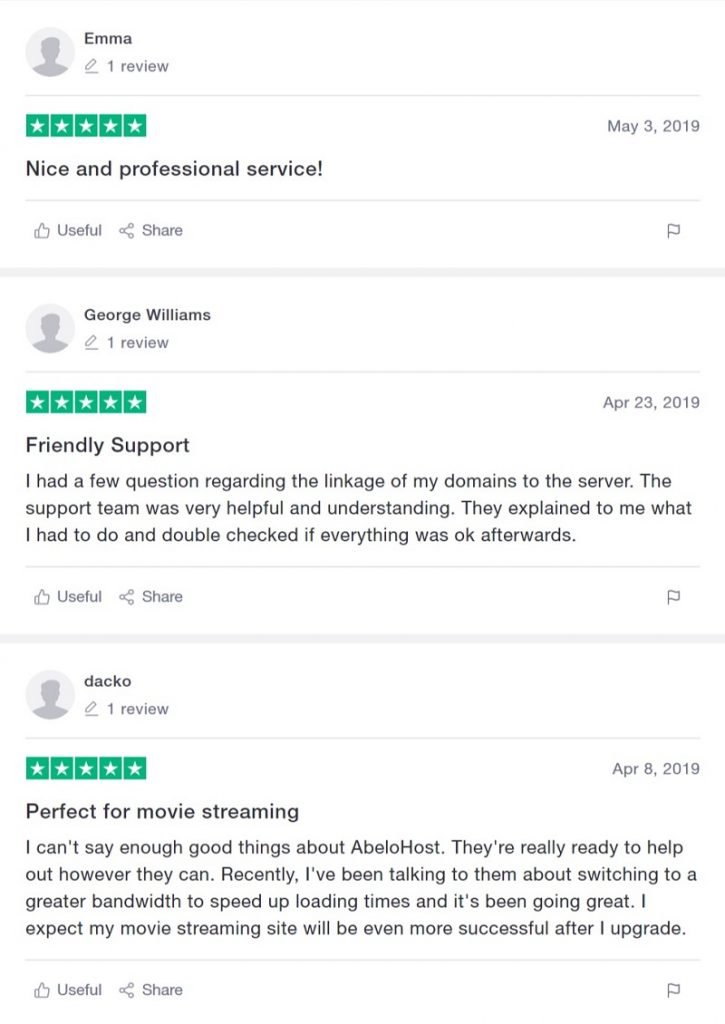 Final Take
AbeloHost is a very satisfying option if you're someone who is tired of those pesky DMCA notices and also need a hosting option to fulfill your privacy, security, and confidentiality needs with extremely high speeds and scalable payment plans through their affordable offshore management services.
Their wide range of services and high bandwidths can help you in organizing large websites with huge levels of traffic with minimum effort by utilizing their exceedingly accessible functionalities which can be expected from a hosting solution of such a high caliber.
The high quality services coupled with their excellent offshore hosting options along with standard DDoS protection and relatively cheap prices for everything it offers makes it a worthy option when compared to the alternatives.
Check More Hosting Reviews