In this blog post, we'll list the top 8 best bitcoin offshore hosting providers that accept Bitcoin and other cryptocurrencies.
As Bitcoin continues to grow in popularity and value, more and more businesses are accepting it as a form of payment. Hosting companies could not get left behind. Even they accept payment in Bitcoin to enhance their customers anonymity.
If you're a webmaster or own a website that it is scrutinized by the country laws the website resides in, it's important to find an bitcoin offshore hosting provider to host your web properties because Bitcoin and Cryptocurrencies in general offer a form of anonymity – on top of the offshore hosting's privacy features.
What is Offshore Hosting
Offshore hosting is a type of web hosting that is located outside of the country where the website is registered.
This can provide a number of benefits in terms of privacy and security, as well as access to cheaper hosting options.
One major benefit of offshore hosting is that it can provide greater privacy and security for your website. This is because the laws and regulations surrounding data storage and privacy are often more stringent in other countries.
As a result, your website may be less likely to be subject to government surveillance or hacking attempts.
Additionally, offshore hosting can often be cheaper than hosting in your own country.
How to choose the best offshore hosting company
When choosing an offshore hosting company, it is important to consider the following factors:
Consider the above when choosing an offshore hosting provider from our recommendations list below.
Best Bitcoin Offshore Hosting Companies
AbeloHost – Best Overall
Servers: Netherlands
Cryptocurrency Accepted: Bitcoin, Altcoins (Coingate, Bitpay, Coinpayments.net)
AbeloHost is one of the most affordable offshore hosting companies with different hosting plans that can be paid in Bitcoin.
The company is based in the Netherlands with a robust privacy and data security law. Their customer support is available 24/7 to help you with any problem.
It has always been the mission of the company to provide high-quality offshore hosting services, including VPS, dedicated servers, and shared hosting.
AbeloHost customers have the right to publish various types of content from wherever they are based in the world. Their hardware is privately owned, and no one has access to your data.
They have a user-friendly website available in Chinese, Japanese, and Spanish. Customers also have access to tutorials on different topics on the website.
However, AbeloHost doesn't have a website builder, and it might be difficult for beginners to use the service. They also don't offer first-time users free domain registration. Customers have access to a cPanel, and they can also pay for daily backups.
You can purchase Offshore Hosting from Abelohost using not only Bitcoin but over 100 different cryptocurrencies – since during checkout you have the option to pay using various crypto payment processors such as Coinpayments, Bitpay and Coingate.
This means you can buy offshore hosting, with your Ethereum, Monero, Dogecoin and virtually any cryptocurrency.
Shinjiru – Best For Security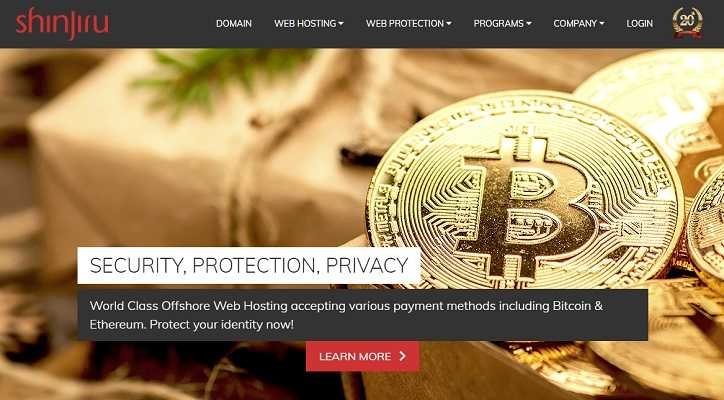 Servers: Malaysia
Cryptocurrency Accepted: Bitcoin & Ethereum
Looking for a web hosting provider that can help you protect your privacy? Look no further than Shinjiru! They've been providing offshore web hosting services for over 20 years, and they're one of the most experienced companies in the business.
With 8 offshore locations, their own Anti-DDoS Attack network, dedicated servers, and IP addresses, they have everything you need to keep your website up and running smoothly.
Plus, their in-house technical support team is available 24/7 to answer any questions you may have.
Shinjiru accepts a variety of payment methods, including PayPal, credit cards, Bitcoin and Ethereum. This means you can buy offshore hosting using your Ethereum as a means of payment. So whatever payment method you prefer, Shinjiru has you covered.
Shinjiru's offshore servers are located in 8 different locations: the United States, Canada, the United Kingdom, the Netherlands, Switzerland, Germany, Spain, and Australia. So wherever you're located, there's likely a Shinjiru server nearby.
Impreza.Host – Best For Features Offered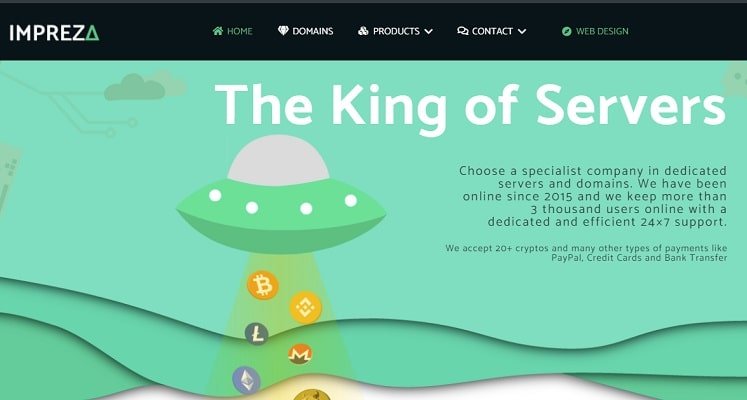 Servers: Switzerland, Russia, Romania, Ukraine, Iceland, Finland, United Kingdom
Cryptocurrency Accepted: Bitcoin, Dogecoin, Litecoin, Ethereum, Monero 20+ cryptos
Impreza Host is one of the best offshore web hosting platforms, and they accept payment in Bitcoin and other cryptocurrencies.
They don't ask for too much information upon signing up; your email address will be required.
They have servers located in Iceland, Romania, Ukraine, Russia, Switzerland and Finland. You can purchase shared, VPS, or dedicated servers from the company, and they have a 98.2% uptime which is impressive. You can host any legal website, but particular websites are allowed only on dedicated servers.
You also get a free SSL certificate and DDOS protection, but you must pay for domain name registration. Their clients can transfer their website if it is already in existence, and they have a cPanel that has all the tools needed to build a website.
Hostinger – Best For Price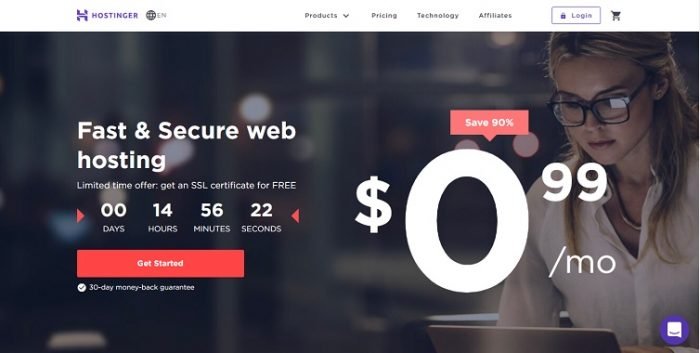 Servers: Netherlands, Lithuania, the United Kingdom, Singapore, India, Brazil
Cryptocurrency Accepted: Bitcoin
Hostinger is one of the best web hosting companies, and they also offer offshore hosting services.
They have an excellent uptime with different hosting plans, excluding dedicated servers which might be a problem for many.
Their hosting plans are affordable, and Hostinger can easily be integrated with WordPress websites. The hosting company has an industry-standard web builder that quickly helps beginners set up their websites. Many tools in their cPanel will make your web building process easy.
You can also migrate your website to the platform, and they have a fantastic customer support service that is always available to help when there is a need. Some plans offer you a free SSL certificate, but you have to pay for SSL using other services.
Hosting plans are cheap on Hostinger, and clients can pay in Bitcoin to protect their identity. Hostinger is old in the web hosting industry, and they offer some of the best hosting and offshore hosting plans.
SuperbitHOST- Best For Most Server Locations
Servers: 32 Countries
Cryptocurrency Accepted: Bitcoin, Litecoin, Monero
SuperbitHost is one of the best bitcoin offshore hosting service, which provides you with anonymity and complete control over your website.
They have server locations across Europe, Asia, Germany, Singapore, and Switzerland. If you pay for VPS with bitcoin, you are entitled to a 10% discount depending on your subscription.
SuperbitHost is a web hosting company that offers a variety of features to its users. These features include unlimited storage and bandwidth, a free domain name, cPanel access, and more.
In addition, SuperbitHost also offers 24/7 customer support, making it easy for users to get help if they need it. SuperbitHost is a great option for those who are looking for a reliable and affordable web hosting company.
SuperbitHost accepts payments via PayPal, Bitcoin, Litecoin and Monero making it a convenient option for those who want to pay with this method.
SuperbitHost also offers a money-back guarantee, so users can feel confident that they are getting a quality product. Overall, SuperbitHost is a great offshore hosting company that offers a variety of features and options to its users.
Palexweb – Best DMCA Ignored Hosting
Servers: Netherlands, Russia, Ukraine
Cryptocurrency Accepted: Bitcoin, Ethereum, Litecoin, Tether, Monero, Ripple, Dogecoin, Dash, Bitcoin Cash, Altcoins
Palexweb is one of the best and cheapest offshore hosting providers. It has been in business since 2014, providing quality offshore hosting and support to their customers.
Their data centers are located in The Netherlands, Russia, and Ukraine. Their network is fully redundant and we offer a 99.9% uptime guarantee.
All of their hosting plans come with a free SSL certificate and their servers are protected by DDoS protection.
Palexweb provides services such as Shared Hosting, Dedicated Servers, VPS Hosting, and Domain Registration.
Customers get free domain privacy for a lifetime, but domain name registration is paid. In addition, customers get a free SSL certificate after payment. Although they offer anonymous web hosting, certain types of websites can't be hosted on Palexweb, including child pornography websites and crypto mining. This is because Palexweb keeps your identity hidden while hosting your website.
You can buy Offshore hosting from Palexweb using Payeer – a payment gateway which has integrated cryptocurrency solutions. You can buy offshore hosting with bitcoin, ethereum, litecoin, Monero, Dogecoin, Ripple, Bitcoin Cash and Dash.
The Onion Host – Best For Performance
Servers: (Information not available on their website)
Cryptocurrency Accepted: Bitcoin, Ethereum, Litecoin
The Onion Host has been in existence since 2018; they have a 99.9% uptime and accept payment in Bitcoin.
They have servers across Europe, and they prioritize their customers' data protection and privacy, especially those that pay in crypto.
They have various web hosting plans on their website, including shared hosting and VPS. Users can also migrate their websites, but they don't have a web builder.
Customers will get a free SSL certificate, unlimited bandwidth, and DDOS protection for your website.
Domain registration is not free, but you can request your money back after 30 days of payment. There is a category on their website filled with tutorials and guidelines on how the platform works.
Customers can also check the status of the network directly on the website. They have a cPanel with many features that will help optimize your website and set it up for success.
Virtual Systems (VSYS) – Best For Kubernetes Hosting
Servers: Netherlands, Ukraine
Cryptocurrency Accepted: Bitcoin
VSYS is a top offshore hosting company that has been in existence since 2009. They have two data centers in Germany and Ukraine with high uptime of 99.95%.
They offer various types of hosting services, including VPS and shared servers. VSYS also has an offshore plan with its server in the Netherlands.
The company prioritizes the anonymity of their clients by keeping their data hidden; they also accept payment in bitcoin.
They also own their server hardware and network equipment. customers have access to customer support that is available 24/7, they also have a money-back guarantee after 30 days of payment.
Website migration is free, and you are also entitled to a technical team that will guide you for free. You can also host any website on the platform, excluding scamming sites.
Domain name registration is not free, but you will get a free SSL certificate regardless of the offshore hosting plan you pick. VSYS is one of the best bitcoin offshore hosting services available right now.
Frequently Asked Questions For Offshore Hosting
Is a cheap web host always better than an expensive one?

No, it's not always better than an expensive one. Cheap hosting often means that the company invests less in their infrastructure and instead charges you more for what they do offer. It sounds great at first when a host offers web hosting services at very cheap rates but there are some catches to consider:

– Companies pay less attention to support when they're focused on cutting costs
– They may have less reliable hardware and networks
– There could be hidden fees
– The company may not be around for long

What are the benefits of offshore hosting?

Offshore hosting offers the high level of data security that is needed for any enterprise that must comply with strict compliance laws like HIPAA or PCI. Even those who are not bound by such requirements will enjoy an extra measure of safety and peace of mind on the web, given all the cybercrime we hear about these days.

Do I need domain names with offshore hosting?

Domain names are registered with a domain name registrar and hosted on a web hosting service. While you can use a domain name with any web hosting service, some people prefer to use an offshore web host to keep their personal information private. Offshore hosts are often located in countries that have privacy laws that protect your information from being released to the public. Check these domain registrars that accept Bitcoin.

Can I buy any hosting plan and get it offshore?

No, not all hosting plans can be served offshore and even if they are, the domain may not be eligible to use with the plan.

What if my offshore host is located in a country with an unstable government?

It's more than likely your server is located in a country that has been ranked as the most stable for both social and economic indicators.

However, it's always possible that something could happen beyond your control.

If your offshore host is located in a country with an unstable government, there is a risk that the server could be seized or shut down by the authorities. There is also a risk that the country could experience a political or economic crisis that affects the stability of the server.

However, these risks are relatively low and you can minimize them by choosing a reputable hosting company that has a good track record in stable countries.

You should also make sure that you have a backup plan in place in case your server goes offline for any reason.

Why would someone want to use an offshore web host?

Offshore web hosting may be important when you want to maintain a domain's privacy and anonymity. Some offshore hosts offer more affordable plans than United States-based web hosts, and they are willing to set up servers in countries not subject to US jurisdiction.

For example, websites hosted by an offshore host would have fewer disruptions under laws such as the Patriot Act.
The Bottom Line – Best Offshore Hosting Bitcoin
It is essential to chat with the support team of any offshore web hosting platform you decide to use. It would help if you asked about their services and analyzed their reply before committing to their service.
It is also crucial to make payments in Bitcoin to keep your data private. If they start asking for too much information like address and credit card details, you should know you are exposing too much information.