In this article, a member of our editorial team (who happens to be a hosting expert as well) – reviews AltusHost – a European Hosting provider – as part of our businesses in crypto review initiative.
In this Altushost review you'll learn the Pros & Cons behind this hosting company, its plans, pricing and the features that sets them apart from the competition.
I have been passionate about blogging for as long as I can remember.
But in order to run a successful blog, I needed to do a lot of research to select the best hosting provider to meet my needs.
For a new project I was about to bring to life, I was looking for European hosting – since my audience will mainly come from there.
After a bit of searching I came across AltusHost. I quickly decided to give them a try after seeing a lot of hype about them on review sites. The following AltusHost review, encompasses my thoughts about their services after using them for two months now.
AltusHost Review
Name: AltusHost
Website: altushost.com
AltusHost Coupon: BNBOT20
Best for: Those who are looking for an offshore hosting provider in European Union who accepts crypto.
PROS
Unlimited Bandwidth
Daily Backup
Free SSL
45 Days Money Back Guarantee
24/7/365 Technical Support
Accepts Cryptocurrency
Advanced Caching Technology
Live Chat
cPanel
Redundant SSD Storage
5 Year Hosting Price Increase Protection
Free Migration Assistance
DDoS Protection
CONS
No solutions for full anonymity
No free domain registration
Use special AltusHost Coupon Code "BNBOT20" for a whopping 20% discount (Limited working coupon code).
What is Altushost?
Altushost is a web hosting company that has been around for more than a decade now. They started offering their services in 2008 and have since grown into one of the most popular hosting providers because of their unmatched managed web hosting services.
By providing a combination of excellent customer service, cheap prices, and reliable services, they have acquired tens of thousands of customers around the world.
Their highly efficient technical support team is known for delivering prompt customer support services to make sure your website keeps running with maximum performance levels without any disruptions as guaranteed by their uptime SLA (Service Level Agreement).
They have multiple datacenters scattered all over Europe with full control of the latest hardware and technology for fulfilling your requirements to compete with other alternative companies in the rapidly evolving market of hosting providers.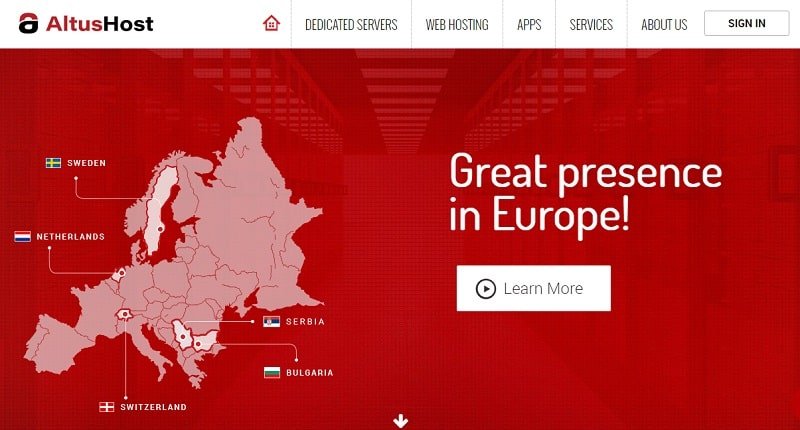 Plans & Pricing
Altushost offers a variety of services, including standard web hosting, VPS hosting, reseller web hosting, and dedicated servers.
Standard Web Hosting
These plans start at €5.56 and go up to €15.96 with increased SSD storage and the option to use the plan with unlimited websites.
VPS Hosting
This configurable plan starts at €19.95 with a redundant infrastructure, fast deployment time, flexibility, and high level of control along with 24/7 support services.
Reseller Web Hosting
Altushost provides reseller hosting plans starting at €23.96 which go up to €71.96 for additional cPanel accounts and SSD storage.
Dedicated Servers
Their dedicated servers can be availed with no set up charges for a low starting price of €139.95 with the option to configure the plan depending on your needs.
Use special AltusHost Coupon Code "BNBOT20" for a whopping 20% discount (Limited working coupon code).
Features
AltusHost has some of the best features in the industry. Honestly, I didn't expect them to offer such benefits with their hosting plans.
Unlimited Bandwidth – Their scalable plans offer unlimited bandwidth for effectively managing high amounts of traffic. I never had to face any trouble, even during an unanticipated spike in traffic.
Daily Backup – The daily backup feature helped to reassure me that my data was never at risk of being lost forever. I never had to worry about the safety and security of my critical information.
Free SSL – These free certificates ensured that the information being exchanged was being passed through a highly encrypted communication channel, which played a key role in safeguarding sensitive data.
45 Days Money Back Guarantee – The money back guarantee was one of the things that drove me to give them a try without the risk of losing my investment. Altushost is confident in their services and wants to let their customers know about it too.
24/7/365 Technical Support – The technical support staff were very responsive and prompt in responding to my concerns and queries with professional and courteous replies. It was reassuring to know that they had my back whenever I was having any issues. Furthermore, the staff members were very polite and friendly, which made it very easy to talk to them.
Accepts Cryptocurrency – Altushost supports a lot of different payment methods, including payment through cryptocurrencies like Bitcoin and Ethereum. You can use other methods such as PayPal for faster payment processing as well. I wanted to put my crypto stash to use, so I went with the Bitcoin payment option. The experience went smoothly without any issues.
Advanced Caching Technology – Altushost makes use of the latest caching technologies with their hosting solutions to ensure fast loading speeds and reliable performance. I was surprised by how fast some of those pages were loading.
Live Chat – You can sign up for free to use their live chat services even before the purchase of a hosting plan, so that the sales and support team can guide you in selecting the ideal package for fulfilling your needs.
cPanel – Altushost provides all their customers with industry-leading control panels. These panels are equipped with innovative and advanced features to give their clients direct control over the management of their websites, ensuring high stability.
Redundant SSD Storage – They offer a redundant SSD storage infrastructure to ensure maximum IO performance with high levels of reliability. Many hosting companies still don't provide SSD storage options and still depend upon older HDD storage plans with relatively lower performance.
5 Year Hosting Price Increase Protection – Rarely do hosting providers ask for the same price after plan renewals. But Altushost makes sure that the clients only pay the agreed upon amount even after the next renewal term. All their prices are transparent and they never use crafty tricks to rip off their customers for their benefit.
Free Migration Assistance – Anybody who has changed hosting providers knows that migration can be a huge hassle. But fortunately, Altushost provides free assistance to make sure that the process goes as smoothly as possible.
DDoS Protection – The protection ensures that your website is safeguarded against malicious attacks, which could cause serious loss of revenue due to disruptions.
AltusHost B.V. Reviews
Let's see how AltusHost B.B. scores in various reviewing websites across the web.
HostAdvice
Website Planet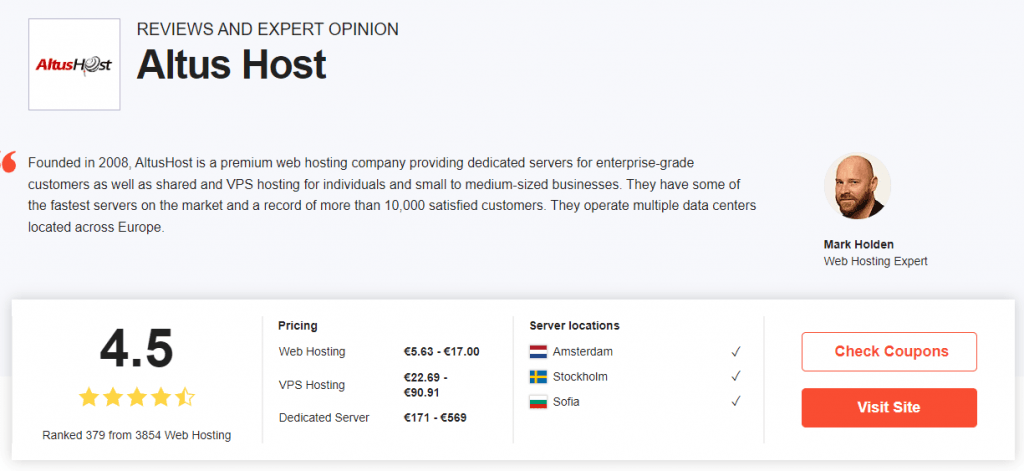 Final Take
There honestly isn't anything to hate about Altushost, even if you start nitpicking. Their customer-focused culture is always at the forefront and is reflected in their stellar customer service support experiences.
The prices are cheap for the services that they are providing when compared to many other EU-based premium hosting providers.
They are a great choice for businesses operating on a worldwide scale and even for bloggers like me with relatively lower traffic because of their affordable plans.
AltusHost Review
Pricing
Features
Speed
Uptime
Support
Use special AltusHost Coupon Code "BNBOT20" for a whopping 20% discount (Limited working coupon code).
You might want to check our other hosting reviews as well. All the hosting providers we review accept cryptocurrencies for payment methods.
Also, AltusHost is one of the offshore hosting providers we recommend in our article 8 Of The Best Bitcoin Offshore Hosting Providers For 2022. You might want to check it out.
Finally, if you enjoyed reading this AltusHost review, feel free to share it with other people who might be looking for a quality European hosting provider.
READ NEXT