In this article I am reviewing SNEL Hosting – a not that well known hosting provider who are specializing in VPS hosting and Dedicated servers and who accepts cryptocurrencies as a form of payment. In this SNEL Hosting review, I will explain how I stumbled upon this hosting provider and what my thoughts are.
I have been experimenting with different hosting providers for my small blogging website for many years now.
Most of my experiences have been pretty positive, with some underrated hosting companies taking the top spots on my list.
One of them is SNEL hosting.
I had to try this hosting provider for myself after seeing so many rave reviews on the internet. The following article consists of my thoughts and a succinct review of some of their services.
SNEL Hosting Review
Name: SNEL Hosting
Best for: Users who are looking for a VPS and Dedicated server hosting provider who is accepting cryptocurrency for payment.
PROS
SSL Encryption
Accepts Cryptocurrencies
99.99% Uptime Guarantee
Cheap Prices
SSD Only Storage
Scalable Plans
Daily Backups
Customizable Plans
SEO & WordPress Toolkit
Spam Filter
Premium Antivirus Protection
CONS
No free domain registration
No solutions for full anonymity
No refund policy
No 24/7 customer support
What is SNEL Hosting?
This is a hosting company offering a comprehensive catalogue of high-quality solutions to many online businesses, bloggers, and website owners with different bandwidth requirements.
It is located in the Netherlands and has served tens of thousands of customers since its humble beginnings in 2010.
They have made a name for themselves with their fast performance and feature-packed packages, catering to people with minimal budgets but high demands.
By focusing all their efforts on improving their services with each passing moment, they have now become one of the most popular offshore hosting providers.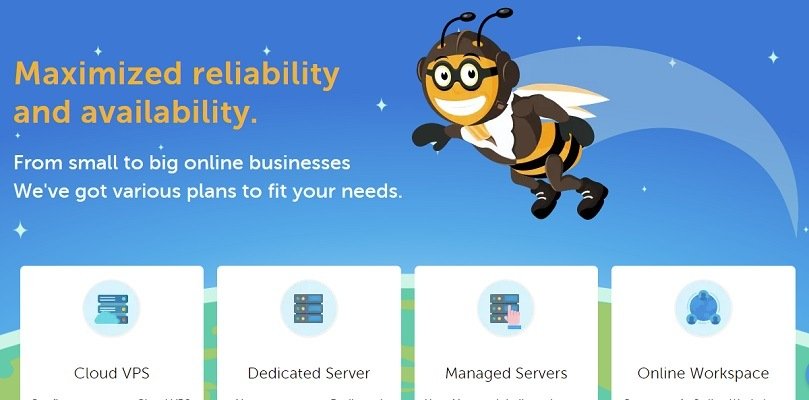 Their cheap and affordable plans have raked in customers for them from many European countries, which has resulted in a period of significant growth for them throughout the years.
SNEL has distinguished itself from the competitors for its flexibility, simplicity, and, above all, quality. SNEL's strong commitment to providing ideal services to their clients has put them in a league of their own in the constantly evolving and competitive hosting market.
Plans & Pricing
SNEL provides its clients with standard hosting solutions and services through their packages, including professional web hosting, reseller hosting, cloud VPS, pure performance VPS, managed server, and dedicated servers.
Professional Web Hosting – SNEL offers all the tools in your hands for successfully publishing and running your website with their professional web hosting plans, starting from €4.99 and going up to €12.99 with increased storage, bandwidth, and memory to support a significant amount of traffic.
Reseller Hosting – They provide reseller hosting services with a whole bunch of features and benefits for building your own brand name. The plans start at €19.90 and go up to €59.00 with more accounts, storage, and bandwidth.
Cloud VPS – Their self-managed cloud servers with full scalability and maximum performance can be availed for the low starting price of €9.90.
Pure Performance VPS – These packages are created for websites in demanding environments with high amounts of traffic to ensure optimal speeds at all times. They start at €59.90 and go up to €239.00.
Managed Server – SNEL gives you the option to choose your own managed server from managed cloud VPS, managed pure performance VPS, managed Microsoft Azure VPS, and managed enterprise dedicated servers starting at €59.90, €99.90, €199, and €189, respectively.
Dedicated Server – Their fully optimized dedicated servers are equipped to meet all your hosting needs and requirements with ease. The starting prices for these servers begin at €159.00 and go up to €499.00.
Features
In this section I am presenting the features that got me intrigued.
SSL Encryption – All their packages come with secure SSL certificates, which are trusted by almost all browsers used across the world. This ensures that the data communication is fully private, which really puts my website visitors' and my own minds at ease.
Accepts Cryptocurrencies – Although SNEL discourages its customers from paying through cryptocurrency due to the lengthy processing time, clients still have the option to pay through different cryptocurrencies if they are not in a hurry. Personally, I have been using cryptocurrency for making payments for a while and didn't mind the processing time.
99.99% Uptime Guarantee – The 99.99% uptime guarantee ensured that there were no losses in performance due to disruption or any kind of maintenance work. I did not notice any performance downgrade whatsoever during my time with SNEL.
Cheap Prices – Their standard packages are considerably cheaper than the alternatives available in the market which made it an enticing option for me try it out in the first place.
SSD Only Storage – The highly efficient and reliable SSD storage with their greater disk reading speed played a big role in maintaining my website's high performance level.
Scalable Plans – The plans are created with speed, reliability, and scalability in mind with the best available hardware specifications and highly competitive costs. Even their most standard hosting package is enough to run a small to medium scale website with ease.
Daily Backups – These backups were a source of relief for me because I was in a constant state of anxiety with my previous hosting company as they didn't offer any backup services.
SEO & WordPress Toolkit – The advanced SEO and WordPress tools were easy to use and access, even for a beginner like me, to help me rank my site.
Spam Filter – If you're operating a business where the main source of exchange is through emails, then this spam filter will help you protect your outgoing emails against malicious spam and phishing attacks, which will help you build a positive reputation.
Customizable Plans – While there are already many packages and plans available for customers with varying degrees of web traffic and diverse set of requirements, SNEL also offers custom-made web hosting plan to their customers. You can share your needs with the sales team and they will offer you a plan in accordance with your requirements.
Premium Antivirus Protection – This antivirus offered a reliable solution for making sure that my website and visitors were protected against malicious attacks by hackers.
SNEL Reviews
Here's a curation of SNEL reviews score from popular reviewing websites.
On HostAdvice, Snel Hosting seems to be going very well. It has a score of 4.6 from 47 reviewers.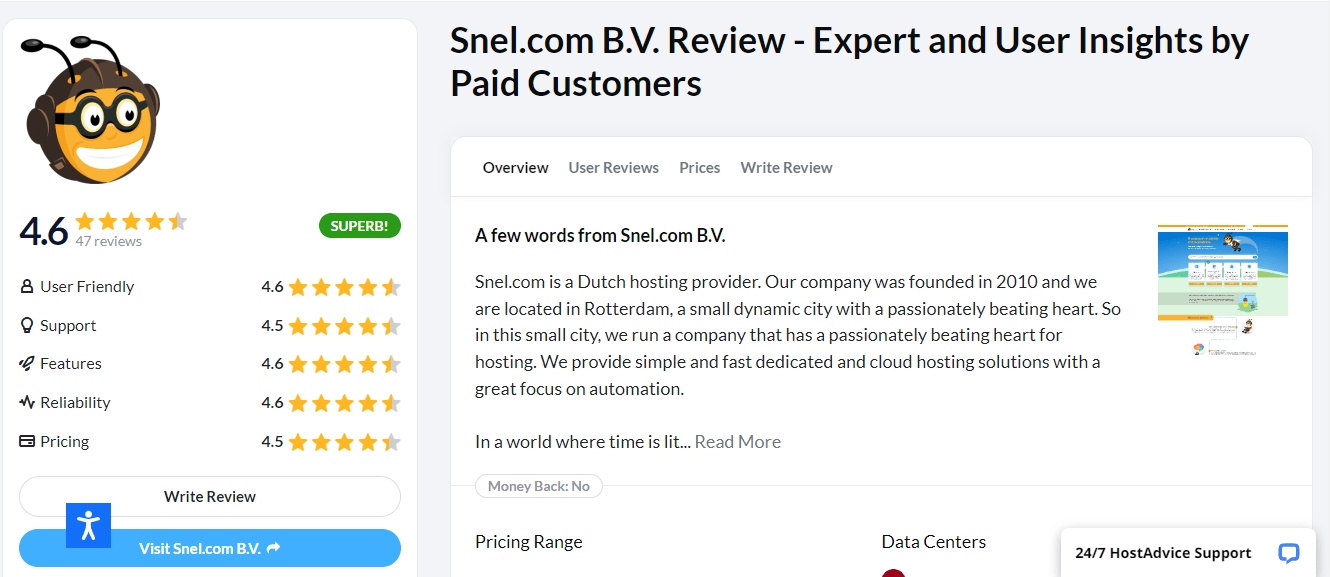 On Sitejabber there aren't any reviews of SNEL Hosting.
On Trustpilot there are only two reviews. One review from 2014 is rating SNEL as excellent and the other from 2022 as Poor.
On Website planet, SNEL has a score of 4.6 out of 5 and it is ranked 104th out of almost 4.000 hosting providers.
Final Take
SNEL offers great services at unbeatable prices with a lot of added functionalities and features to deliver an amazing and memorable hosting experience.
However, their customer service leaves a bit to be desired because they don't really offer 24/7 support services.
Nevertheless, they were still able to resolve the technical issues and helped me to keep my site running without further problems, so I don't have any major complaints about it. I would definitely recommend them if you're in search of cheap scalable plans to meet your hosting requirements.