In this article, we list the Best web hosting providers you can buy VPS with bitcoin. All the hosting providers mentioned in this list offer VPS Hosting services and are accepting Bitcoin as well as other cryptocurrencies.
With digital currency on the rise as one of the most-used and convenient ways to make transactions online, people are jumping to buy their own and use it everywhere possible. The truth is that not all websites are ready and equipped to allow the use of Bitcoin, and because of this, buyers are having a harder time finding places to buy with encrypted currency. There are limited hosting providers and websites that offer VPS and are able to accept Bitcoin, but by finding the right providers, you can change that.
If you're looking for a way to host a website that is fully equipped to handle the use of Bitcoin during its transactions as well as the load it places on servers, then look no further than this list of sites that will let you buy VPS with Bitcoin.
In this article, we will look at 10 of the best virtual private servers for you to host on, whether you are hoping to run a business on a webpage or need to have a server dedicated to private use.
Check out the virtual private servers below and see which one is going to best suit your individual needs.
Buy VPS With Bitcoin – Top 10 List
Crypto Accepted: Bitcoin, Ethereum, Binance, XRP and more than 80 other crypto coins through Coingate.
Crypto Accepted: Bitcoin, Ethereum, Litecoin, XRP, 1000+ other crypto via Coingate, Bitpay and Coinpayments.
Crypto Accepted: Bitcoin, Dash, Litecoin, Digibyte, Ethereum, Monero, Bitcoin Cash, Blackcoin, DogeCoin, Bitcoin Gold, Basic Attention Token (BAT), Ethereum Classic, Potcoin, Quantum (QTM), TrueUSD.
VPS Hosting Providers Reviews
Buy VPS With Crypto – 50+ cryptocurrency accepted.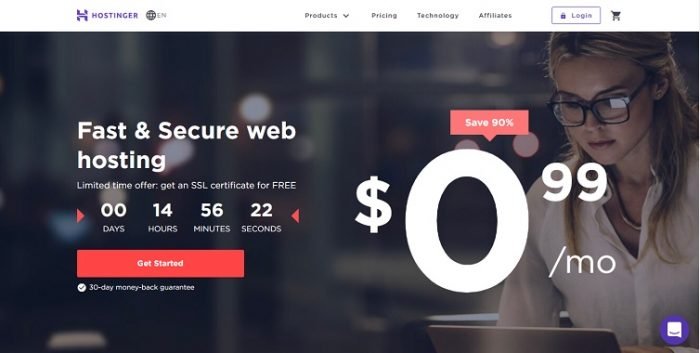 Hostinger is a provider that will not only help you have a place to better host your website, but that will offer you help with building your own website by employing the use of their coding services and web designers.
On Hostinger, there are four different plans that you can subscribe to each month: single shared hosting, WordPress shared hosting, cloud hosting, and VPS Hosting.
Their cheap cloud VPS Hosting plans are very popular and are optimized for use from small- and medium-sized businesses. It gives access to an unlimited number of email accounts, websites, bandwidth, and more. The other tiers offer better solutions for personal websites and beginners to take advantage of.
Buy VPS Hosting with Bitcoin Only
Namecheap offers two very simple and straightforward Virtual Private Server hosting solutions that you can purchase with Bitcoin.
Their two VPS Hosting Plans are Pulsar and Quasar – with the latter being the most popular.
With their Pulsar VPS Hosting plans, you're given two CPU cores, 40 gigabytes of SSD Raid 10, two gigabytes of RAM, and 1000 gigabytes of bandwidth.
With the slightly more expensive Quasar VPS Hosting Plans, you get four CPU cores, 120 gigabytes of SSD RAID 10, six gigabytes of RAM, and 3000 gigabytes of bandwidth.
The best part is that both VPS Hosting Plans are very cheap and offer great value to your bitcoin.
Both plans will give you access to a website domain for free, as well as your choice of server management and full root access and selection of operating systems.
It is one of the easiest sites to buy from with its clear-cut packages that make it choosing which one is right for you a simple process.
Buy VPS With Crypto (80+) through Coingate.
Cherry Servers is one of the best VPS hosting providers with a lot of VPS plans to choose from. You can buy VPS with Bitcoin from them as well. Cherry Servers offers you access to KVM-based virtual servers and gives you the chance to either use a dedicated or a shared server depending on whether you need to host small or average size workloads.
There are many tiers to choose from, giving you more control than most sites over how you run the server and what it is equipped with.
Each tier comes with certain CPU capacities, RAM, storage, and network capabilities that run the gauntlet of all of the features you could need, so even if you buy the lowest tier, you will not be disappointed.
Buy VPS Hosting with Bitcoin Only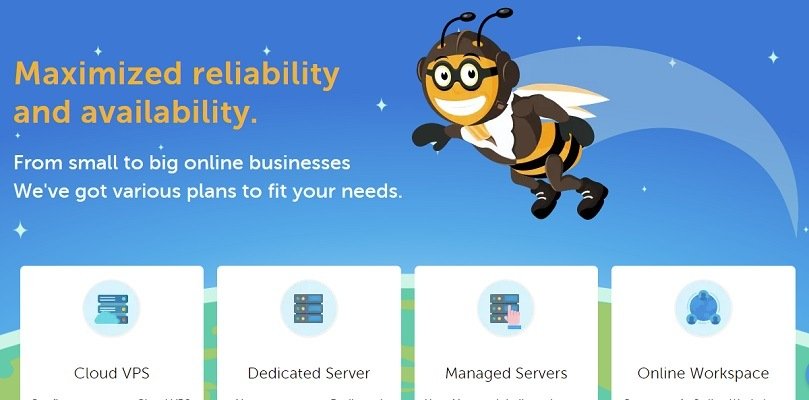 Snel.com is a hosting provider that provides only dedicated and VPS Hosting Plans. It is one of the most reliable VPS hosting providers you can choose from.
Each of their virtual private servers is built with SSD drives in order to promise the best possible power and performance levels.
With them you can buy VPS with bitcoin and also buy VPS with other cryptocurrencies as well.
There are various features to each of their Bitcoin VPS servers, including the ability to get it set up in only two minutes after you have made your purchase.
With the advanced firewall, you can be sure that your cloud is totally secured and will have any traffic blocked or accessed at your discretion before it reaches your website, giving you greater peace of mind.
Buy VPS With Crypto (1000+) through Coingate, Bitpay and Coinpayments.
AbeloHost is a bitcoin-accepting offshore virtual private server provider that privatizes and secures your data.
There are two types of offshore VPS plans – SSD VPS Hosting and Storage VPS Hosting. The SSD VPS comes with seven plans and the Storage VPS hosting comes with five different hosting plans.
The lowest tier gives you one gigabyte of ram, while the next tier offers two gigabytes, the third offers four gigabytes and the final one offers eight gigabytes of ram.
All of them come with Intel Xeon E5-2640 v4 @ 2.40GHz processors with varying numbers of cores and additional details determined by the price.
There are three tiers of Storage VPS' to explore as well, giving you limitless options when it comes to your hosting needs and be sure that they are met.
Buy VPS hosting with Ethereum, Bitcoin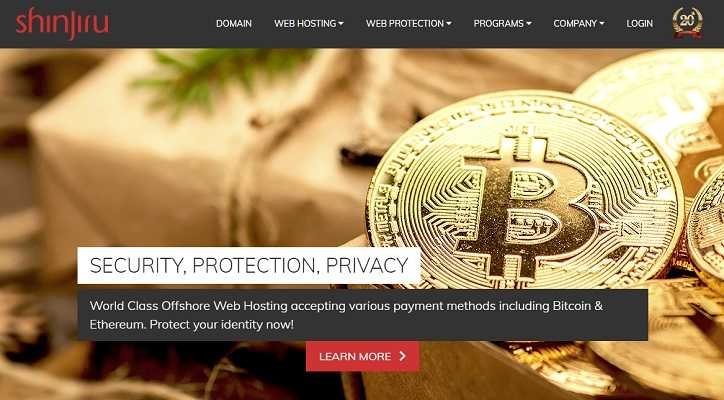 After having developed thousands of offshore VPS servers beginning in the year 2000, Shinjiru is a highly experienced and well-known provider where you can buy VPS with Bitcoin.
It uses state-of-the-art virtualization technology that offers you power and performance that rivals even the most expensive dedicated servers.
It is one of the most cost-efficient ways to buy VPS with Bitcoin and cap handle the load of practically anything you upload to it.
Not only this, but Shinjiru comes with access to a 24/7/365 team of support workers that will ensure it is always running at its best, no matter the time of day to make running your website on your terms smoother.
Buy VPS with Bitcoin, Dash, Litecoin, Digibyte, Ethereum, Monero, Bitcoin Cash, Blackcoin, DogeCoin, Bitcoin Gold, Basic Attention Token (BAT), Ethereum Classic, Potcoin, Quantum (QTM), TrueUSD.
With Abaco Hosting, you can choose whether or not you want to host SSD or HDD virtual private servers. When you buy one of the packages, you are given full root access, so you can totally customize anything about the server, making it behave as a dedicated server without having to pay the price to own one.
There are four tiers for you to choose from KVM VPS Standard, KVM VPS Enhanced, KVM VPS Premium, and KVM VPS Elite.
Each one has its own perks with varying metrics such as CPU cores, RAM gigabytes, bandwidth, and more, but all have a lightning-fast 99.99 percent uptime to save your precious time when working from it.
Buy VPS Hosting With Crypto (30+)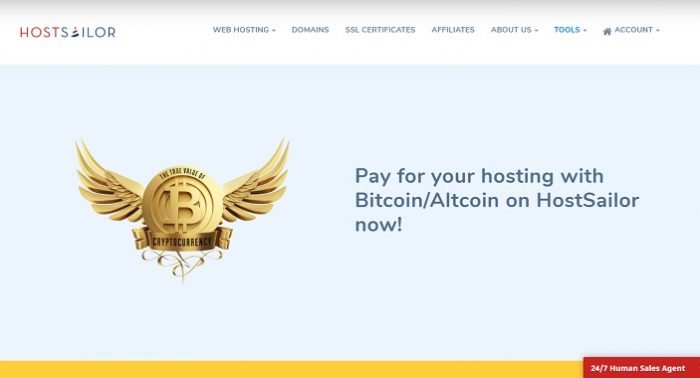 HostSailor is a virtual private server hosting provider that puts emphasis on providing you with a VPS that is flexible, affordable, and scalable.
Their mission is to offer cost-effective, reliable, and secure virtual servers without breaking to the bank to do so. With their various tiers, you can enjoy running a personal website dedicated to your own hobbies or launch a massive business site all from the same platform.
There are three different tiers that you can subscribe to on Host Sailor, including VZ, XEN, and KVM, all with various features that will suit whatever needs you might have, large or small. On this site, you can buy VPS with Bitcoin and have it activated as soon as the payment is confirmed.
Buy VPS Hosting with Bitcoin, Bitcoin Cash, Ethereum, XRP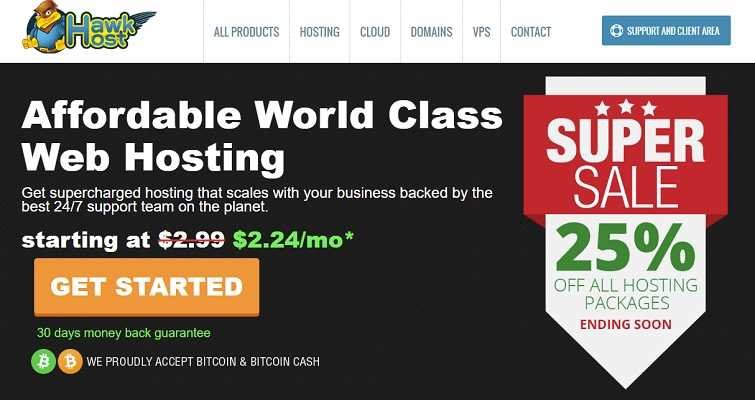 HawkHost is a powerful, cloud-based VPS hosting provider that gives you total security as well as customization options for your server with an intuitive system that makes it easier than ever to manage and run.
At HawkHost, there are five different packages you can subscribe to, including 1GB DAL, 2GB DAL, 4 GB DAL, 8GB DAL, and 16GB DAL.
Each one boasts varying levels of ram, CPU cores, bandwidth, and more, so you will only pay for what you need and save as much money as possible while still getting all of the benefits of a powerful virtual private server.
The best part is that HawkHost accepts Bitcoin and other Cryptocurrencies for their Hosting Plans.
Buy VPS Hosting with BTC only
Finally, we have AltusHost, an SSD powered VPS hosting provider that is KVM based and is available to let you buy VPS with Bitcoin.
It is the perfect blend between powerful dedicated servers and traditional web hosting, giving you a comfortable, easy-to-navigate system that comes with all of the power you need to really take off.
By offering four different tiers, you can be sure you are only paying for what you need and won't end up with pricy features that you won't even use, making it very economic.
Though there are four distinct tiers, each one has baseline attributes such as fast provisioning, flexibility, higher levels of control, and 24/7 support.
Frequently Asked Questions
What is VPS Hosting?
A VPS, or virtual private server, is a virtual machine that runs its own copy of an operating system. It is allocated its own section of disk space and can be accessed by remote users just as if it were a separate physical computer. This makes it ideal for hosting business applications or other high-traffic websites.
How does VPS hosting work?
A VPS hosting service works by allowing a business to lease space on a web server. This space is used to store the company's website files, as well as any associated applications or software. The leased space is then divided into individual virtual servers, which the business can then use for their own purposes.
Typically, each virtual server will be allocated its own unique IP address and domain name.
Is VPS hosting better than shared hosting?
There is no one-size-fits-all answer to this question, as the best hosting option for you will depend on your specific needs and budget.
However, most experts agree that VPS hosting is better and more expensive but also more customizable and offers more features than shared hosting.
Shared hosting is a good option for small businesses or bloggers who have limited budgets, while vps hosting is better suited for larger businesses or those who require more control over their hosting environment.
Ultimately, the best option for you will depend on your specific needs and budget.
How much does VPS hosting cost?
VPS hosting doesn't come cheap. Prices for a basic VPS package typically start at around $50 per month, with more advanced and feature-rich plans running anywhere from $100 to $300 per month.
Keep in mind that these are just ballpark figures, and the exact price you'll pay for VPS hosting will depend on the specific features and resources included in your chosen plan, as well as the size and scope of your website.
In general, however, you can expect to pay more for VPS hosting than you would for shared web hosting, and significantly less than you would for a dedicated server.
What are the benefits of using vps hosting?
There are many benefits of using VPS hosting. Some of the key benefits are as follows:
1. You have full control over your server – You can install any software you like, configure it however you like and have root access to ensure that your server is running exactly how you want it to run.
2. Your server is always available – With VPS hosting, your server is running on a physical machine that is always powered on and connected to the internet. This means that your server will always be available, even if your computer is turned off.
3. You get more resources – When you use VPS hosting, you are guaranteed a certain amount of resources, such as CPU, memory and disk space. This ensures that your server will always have the resources it needs to run smoothly.
4. VPS hosting is more secure – When you use VPS hosting, your server is isolated from other users on the same physical machine. This means that if one user's server is hacked, your server will not be affected, and vice versa.
5. VPS hosting is more scalable – If your website or business suddenly experiences higher levels of traffic, a VPS server can easily be upgraded to meet the growing demand. This makes it a very flexible option for businesses that may experience fluctuations in their traffic levels.
As you can see, there are many benefits to using VPS hosting, and these are just a few of the main reasons why so many businesses choose this type of hosting option. If you're thinking about making the switch, it's definitely something that you should consider!
Conclusion
If you're looking for a way to buy VPS with Bitcoin but are not able to find any reliable sites you can trust to do so, this list of the best sites to buy VPS with Bitcoin is going to be your saving grace.
In this article, we have combined some of the best sites for you to pick through, each with varying tiers of services, so you can just pay for what you need and keep the price low while hosting your websites on a secure, private server that can be customized to your own specific needs.
If you have any other recommendations on where to buy a VPS server using bitcoin, then leave your comment below and let our readers know.
Read Also:
✔️ Top 10 BEST Companies to Buy Hosting with Bitcoin
✔️ Ethereum Hosting: TOP 10 Companies to Buy Hosting With Ethereum
✔️ Buy Domain With Bitcoin: Top 10 Domain Registrars That Accept Bitcoin
✔️ Buy VPN With Bitcoin: Top 10 VPN Companies Who Accept Bitcoin