OrangeWebsite is a hosting provide based in Iceland that allows you to host your website anonymously. It is also one of the few hosting providers that accepts Bitcoin and Cryptocurrencies for payment. In this OrangeWebsite Review I will explain everything you need to know about this anonymous web hosting provider.
I have been managing my blogging site for more than 10 years now. Over the years, I have used many different hosting providers because I have never settled down for just one of them.
I just really love experimenting with different companies. One of my close acquaintances recommended OrangeWebsite for hosting my website, so I decided to give them a go.
In this OrangeWebsite review I will be sharing my thoughts and guide you through their services, so that you can make an informed decision of selecting a hosting provider for your personal blogging website or startup.
OrangeWebsite Review
Name: OrangeWebsite
Best for: Users who are looking for an anonymous and offshore hosting provider who accepts crypto.
PROS
Advanced DDoS Protection
99.9% Uptime Guarantee
Professional Spam filter
Accepts Cryptocurrency
30 Day Money Back Guarantee
Superior 24/7 Customer Support
Free Site Builder
Scalability & Flexibility
Reliability
Security
CONS
No free SSL certificates
No free domain registration
What is OrangeWebsite?
OrangeWebsite is a web hosting company that was established back in 2009 by two Scandinavian freelancers to provide trustworthy offshore hosting services to their clients.
They quickly gained a positive reputation by offering high-quality and reliable hosting solutions focused on ensuring the security and privacy of their clients from more than 100 different countries.
They provide a full satisfaction guarantee, due to which the majority of the customers that have used their services have left positive remarks.
I really like the fact that OrangeWebsite does not include any extra charges or hidden setup fees to ensure that customers are only paying the prices that have been shown to them on their official website.
OrangeWebsite takes the confidentiality, privacy, and safety of their clients very seriously. Customers can benefit from their anonymous and private web hosting solution by only sharing their email addresses without any other personal information.
You can rest assured that your website is in safe hands as they never disclose the activities of their clients to any third parties.
OrangeWebsite Plans & Pricing
OrangeWebsite's selection of services consist of shared hosting, reseller hosting, and cloud VPS along with dedicated servers.
Shared Hosting – Their shared hosting plans start at €3.40 and go up to €24.90 with increased web space and bandwidth for managing higher amounts of traffic as you go from bronze to platinum.
Reseller Hosting – The reseller hosting plans start at €39.90 and go up to €99.90 with increased storage for monthly traffic along with more disk space as you go from bronze to gold.
Cloud VPS – Their Cloud VPS plans are divided into 6 levels, with the first level starting at €29.90 and going up to €179.90 in the last level, with more RAM, disk space, and CPU cores dedicated to you if you are willing to pay more.
Dedicated Servers – Customers can get their dedicated servers starting at the price of €199.00 and going up to €349.00 with an increased number of resources for higher costs.
OrangeWebsite Features
Advanced DDoS Protection
All the websites hosted by using solutions from OrangeWebsite are protected against cyberattacks in the form of large amounts of malicious traffic to disrupt your website operations.
OrangeWebsite has invested in effective solutions for mitigating these threats through their advanced DDoS protection.
I felt relieved knowing that my website wasn't going to go down because of any malicious attacks or sources of interruption.
99.9% Uptime Guarantee
There wasn't a single instance where I felt that the performance of my website was compromised in any way during my time with OrangeWebsite, as promised in their 99.9% uptime guarantee.
Professional Spam filter
This filter is used for effectively discarding malicious incoming emails and protecting IP ranges from spam, malware, and phishing attacks to prevent the website from ending up on a public blacklist and protect their clients' reputations from being damaged.
I was able to avoid the hassle of checking spam emails every now and then, which saved a lot of time.
Accepts Cryptocurrency
You can pay for their plans through a variety of options, and the best thing is that they support payments through Bitcoin for complete anonymity. This is great if you're someone like me who wants to keep the transaction as private as it gets.
30 Day Money Back Guarantee
The 30 day money back guarantee gives you the initiative to try out their services before fully committing yourselves to their hosting solutions. I was satisfied with their performance and didn't feel the need for a refund.
Superior 24/7 Customer Support
The technical staff were great at delivering an exceptional customer support experience as they resolved multiple hosting issues and helped me set up the website with them. They answered all my queries with timely responses in a very professional manner.
Free Site Builder
Their free site builder can be used to create customized website designs with full optimization support to ensure fast loading times with optimal performance. I already had a website, so I didn't really get to check this service out.
Scalability & Flexibility
The hosting plans are built with scalability in mind, but if you still want to upgrade to a new plan, you have the flexibility to do so free of charge.
Reliability
Their services are reliable and provided through fully redundant hardware to ensure that your data is never lost and your website keeps running with maximum performance.
Security
OrangeWebsite considers security one of their top priorities. They guarantee that they will always ensure their clients' privacy and confidentiality. I always felt relaxed knowing that my website and sensitive information weren't at risk of being compromised at any point in time.
OrangeWebsite Reviews
Here's how OrangeWebsite scores in some of the most popular hosting review sites like HostAdvice, Trustpilot and Website Planet.
HostAdvice
Trustpilot
Website Planet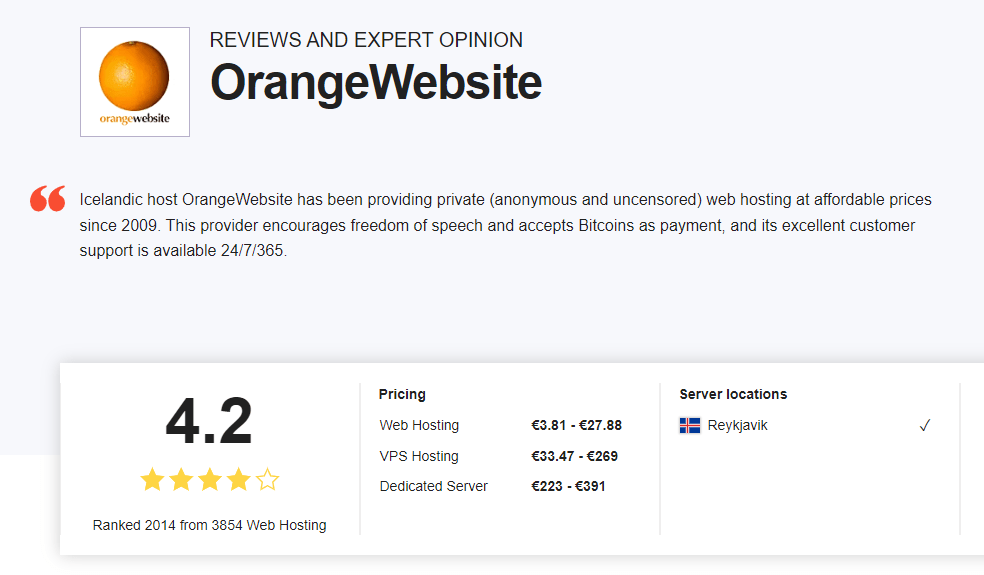 Final Take
OrangeWebsite offers a great selection of services if you want high levels of security, privacy, and anonymity at affordable prices. They provide much better customer service than the alternatives at the same price point within the internet market.
Their reasonable prices are what impressed me the most, because many other offshore hosting companies charge way more for their services than them.
This is the ideal hosting solution for personal blogging websites and small-scale business startups, as it meets all your hosting needs without having to spend big bucks.
OrangeWebsite Review
Pricing
Features
Uptime
Speed
Support
If you want more hosting reviews, check our reviews section. Also, make sure to check our guides on the best hosting companies that accept bitcoin, our article on where to buy the best VPS hosting with Bitcoin and our article on the best anonymous hosting providers.
Finally, if you enjoyed reading my OrangeWebsite Review, feel free to share it with friends who might be looking for a quality, anonymous and offshore hosting provider.