This page is a review of Impreza Host. In this Impreza Host Review you can find information about Who is Impreza Hosting, hosting plans and pricing, Best Features and the Pros & Cons of hosting your website with Impreza Hosting.
Summary | What is | Plans & Pricing | Features | Reviews | Pros & Cons | Conclusion
Offshore hosting is something that many customers require for ensuring high levels of privacy, confidentiality, and anonymity.
But we can often make mistakes and choose a provider that provides us with none of the services they promise. Finding a hosting company that provides you with all the features and services expected from an offshore hosting provider can be a bit frustrating.
Impreza Hosting promises to fulfill all these promises and claims to be one of the best offshore hosting companies out there. Moreover, they also bring advanced technical specifications and a whole load of amazing features to the table.
With an SLA offering the best performance when compared to hundreds of alternatives out there, Impreza Host has really left a positive impression on the market and continues to do so.
Impreza Hosting Review
What is Impreza Host?
Impreza Host is an offshore hosting provider offering servers in 7 different countries, including Switzerland, Russia, Romania, Ukraine, Iceland, United Kingdom and Netherlands.
They quickly gained a reputation in the competitive market of hosting companies by offering unrivaled and specialized offshore hosting services.
With over 20 datacenters around the world, Impreza Hosting has slowly captured a huge chunk of the offshore hosting market by attracting customers to use their services for all sorts of use cases.
They have had 0 cases reported of data leaks by their customers and ensure maximum privacy to deliver a safe and secure hosting experience.
Plans & Pricing
Impreza Host offers many different hosting services and various kinds of servers for facilitating all kinds of customers.
Dedicated Servers
Their starting prices for the most basic package are $100 per month. The dedicated servers are always the best option for ensuring lightning fast performance with no compromises on speed.
These fault-tolerant servers will be able to fulfill all your technical needs with full backups and high uptimes.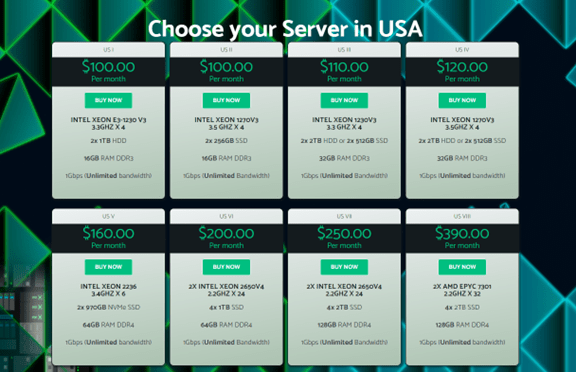 Impreza Host is among the few hosting companies that allow to buy dedicated hosting with bitcoin.
Offshore Dedicated Servers
With multiple countries to choose from and varying price plans, the offshore dedicated servers will certainly help you in maintaining complete privacy on the internet.
The lowest pricing plan is for a server in Ukraine for $130 and the one that costs the most is the Iceland server with the standard package costing $250.
You can pay through cryptocurrency and have complete security without any monitoring done by the company.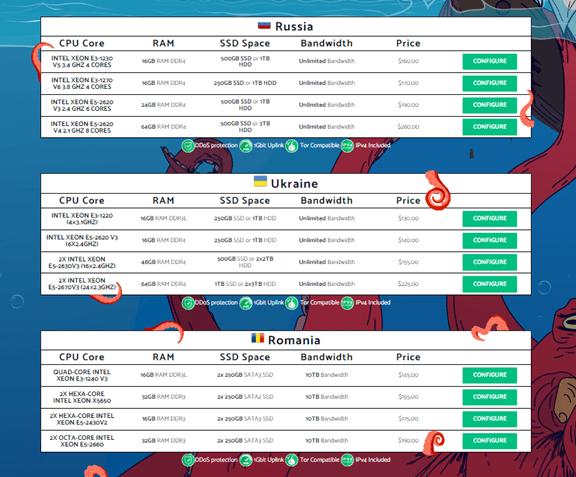 Offshore VPS Servers
These cost-effective virtual offshore servers can be purchased by customers with a starting price of $30 Netherlands, Romania, Russia, and Ukraine for the standard packages. Switzerland and Iceland servers cost a bit more with $40 and $35 respectively.
These servers come with the perfect combination of reliability, scalability, and costs.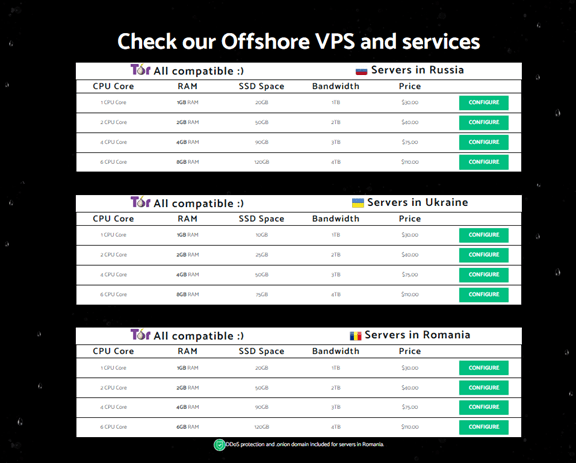 VPS KVM Servers
The basic package can be purchased just for $17 per month. Their kernel-based virtual private servers can be used to run multiple virtual machines simultaneously without any hassles.
You will be able to run 2 different operating systems side by side with high speed and performance. The set up process is super easy and only takes a few minutes to get it fully ready.
RELATED: Buy VPS With Bitcoin: The Top 10 List
Cloud Hosting
You can get the basic monthly package $13.59 per month and the annual package for $146.77 which comes to $12.23 per month. All the packages come with a fully functioning cPanel and free SSL certificates along with one click upgrades for RAM and CPU cores.
The helpful and cooperative support team ensures that your set up process goes smoothly to make use of the cloud infrastructure's huge potential to its utmost limit.
Windows Hosting
Impreza Hosting provides cheap and powerful windows hosting with their affordable packages. The basic unlimited plan comes in just $4.75 which is a relatively cheap price offered by other popular competitors.
The package includes an easy to use Plesk panel along with full compatibility with a variety of different Windows tools.
Linux Hosting
The Linux hosting packages and servers are available within different countries with the basic USA package starting from $7.50 per month.
The package comes with full support with multiple databases, programming languages, 400+ applications, and additional layers of security with Hotlink and Leech protection.
The Varnish caching ensures 1000% faster performance levels resulting in high website ranking with lightning fast load times.
WordPress Hosting
The basic packages come for just $12.95 with fully specialized WP database, unlimited email accounts, and can support up to 25,000 monthly visits. This hosting service is optimized for delivering the best WordPress website performance.
It is compatible with all WordPress tools and catered to specifically supporting the architecture of this popular site creation tool and content management system.
Impreza Host Best Features
Below is a selection of the best features Impreza Hosting has to offer.
7 Day Money Back Guarantee – The 7 day money back guarantee ensure that you can have a stress-free experience with the service without being bound by the constraints of package plans.
Accepts 20+ Cryptocurrencies – Impreza Hosting is paving the way towards a future with mass cryptocurrency adoption by offering a selection of 20+ cryptocurrencies as payment options.
Free SSL Certificates – SSL Certificates are available as a freebie to provide you with advanced encryption options for maintaining privacy and security.
Data Backups – Multiple data backups are created and stored which can be restored in case of data loss due to unforeseen disasters or other serious issues.
E-Commerce Website Builder – An E-commerce professional website building service with hundreds of professional templates can be utilized with the help of their website development teams to create unique and customized websites for your businesses.
DDoS Protection – This layer of protection will save you from targeted malicious attacks to take down your sites' services by mitigating most threats through specialized network equipment and services.
Varnish Caching – This advanced caching technology can be used to exponentially speed up your website's load times to compete with thousands of other websites with fast loading times in a competitive market.
24/7 Support – The technical support staff helps you in resolving and troubleshooting your concerns by promptly responding to all your queries at all times.
Impreza Host Reviews
if you are still susceptible on hosting your web properties with Impreza Host, you can see what other users say about Impreza Host.
Top Notch Customer Service…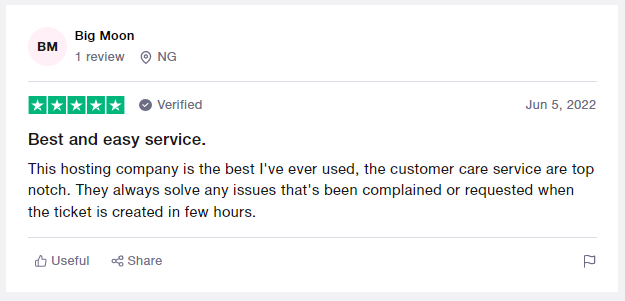 This guy is happy that he is able to use Tor Browser and pay with Bitcoin to preserve his online privacy..
Great customer service and TOR hosting…
This guy says all…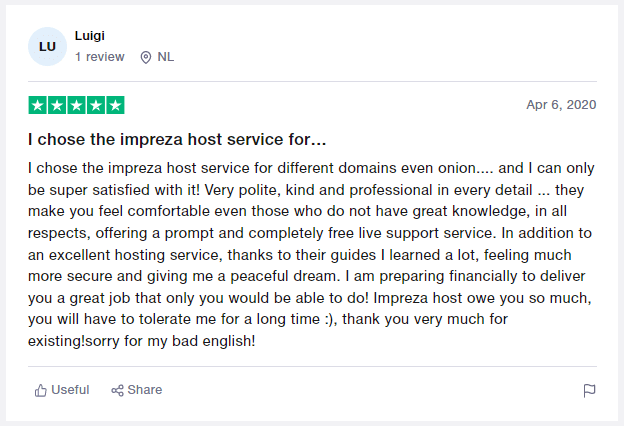 Impreza Host Pros And Cons
PROS
7 Day Money Back Guarantee
Accepts 20+ Cryptocurrencies
Free SSL Certificates
Data Backups
DDoS Protection
Varnish Caching (Fast load times)
24/7 Support
CONS
No free domain registration
The services offered by Impreza Host are much cheaper than other popular alternatives with maximum performance levels and minimum downtimes as guaranteed by its SLA.
Final Take
The huge amount of dedication to its customers and a load of hosting features for multiple use cases earns it a much worthy spot on this list.
If you choose to go with them, rest assured that you won't be dissatisfied by them at all and they most certainly won't let you down.
Choose them for their lightning fast website performance, extreme levels of reliability, and maximum security in minimum costs.
CHECK ALSO: Top 10 BEST Companies to Buy Hosting With Bitcoin [2022]