The crypto industry has grown significantly despite criticism and a skeptical approach from regulators across the globe. Investors and entrepreneurs flocked this market after the 2017 crypto bull-run which saw Bitcoin's price surge to an all-time high of over $20,000 USD. Since then, the market gained traction not only from Bitcoin's perspective but also from profitable ideas within this space.  
Today, the total crypto market cap stands at $243 billion with over 5,000 cryptocurrencies making up this volume according to Coinmarketcap. This portfolio of digital assets is quite diverse and has evolved since Bitcoin's inception about a decade ago.
While BTC started as transactional crypto, other projects like Ethereum have come up to facilitate the creation of DApp ecosystems.
With such developments, the crypto space now presents a range of profitable business ventures that one could start. Interestingly, most of these ideas require minimal capital to kick-off and can, therefore, be initiated by individuals, startups, and large firms as well.
Five ideas that have so far proved profitability include crypto trading, investing in ICOs and STOs, referral programs, mining, and crypto consultancy.
1. Crypto Trading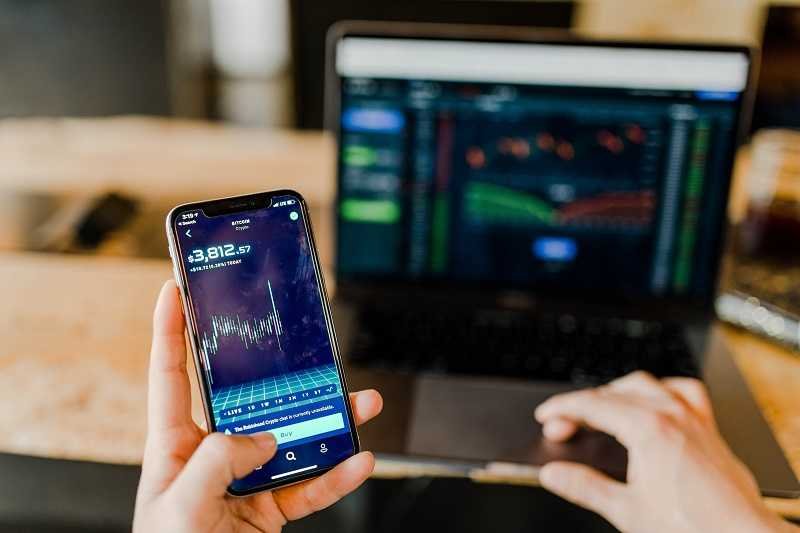 This business is simply a replica of the current trading in traditional bond and stock markets. However, the underlying assets are cryptocurrencies that follow that market participants buy and sell them to make a profit from price movements. Basically, the whole idea revolves around buying low and selling high in order to be profitable. Though liquidity is still an issue, this space has continued to expand attracting institutional investors in the recent past.  
Prospective market entrants can start to trade crypto coins through existing exchanges depending on which one favors their preference. Currently, leading exchanges like Binance have gone further to introduce spot and futures markets for digital assets.
This has ultimately earned the exchange of both basic and advanced crypto traders' clientele. In most cases, the crypto traders rely on technical indicators or fundamental project aspects to make price predictions. This is not to say that crypto trading is automatically profitable, the business is as volatile as the crypto market.
READ ALSO: The Top 10 Crypto Trading Books for New Traders
2. Crypto Referral Programs  
Referral programs are now finding a convenient operational ground within the upcoming crypto industry. These initiatives have been instrumental in the market acquisition and it comes as no surprise that crypto entities have also opted to incentivize their targets.
As a participant, this is another area where you can capitalize on by starting a business. Bitzlato, an international crypto platform, is among the stakeholders whose crypto referral program could be a profitable business based on its underlying design.  
The P2P service provider and crypto exchange runs a referral program that could earn as much as 90% of the commission fee on invited users' transactions. Simply put, an individual or entity makes more money should their invited parties transact larger volumes.
Referrals on Bitzlato's P2P platform attract a 32% commission on the fees as opposed to the lucrative 90% on its crypto exchange. Notably, there is room to earn an additional 8% from ads by your referral that results in a deal from their announcement. This program has no limit invitations making it possible to grow a business exponentially.  
Apart from the referral initiative, Bitzlato has maintained anonymity as a fundamental feature within its ecosystem. The KYC approach only requires the creation of a username, provision of an email, and password for interested parties to start leveraging Bitzlato's crypto services including the referral program. 
3. Investing in ICO's and STO's  
Crypto investments are also another form of business that could be profitable should an interested party make the right decision. This then brings up the idea of Initial Coin Offerings (ICO) and Security Token Offerings (STO); a concept of raising funds by crypto projects which also presents an opportunity for investors to make a killing. At the very basic, ICO's and STO's resemble Initial Public Offerings (IPO) that have long been used to raise funds in capital markets.  
Given the young nature of crypto projects, most result in ICO's and STO's for initial funding. Business ventures and individuals can then be part of these initiatives by investing in the ICO's or STO's.
As for the former, one gets to own a token which they can liquidate at a later date or upon the project's completion for a positive ROI. Security Tokens, on the other hand, have been more regulated such that buyers/contributors can acquire debt or equity stakes based on the issued digital assets. It is, however, very important to conduct proper due diligence within this business scope given the greyness in crypto laws and opportunistic scams.
4. Crypto Mining  
This area of crypto business is a bit more technical and resource-intensive when it comes to the mining machines. Most often, miners' benefit from fees paid by network participants who rely on their effort for new coin generations. The venture involves dedicating one's power and utilities like computer space to facilitate crypto mining.
Bitcoin, for instance, rewards miners with 6.25 BTC for every solved block as per the most recent halving in May 2020. Prior to this, the reward was 12.5 BTC for every block added to Bitcoin's blockchain.
In order to mine and be profitable, stakeholders need to have a cutting edge against competitors. This leverage can be acquired through the use of better mining equipment like ASICS which provide a higher hashing power.
It is quite noteworthy that the industry has evolved from CPU's to Graphic cards and now ASICs such as the Antminer S9 Pro whose hash power is 14 TH/s. However, the use of advanced machines may not guarantee a profitable business given China's electricity capacity which automatically favors miners within its jurisdiction. 
5. Crypto Consultancy 
Crypto Consulting is no doubt a pillar in any industry looking to grow and present sustainable business cases. The crypto market is quite young which gives an opportunity for specialization and client acquisition in matters consulting.
Ideally, prospects can create a business whose main function is to guide crypto firms towards profitability. In addition, the function could spread out to areas like education and training which is lacking and yet to meet the interested demand. 
---
With crypto regulation and tax issues on the rise, professions within these areas have also been accommodated to shape the future. Therefore, the market now presents an opportunity for wider consultations that are compensated as well. A business idea pegged on feeding the crypto knowledge gap is likely to be profitable should it be run efficiently within the legal scope. Other than private entities, global financial watchdogs like the IMF have at some point relied on crypto consultancy to inform policies and the approach towards digital currencies.