Many newcomers to the crypto space are looking for platforms to buy, sell and exchange cryptocurrencies. While there are hundreds of crypto exchanges around the globe, the question arise "Which are best trading platforms for Cryptocurrency"? Which platforms are solid, and OK to be trusted.
After all you don't want to avoid joining a cryptocurrency exchange, with bad user interface, not devoring resource on cyber security and not having the many cryptocurrency pairs to trade with.
Some exchanges have advanced trading features that can stake, farm, and even buy NFTs, while others don't.
So in this article we compiled the best trading platform for cryptocurrency – the best cryptocurrency exchange platforms to invest safely and easily your money/crypto.
It can be daunting to find the right platform to trade Bitcoin, Ethereum, and other cryptocurrencies as a beginner. So, we narrowed everything to make it easy for you to pick where to buy and exchange your cryptocurrencies.
If you are new to cryptocurrency trading, we suggest educating yourself first. We recently produced a list with the Top 10 BEST Crypto Trading Books for New Traders. You might want to check it out (opens in a new tab).
Best Trading Platforms for Crypto Beginners
The platforms listed below are platforms that we have been using over the years to trade our crypto assets. Also, more than half of the crypto trading community has an account to one of the following platforms.
1. PrimeXBT – Best Trading Platform Overall
PrimeXBT is a prominent trading platform that has gained recognition since its establishment in 2018. It's one of the best trading platforms for crypto and overall markets.
With offices in Seychelles and St. Vincent and the Grenadines, namely Prime Technology Ltd. and PrimeXBT Trading Services LLC respectively, the platform has expanded its reach across three different locations.
One of the key strengths of PrimeXBT is its extensive range of trading assets. With over 100 trading assets available, users have the opportunity to diversify their portfolios and explore various investment opportunities – not only with crypto but with commodities, stocks and other trading pairs.
The platform boasts an average daily trading volume exceeding $1 billion, indicating high market activity and liquidity.
A unique feature of PrimeXBT is its ability to allow users to copy the trading strategies of successful traders. That's why this platform is great for beginners.
By replicating the trades of top-performing traders, new users can potentially achieve similar returns and enhance their investment performance. This feature appeals to both novice and experienced traders looking for opportunities to improve their trading outcomes.
The platform has garnered a substantial user base, with over 1 million registered users spanning across 152 countries. This global presence showcases PrimeXBT's popularity and widespread acceptance within the trading community as well as a trustworthy platform to partner with.
To cater to the needs of its diverse user base, PrimeXBT offers convenient iOS and Android applications. These mobile applications enable users to access the platform's features and execute trades on the go, providing flexibility and accessibility.
Overall, PrimeXBT has established itself as a reliable and dynamic trading platform. Its extensive range of trading assets, high trading volume, and collaboration with liquidity providers contribute to its appeal.
The ability to copy successful traders, along with a large user base spanning numerous countries, further enhances its reputation. The availability of mobile applications and the inclusion of various trading options beyond cryptocurrencies make PrimeXBT a comprehensive platform for traders seeking opportunities in different markets.
PROS
Wide Range of Trading Assets
High Trading Volume and Liquidity
Copy Trading Feature
Mobile Applications
1 million+ users in 152 countries
CONS
Limited Regulatory Oversight
👉 Click Here To Visit PrimeXBT
2. Binance – Best Trading Platform For Crypto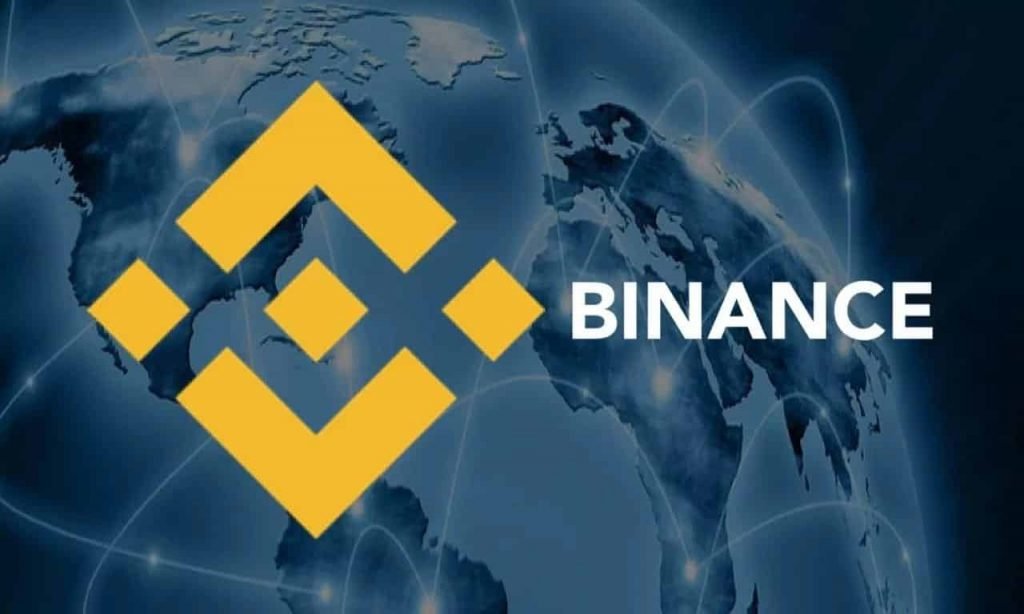 Binance is the largest cryptocurrency exchange by a mile, and there are over twenty-nine million visits per week. Daily trades on the platform are over 20 billion dollars, with over 400 different cryptocurrencies bought and sold.
Binance was launched in 2017, and it has quickly grown to dominate other cryptocurrency trading platforms.
The platform is available in more than 180 countries, and they allow users to trade as low as one dollar on the platform.
Users can also use their credit or debit cards to directly buy any cryptocurrency on Binance, depending on government regulations nowadays. They also have an extensive peer-to-peer market used to buy and sell cryptocurrency with any local currency.
If you are new to the cryptocurrency and crypto trading space you have access to Binance Academy, which has explanatory videos on Blockchain and cryptocurrency technology.
The trading fee is low on the platform, and it has a strong chart that day traders use to analyze market situations.
In addition, it has a mobile app that is beginner-friendly. The Binance app can be used in Lite and Pro mode, depending on your level of understanding.
The app has many features, and it can be used to earn passive income through staking, Liquidity farming, launchpad, savings, and more.
You can also take crypto-backed loans on Binance directly from the app. There are different types of tradings, but spot is the most popular one that newbies use, while margin and futures trading are for experts.
They also have an NFT marketplace in the app for those that like flipping NFTs. You also can set stop loss on the Binance platform
Binance has its native token BNB and BUSD that is pegged to the USD value. You can use it to earn rewards and trade faster on the app.
Binance has faced regulatory issues over whether they have permission to operate in certain countries. Nonetheless, the platform is secure, and it has many features to use and earn extra income with your cryptocurrency.
Pros
Available in a lot of Countries
Easy to use in Binance Lite mode
Wide trading options
Over 200+ tradeable cryptocurrencies
There is an NFT marketplace
Low transaction fees
Peer to peer trading is available
Cons
The Pro mode might be confusing
Regulatory issues with multiple countries
USA version has limited cryptocurrencies
👉 Click Here To Check Binance Exchange
3. Kucoin – Best For Finding Altcoin Gems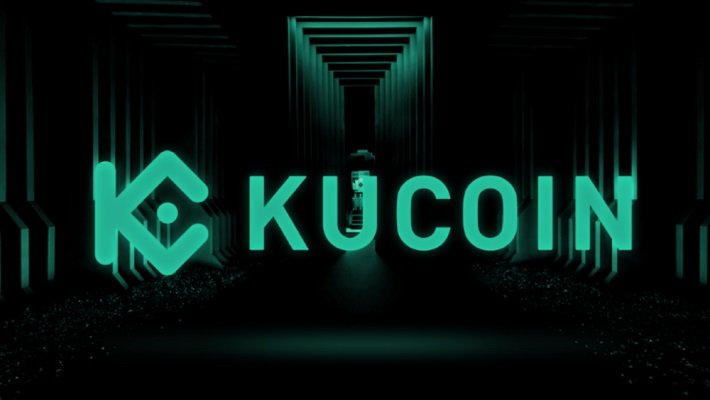 Kucoin was also launched in 2017, and they have over 600 cryptocurrencies available for trading and a weekly visit of around 3.2 million users. Over 2 billion dollars worth of cryptocurrency is traded on the platform every twenty-four hours. Kucoin is available in over 100 countries, excluding the United States of America. The platform supports forty-four fiat money, including USD, EUR, and GBP.
The trading fee on the platform is low, and you can transfer your fiat money to the platform or use a credit or debit card to buy. Kucoin supports Apple pay, Visa, and MasterCard. There are videos available on the platform that will guide you on trading, funds transfer, and different ways to use the platform. There is also a direct peer-to-peer market that can be used to buy cryptocurrencies. I like it because you have to complete KYC before trading on the P2P platform.
You can earn passive income on Kucoin by Staking or lending out your cryptocurrencies. For example, you can earn up to 12% APY by staking for some days. In addition, a trading bot on Kucoin can help you buy and sell cryptocurrencies when you are offline. Crypto experts can also leverage the margin trading to buy more cryptocurrency, but it can be risky.
They have their native token (KCS) that can be used to earn rewards and reduce transaction fees on the platform. Kucoin also partnered with Onchain Custodian to secure the cryptocurrencies stored on the platform. There is also insurance from Lockton against hacking. They also have a bug bounty program to encourage ethical hackers to report any weakness in their system.
Pros
Advanced trading features
Wide variety of cryptocurrencies
Low transaction fees
Earn passive income by staking and lending
Reliable Peer to Peer market
Cons
Lacks Educational contents
Not suitable for beginners
Limited payment methods
4. Crypto.com – Best For Using With Traditional Finance
Crypto.com exchange is currently one of the best trading platform for cryptocurrency, and over two billion dollars worth of crypto assets are traded daily on the platform. In addition, 645 different cryptocurrencies are available for trading on the exchange, and they have a weekly visit of over three million.
The platform has an excellent user interface, and they even offer users a prepaid visa card to allow them to spend their cryptocurrency easily. Users can also earn up to 8% cashback rewards by using the card and staking the native CRO token. In addition, the transaction fee is not stable, and you can stake your CRO token on the platform to further reduce the cost of trading.
The platform has many DeFi products, including a non-custodial DeFi wallet for secure storage and interest-earning. You can easily swap tokens using their services. The platform also has crypto staking where users can earn up to 8.5% interest per year on cryptocurrencies and 14.5% interest on stable coins. Users can decide to stake for a short or long period.
Crypto.com exchange also has a new NFT platform where NFT transactions are carried out. You can buy and sell NFTs on the marketplace and keep track of upcoming NFT launches and sales. Users can also view NFT collections owned by artists. There are many products in the app, and it takes a while for beginners to understand the app.
While it's an excellent platform for trading cryptocurrency, they don't have any educational resources to help investors know more about investing. Users have access to security features like two-factor authentication and other security measures. The platform is also insured for 360 million dollars against damage or theft. Left to me, Crypto.com exchange is more like a bank for keeping cryptocurrencies if you want to spend it quickly.
Pros
Friendly User interface
Wide range of cryptocurrencies available on the platform
Earn passive income with staking and lending
Low fees with cash transfers
Prepaid Visa card supported
Cons
High deposit and withdrawal fees on crypto transactions
Lack of a peer to peer market
Some services not available in the US
👉 Click Here to Check Crypto.com Exchange
5. Coinbase – Best For User Experience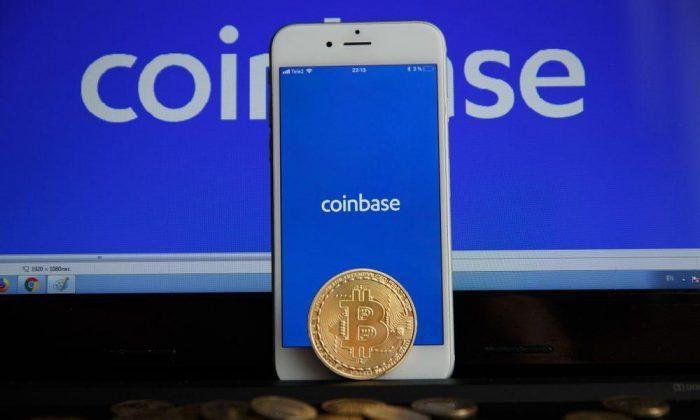 Coinbase is one of the top best cryptocurrency exchanges available, and it was launched in 2012. The platform is easy for beginners to understand. That is why the exchange is used by many. Over 2 billion dollars worth of crypto assets is traded on Coinbase daily.
A section keeps users informed about what is happening in the cryptocurrency world; they also tell you about new crypto projects on the come up. The user interface is friendly, and you get a free bonus if you open an account on Coinbase. Users can also watch educational content on the platform and earn free crypto.
Coinbase Pro and Coinbase Prime are available options for advanced traders and institutions with high net worth. They access charting tools, secure trading bots, and real-time order books. Users can also stake their crypto assets and earn rewards over time. The trading fee is high compared to other exchanges, but Coinbase is covered by insurance in case of a hack. Overall the platform is one of the most secure cryptocurrency exchanges available right now, and it has been in existence for a decade.
Pros
A large number of cryptocurrencies available for trading
Easy to use for Beginners
Educational materials for learning more about crypto are available
Covered by insurance in case of a hack
Cons
High Trading fees on Coinbase
The fee structure is difficult to understand
6. Kraken – Best For Newbies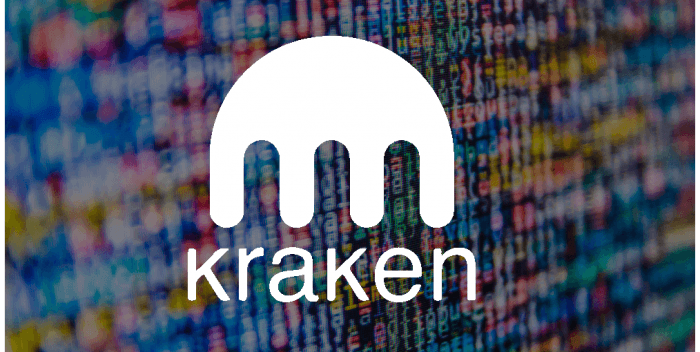 Kraken is among the best trading platform for cryptocurrency, with over 1 billion dollars a day trading volume. The platform is suitable for beginners because it has explanatory videos and blog posts about cryptocurrencies and blockchain technology. In addition, it has a broad reach, and it is available in almost 200 countries, and there are over 100 cryptocurrencies traded on the platform. The company was founded in 2011, and it has been among the leading crypto exchanges.
Kraken offers a wide variety of products that can be used to earn passive income with crypto. Kraken Pro is available for Pro and institutional traders. The pro version offers detailed trading charts and order books. The trading fee is low, which is one of the reasons why many users use it daily. Futures trading is also available on Kraken
Institutional clients access expert insights, one-on-one consultations, account management, and more. Some features of Kraken are not available in the United States of America. They also have customer support available 24/7 and can be contacted through email, live chat, and phone.
Pros
A wide variety of cryptocurrencies is available
Easy to use
Pro version available
Beginner-friendly
Cons
High transaction fees sometimes
Only Institutional clients have experts insights
👉 Click Here To Check Kraken Trading Platform
7. eToro – Best For Copy Trading
eToro was founded in 2007, and it is one of the most accessible platforms to trade cryptocurrencies. it wasn't originally a crypto trading platform but rather a stock trading platform. eToro is one of the first platforms to support cryptocurrency trading. Users can trade Bitcoin, Ethereum, and other cryptocurrencies.
The platform has unique trading features that let users copy the trades of other investors. In addition, users can deposit their USD to buy cryptocurrency or transfer from other crypto exchanges. It has an excellent user interface, but beginners might struggle to understand how it works. An eToro mobile app is available on IOS, and Android users can also trade using the web.
Beginners can take advantage of the demo account credited with $100 000 and start learning how crypto trading works without any risk. Leveraging their copy feature, beginners can also buy what professional crypto traders are buying. eToro uses a spreading mechanism to charge trading fees depending on the crypto asset you buy or sell. eToro is more like a social trading platform. The percentage they charge starts between 0.75% to 4.5%, depending on your trading cryptocurrency.
eToro is available in many countries, and users have access to trading stocks and cryptocurrencies. Unfortunately, users in the United States of America only have access to trading crypto, and it is only available in 43 states. Your crypto assets are safe with eToro, and they also use cold storage to store a large percentage of crypto on their platform. It is essential to safeguard your password to avoid any breach from your side.
Pros
Regulated in various countries
Available in a lot of countries
Choice of crypto CFDs
Cons
Not beginner-friendly
High transaction fee
👉 Click Here to Check eToro's Copy Trading Platform
8. Shrimpy – Best For Trading Bots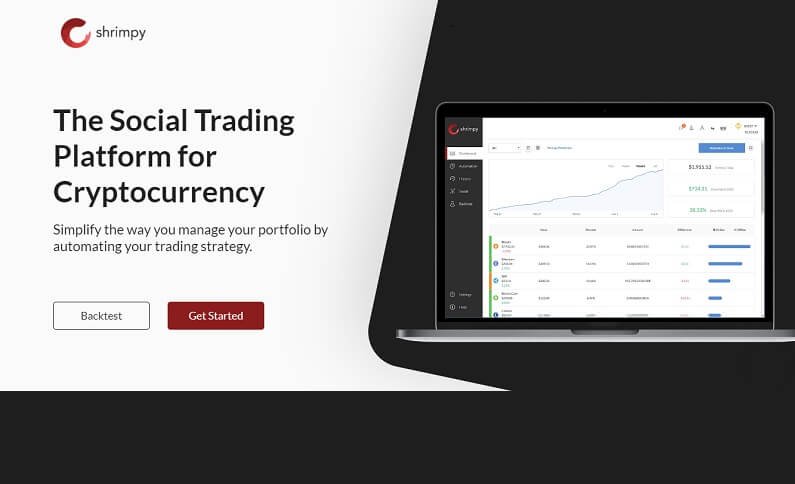 Shrimpy was founded in 2018, and it has a feature that makes it similar to eToro. The biggest reason people use crypto is their crypto portfolio rebalancing feature. Users have the chance to modify their crypto portfolios following market movements. In simple terms, let's say you want to allocate 30% of your entire crypto portfolio to Bitcoin, 50% to altcoins, and the remaining 20% to Stable coins no matter what happens in the market.
Shrimpy can help you do that by rebalancing your portfolio every time the price of a particular asset goes up or down. For example, if Bitcoin appreciates and takes up more than 30% of your portfolio Shrimpy will sell and re-invest in altcoin or keep it in your stable coin savings. In addition, you can connect multiple exchanges to your Shrimpy account. Popular exchanges like Binance, Kucoin, and Kraken can be connected with Shrimpy.
Using this strategy allows users to maintain profit and have a trading strategy. Users can also keep track of their portfolios using this method. The platform also has social trading features, and you can copy the trading methods of professional traders. Shrimpy goes further to make it unique, and you can earn money if others copy your trading strategies. Users can also decide to make their trading strategy public or private.
Related: Top 12 BEST Crypto Trading Bots [2022 Guide]
An indexing tool helps users create a custom index with automated rebalancing and parameters. Pro traders can decrease risk and increase wealth in the long run. Shrimpy also has a free demo account that can be used to assess the trading bots. There is some paid membership on the platform, and they cannot be avoided sometimes.
A beginner will find Shrimpy challenging because of its complex nature, but it has a friendly interface. It is a web-based application with some tools that can help you learn how it works. Shrimpy is secure, and users have two-factor authentication and API to protect users' accounts.
Pros
Automatic portfolio rebalancing
Tools and crypto bots are free
Users can copy profitable trading methods
Supports major crypto exchanges
Cons
No crypto signals
No mobile app
Financial security is not guaranteed
👉 Click Here To Check Shrimpy's Trading Platform
9. Gate.io – Best For Experienced Traders
Gate.io is a significant cryptocurrency exchange that was founded in 2017. The platform offers a wide variety of services, and billions of dollars worth of crypto are traded daily. It is available in over 150 countries, excluding China. There are a lot of cryptocurrencies that are available for trading on the platform.
Gate.io is suitable for expert traders because they can utilize the tools and features on the exchange. The platform might be difficult for beginners, but intermediates will find some features useful. A mobile app can be used to access the crypto exchange, and it is available on Android and IOS devices.
Users can buy crypto assets using 23 currencies, including the US dollar. Users can also transfer their crypto assets from other exchanges to gate.io. In addition, the withdrawal fee on the platform is low, and users are not charged for depositing their crypto on the platform.
Users have access to tools that can help them track the performance of various cryptocurrencies. You can also lend out your cryptocurrency and earn passive income before the lending period expires. They also have an NFT marketplace where you can trade non-fungible tokens. There is also the copy trading feature on the platform where users copy the trading strategies of professional investors.
They have Spot and futures trading accounts, and they also have a secure peer-to-peer marketplace. Another essential feature is the news section, where users can learn about crypto and blockchain technology. Users also stand a chance to win free vouchers when they sign up on the platform.
Gate.io has many features, and it is one of the best trading platforms for cryptocurrency. Users can also join cloud mining without buying any hardware; they need to buy a mining cloud on the exchange. In addition, the platform is secure, and they store your crypto assets on a cold wallet, and customers can also enable two-factor authentications.
Pros
A wide range of cryptocurrencies supported
No deposit fee
Wide range of features
Available in a lot of countries
Mobile app available
Cons
Not Recommended for beginners
Unregulated
👉 Click Here To Check Gate.io's Crypto Trading Platform
Rounding Up
If you want to invest in cryptocurrency, you need to open an account with any exchange above to save your crypto assets. The crypto exchanges listed above share some similarities and differences. If you read carefully, you should pick one that you will use to save your cryptocurrencies.
I save up my crypto assets on multiple exchanges because some cryptocurrencies available on Binance are not available on Kucoin. There are some advanced platforms like Metamask and Trust wallet, but they require some understanding before they can be used.
Nonetheless, this are the best trading platform for cryptocurrency, and your savings will be safe regardless of the one you pick.
READ ALSO