This article needs an update. Many of the platforms listed here have closed their doors.
In this article, we are presenting the best cryptocurrency lending platforms for 2021 as well as explaining what is Crypto Lending and what to be careful of.
---
Cryptocurrency is rising in popularity and a lot of people are adopting the use of digital currencies for transacting and storing their wealth.
The word "Cryptocurrency" has become very popular in Europe, the US, and the rest of the world. Some Cryptocurrencies are highly volatile in the short term and we can see how Bitcoin has Doubled in value from December 2020 to April 2021. By mid-June 2021 Bitcoin had nearly lost 50% of its value.
There are a lot of cryptocurrency owners who are not buying Digital Currencies for short-term gains they are in it for the long haul.
In the crypto space, they are mostly called "Hodlers" or you might have heard "HODL" somewhere a term mostly associated with people who hold on to their crypto for years.
Users like that are now open to using their digital assets as collateral for loans.
In today's we are going to talk about crypto lending and even list out some of the best cryptocurrency lending platforms to start receiving interest on your crypto or request loans from by placing your cryptocurrency as collateral.
We are also going to share with you whether crypto lending is safe as well as the risks involved.
Best Cryptocurrency Lending Platforms
Nexo – Best Crypto Loan Platform Overall
Nexo is a crypto lender that was launched in 2017. Ever since then the platform has processed over 1.5 billion dollars from over 1 million users in different countries.
The platform also accepts payment in 3 fiat currencies, 6 stable coins and 12 cryptocurrencies including – among others – EOS, Cardano, Stellar, Chainlink, Bitcoin, and Ethereum. Nexo is an online crypto lending platform that offers financial benefits for storing crypto assets on the platform like Bitcoin and Ethereum within a Nexo secure wallet.
The platform is very popular among cryptocurrency enthusiasts as an alternative method to increase their crypto holdings and storage option for investors and companies looking to leverage additional financial benefits for borrowers and lenders.
Nexo is led by Antoni Trenchev who is the Co-Founder and Managing Partner of Nexo. Nexo is also backed by Michael Arrington who is a well-known investor and founder of TechCrunch.
Nexo is one of the most reputable and legitimate crypto loan platforms. It is trustworthy with a license to operate in more than 200 countries. They have insured more than $100 million against theft and it is provided against a qualified custodian BitGo.
Nexo is perhaps the best platform to earn interest in crypto and our personal favorite.
PROS
Up to 12% Interest

Daily compound interest

Access cash without selling crypto

Visa Card available
Instant Loans
iOS & Android Apps available
CONS
Limited amount of cryptocurrencies
YouHodler – Best For Experienced Users
YouHodler is a cryptocurrency exchange and crypto lender that pays great interest on crypto deposits of up to 12.3% for more than 30 different cryptocurrencies.
One of my major problems with the platform is that it is not available in the United States.
Not to worry of course, since many other crypto loan platforms on this list are available in the United States. Customers on YouHodler can use their crypto as collateral on short-term loans.
You can even use the funds borrowed to carry out more trading on the platform. There are some advanced trading tools on the platform and it also has a strict anti-money laundering process.
The interest rate here is pretty decent. For example, you get 5% interest on altcoins and up to 12.3% on stablecoins – depending on the currency. Interest is paid weekly on the platform and it's paid in the same currency. You can decide to withdraw your funds at any time.
You holder is considered by many as one of the best crypto borrowing platforms out there.
PROS
Up to 12.3% Interest
30+ Crypto Assets to earn interest
Weekly Compounding Interest
Access cash without selling crypto
Visa Card Available
Instant Loans
Advance Trading Tools
Available in 235 countries
iOS & Android App available
CONS
Not available in the USA
No Interest in lending fiat money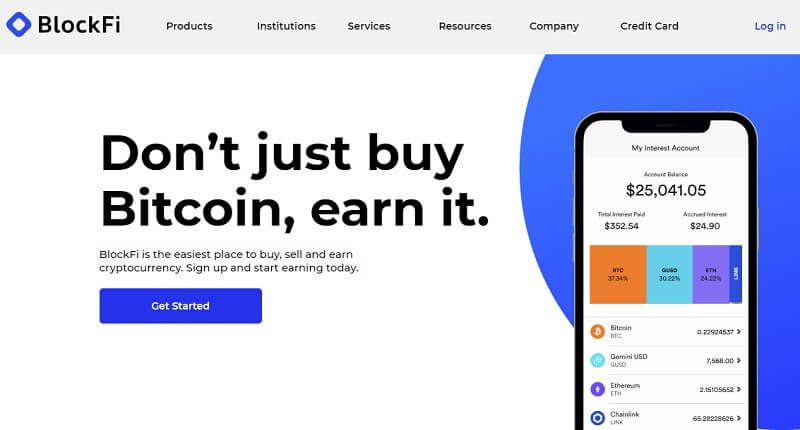 BlockFi is available globally and they offer low-interest rate loans. While other crypto lending platforms might charge interest as high as 11% on crypto loans, you can get a Blockfi Loan at rates as low as 4.5% APR.
The platform also offers interest-bearing accounts as well as a cryptocurrency exchange.
There are no hidden charges or minimum balances. The platform is perfect for beginners and intermediate crypto investors who want to bridge the gap between traditional finance and crypto.
I have personally recommended some first-time users to BlokFi because of how easy it is to understand and use. You can earn an interest of between 3% to 9% on your crypto holdings on BlockFi if you have an interest base account.
BlockFi also lets you borrow US dollars with your crypto as collateral and the interest rate is as low as 4.5%. they also have a credit card in partnership with VISA that can earn you up to 3.5% cashback in Bitcoin on every purchase.
Blockfi is considered by many as the best crypto interest platform for business loans and lenders alike.
PROS
Up to 8% Interest
Low interest on borrowing assets
Backed by serious investors
Monthly Compound Interest
Access cash without selling crypto
Instant Loans
Visa Card Available
Available Worldwide
iOS & Android App available
CONS
KYC when joining the platform

Recent trouble with some US State Authorities

Limited free withdrawals from interest account
Limited amount of cryptocurrencies
No Interest in lending fiat money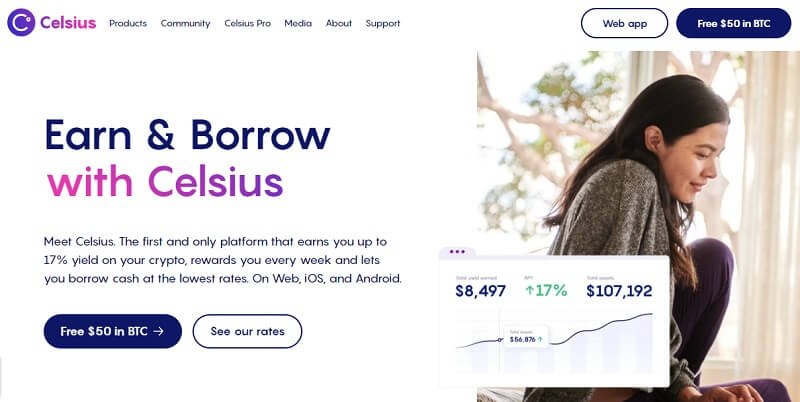 Celcius Network is another great platform for lending crypto you can also buy and pay in more than thirty currencies. The platform is great for beginners because it has a great interface that is easy to digest.
You can receive an undercollateralized loan on your crypto asset as a result of the level of centralization on the platform. All deposits on the platform are insured by up to 100 million dollars.
The risk that comes with crypto trading is low on the platform. There are no limitations for withdrawals on the platform and you can cash out anytime you want to.
It can be a means of passive income for crypto HODLers and you will gain steady returns. There is no account minimum or hidden fees when you are using Celsius Network.
PROS
Up to 17% Interest on lending crypto
Very low interest on borrowing money
Weekly Compounding Interest
Instant Loans
Visa Card coming soon
Available in 150 countries
iOS & Android App available
Security ISO 27001
CONS
Limited amount of cryptocurrencies

No Interest in lending fiat money
CoinLoan – Best European Crypto Lender
CoinLoan is a European P2P crypto lending platform that offers instant loans with up to 12.3% interest on cryptocurrencies, stable coins, and Fiat currency.
They support up to 18 cryptocurrencies, stable coins, and fiat money. you can also earn daily interest on the platform and it is completely secure.
On the platform, you are able to get crypto to fiat loans, crypto to crypto loans with some unique features like lockins, and a flexible method of payment. There won't be any credit history check on your profile too.
The platform has its token CLT and they have a great user interface on IOS and android.
It is not beginner-friendly like other platforms listed above. They are transparent about their security practices while using various methods to secure their platform.
PROS
Up to 12.3% Interest on lending crypto
Zero deposit and withdrawal fees.
Daily Compounding Interest
Earn Interest on Fiat Money

Funds are covered by insurance

.

Instant Loans

Visa Card available
Available throughout Europe
CONS
Limited amount of cryptocurrencies

Not available in the USA
Only iOS App available
Hodlnaut was founded in 2019 and it has quickly grown into one of the leading crypto platforms in Asia.
The platform offer interest on crypto deposits only. Your deposits are loaned out to trusted institutions. They also lend to decentralized protocols and allow their customers to earn interest from their assets.
The platform has only six cryptocurrencies and you can get at least 7.5% APY on some of their cryptocurrencies and as high as 12.73 % APY on Tether (USDT) and USD Coin (USDC).
There is no minimum deposit on the platform and you can withdraw funds at any time without any restrictions.
Interests get credited to Hodlers account on Mondays and they are calculated in terms of profit over the last days before Monday.
Pros
PROS
Up to 12.73% Interest on lending crypto
Weekly Compounding Interest
Available Worldwide
CONS
Only iOS App
Limited products
Only six cryptocurrencies
Long KYC signup process
Ledn.io – Best for Bitcoin Interest
Ledn is a platform that exists so investors can earn interest from their digital assets. You can receive interest from your bitcoin or get dollar loans to buy more bitcoin.
The headquarters of Ledn is in Canada but they are available globally. You can have access to loans with your Bitcoin from Ledn.io. One of my problems with the platform is the lack of other cryptocurrencies on the platform.
Users can earn as high as 12.25% APY when they save their idle digital assets on the platform. You can also collect bitcoin-backed loans as well as B2X loans.
The platform is transparent in its dealings and it is also efficient and accountable. They have a mobile app that was released in January 2021 but it's not as easy to use. the company needs to do some work on the app to make the user experience better.
PROS
Up to 9% interest on lending crypto
Monthly Compounding Interest
Available Worldwide
iOS & Android apps available
Insured via BitGo
Highest Interest on Bitcoin (6.1%)
CONS
Mobile Apps need improvement
Only Bitcoin and USDC are available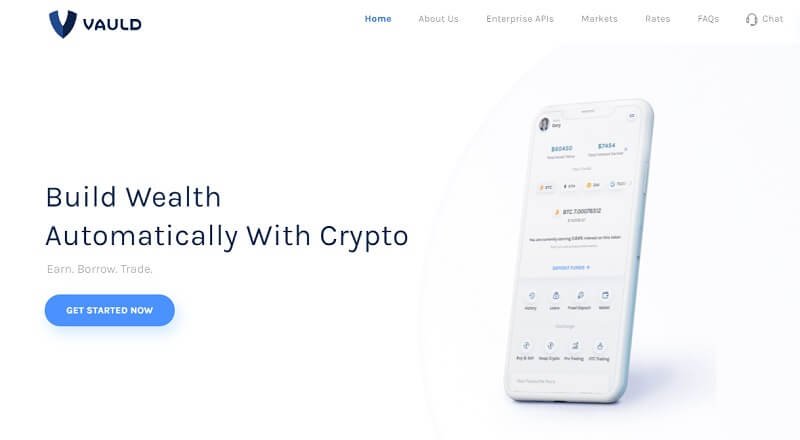 Vauld is another platform that lets you earn interest on your Bitcoin and other digital currencies as soon as you deposit your funds on their platform. The interests are calculated daily and you are paid the interest every week. There are no specific times for withdrawals you can withdraw anytime you want.
They help you manage your cryptocurrencies and also allow you to lend, borrow and trade your crypto assets.
It is one of the best crypto lending platforms available and the headquarters is situated in Singapore. Founded in 2018, they were known as the Bank of Hodlers before switching to Vauld.
You can swap between cryptocurrency and Fiat cash on the platform quickly. They also help you grow more capital by earning interest. The brand has backing from some of the biggest names in the crypto industry and among them include Coinbase Ventures, BitGo, and Lunex.
PROS
Up to 12.68 % interest on lending crypto.
Weely Compounding Interest
Over 30 Cryptos to earn interest
Available Worldwide
iOS & Android apps available
Insured via BitGo
CONS
Only Bitcoin and USDC are available
Salt Lending – Best For Business Loans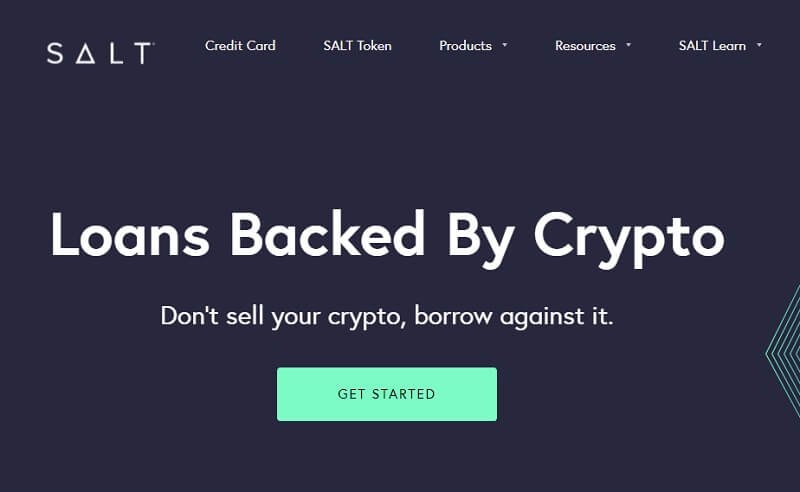 Salt Lending was created in 2016 and it is one of the first crypto lending companies that was ever created.
It provides loans in US dollars for holders of cryptocurrency. This is a typical example of an instance where HODLers can borrow money using their cryptocurrency as collateral.
They have their SALT token and they can be used by members to pay for memberships and other perks on the SALT platform.
Interest rates for crypto-backed loans on SALT start from 5.95% interest, but there is no pre-determined set rate for loans on the platform.
They accept several Stablecoins and altcoins like Doge, BTC, Ether, Litecoin, and Ripple.
PROS
Comprehensive insurance cover for users
Cold storage security and multi-signature.
Easier loan acquisition than banks
Best for business loans
iOS & Android Apps available
CONS
No interest Accounts Available
Minimum loan amount of 5000 USD
Business loans only in Canada, UK, and Australia.
Personal Loans are only in a handful of countries.
Smart Credit – Best P2P Lending Platform
Smart Credit was founded in 2019 and it offers a different service when compared to all the platforms on this list. It is a peer-to-peer lending platform that allows for direct interactions between P2P customers.
There are no charges or intermediaries unlike what we have with other conventional crypto borrowing platforms.
Borrowers normally submit their loan requests on the platform and lenders place their loan offers the matching algorithm will then match loan supply with loan demand. Once a match is identified, the lender can supply ETH and the borrower can borrow ETH.
All loans on the platform are insured for face value. The main aim of the platform is to provide the key components of the alternate blockchain-based financial system. the crypto lending/borrowing, the fixed-income funds, and integrations.
PROS
You know who is borrowing your digital assets.
Earn Interest on Fiat money
No hidden fees
Interest depends on what the loan issuer wants.
CONS
Only Ethereum, Ethereum Tokens and Stablecoins are for interest.
No Mob Apps
---
What is Crypto Lending
A cryptocurrency-backed loan is a collateralized loan that you can get from a crypto lending platform or crypto exchange. The loans work in the same way a mortgage or a car loan works in the sense that you are using an asset. In this aspect, you will be using your cryptocurrency as collateral to secure the loan.
You can also decide to borrow your Cryptocurrency to a crypto lending platform and you will be able to earn interest on your digital assets when the crypto loan platform lends them to institutional borrowers.
Let's say you have a lot of cash stashed in your savings account and your bank pays you 0% interest in exchange for using it to issue loans to other customers. You must be absolutely crazy to
You must be #crazy 🤪 to keep your #money in a 0% interest account when you can earn #compounding interest of up to 12.73% per year just by converting them to crypto and adding them to a crypto lending platform.

#crypto #banks #defi #cryptolending
Is Crypto Lending Safe?
There is no business without risk and crypto lending has its fair share of risks. If you want to make a profit from your capital then you always have to accept the risk that comes with it.
The higher your potential profit the higher the risk involved. Cryptocurrency is a good example of this business mechanism.
You can be able to amass exorbitant profits but as a crypto investor, you still need to live with the high volatility.
Crypto lending is not risk-free and in the normal sense, it shouldn't be. You want to make profits from your crypto savings and there should be some risk involved certainly.
However, before deciding to be a crypto lender or borrower you need to understand the risks you are about to take and the expected returns justify the risk you will take.
You can minimize the risk by making sure you invest with a renowned crypto lending service provider – like NEXO for example. It is also good to consider investing only in stable coins and also receive interest in stable coins.
It is actually up to you to adopt whatever strategy you want to use, but if you want to get higher profits you have to take additional risks. It is always wise to use stable coins when it comes to crypto lending because we all know that volatility is prevalent in the crypto world.
Risk of Crypto Lending
Deposits in Interest accounts are not insured – this is one of the biggest risks when it comes to crypto lending. The assets in your crypto interest account are not insured like money in a traditional bank account. if the exchange fails or has any technical problem you can lose everything.
Counterparty risk – this is another serious issue when it comes to crypto lending. Crypto lending platforms receive crypto from savers and borrowers.
The service providers normally regulate what they can do with the crypto they receive. In the clause you will have to agree that they might lend, sell, pledge, hypothecate, assign, invest, use, commingle or even dispose of an asset and eligible digital assets to the counterparty. The platforms will use your crypto assets whether you are a saver or borrower and make money from them.
They lend them to crypto exchanges, hedge funds, and other institutional investors. The risk here is that it creates a counterparty risk because if the counterparty to these trades fails to return the cryptocurrencies, your lending platform provider may become insolvent.
Repayment terms are different – depending on the crypto lending platform you might have less than a year to repay what you borrowed. It is important to know the length of repayment even before you collect the loan.
In some cases, you can create your repayment schedule but it is usually short-term repayment plans. Each crypto lender has its terms and conditions, unlike traditional money institutions where everything is almost similar.
No access to your digital assets – as long as you have an outstanding balance to your loan, you can't have access to your holdings to transact or trade. It can be an issue if there is volatility and the price of the crypto drops or appreciates or maybe you need cash in a hurry.
Final Words
You must be absolutely crazy not to take advantage of this Decentralized Finance revolution. Ditch the banks. Convert your fiat money to stablecoins or cryptocurrency and add them to any of the above platforms (except Salt Lending) to start earning compounding interest on your Crypto of up to 12.73%.
If you want to help more people, friends, or relatives to start building their wealth I suggest sharing our best cryptocurrency lending platforms article with as many of them as you can. We are 100% sure that they will love you opening their eyes.