TL;DR: In this article, we present a list of the best Crypto Trading Bots of 2022. If you are in a hurry with no time to read the full article, let us tell you upfront that the best crypto trading bots for 2022 is HaasOnline and Cryptohopper.
In today's market, there are several crypto trading bot services offered by numerous teams. It has become challenging for crypto traders like you and me to select an ideal service between these services.
Interestingly, we spoke to Invezz's editor James Knight who wrote this article about [Best Bitcoin Robots of 2022], and he said that we're already in the era where bots can also trade markets. I can't envision how complex such computation/calculation would be; however, I'm almost certain its forecast abilities are based on different traders' activities and obviously consider volume, last price, and all those factors.
CHECK THIS: How To Profit $1,000+ Per Day Trading Penny Cryptocurrencies (Watch Video)
The Best Crypto Trading Bot in 2022
1. Quadency – Professional Crypto Trading Platform
Quadency is a crypto management platform that offers automated trading and portfolio management solutions for both institutional and retail traders. You can track your overall portfolio performance and allocation on all linked exchanges. You can also add your offline wallets to keep track of your entire portfolio.
This crypto trading platform combines a complete range of features designed to streamline the process of trading and investing in cryptocurrencies, including a variety of trading bots that are pre-configured or can be customized as per user preference, portfolio analytics, and advanced charting.
These features combine to improve the crypto trading experience, and Quadency supports automated trading on Bittrex, Binance, Kucoin, Coinbase Pro, OKEx, and Liquid.
2. Bitsgap – All-in-one Crypto Trading Platform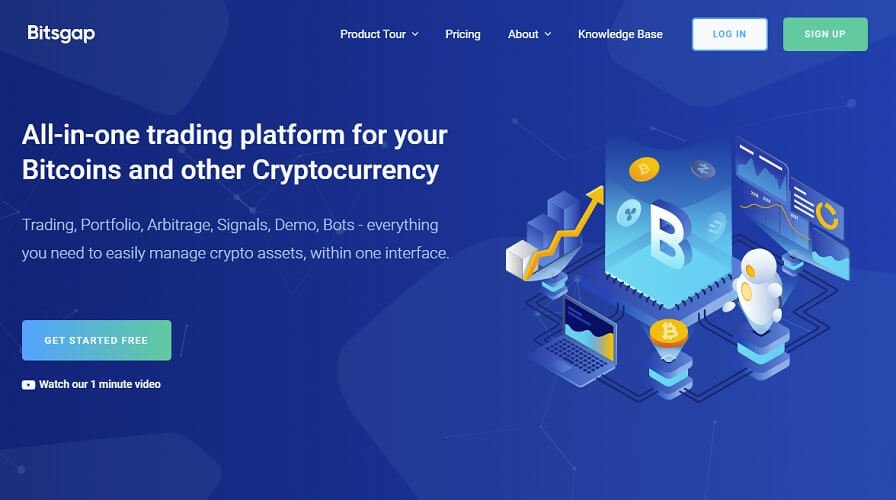 Although a crypto trading platform, we include Bitsgap in our best crypto trading bot list because of its is unique automated crypto trading bots. Tons of traders with various experience levels and skill ranges are consistently utilizing Bitsgap to augment returns via automated trading.
The Bitsgap algorithm is based on a simple and effective technique, known as GRID. It allocates investment proportionally within a trading range predefined by a trader.
Every time a buy limit order is filled, the bot places a new sell order directly above the price and vice versa. The bot places a new buy order directly below any filled sell order. The bot will continue to trade non-stop, provided the price remains within the trading range's perimeters.
Bitsgap algorithm is intended to boost profit from buying low and selling high every time there is a price swing. Automated trading bots possesses all the risk-control features, including Trailing UP, Stop-loss, Take profits, and numerous exit strategies.
3. 3Commas – Automated Crypto Trading Bots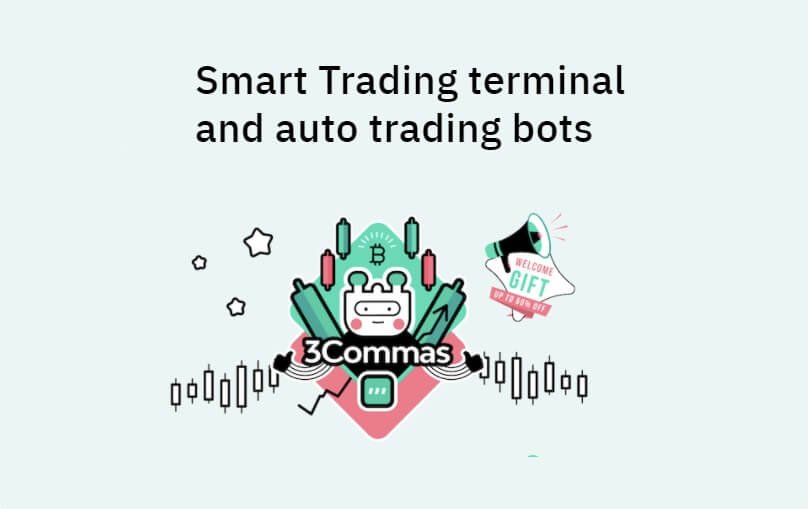 3Commas is among the most renowned and best crypto trading bots. The U.I. of this best crypto trading bot is more adept to a professional trader. As their clients become increasingly proficient, they've turned their product development for pro users.
So, are you an expert bot trader already? You should try 3Commas.
The program has two subscription plans – Basic and Pro. The cost of the Basic plan is $25 monthly, while the Pro plan costs $84/month and offers more outstanding features.
When you join the 3Commas platform you get access to their crypto trading bots. Each crypto trading bot (DCA Bot, GRID bot and Options Bot) uses a different strategy.
Join their flourishing online community. You can also purchase several online courses that tutor you on using the 3Commas Bitcoin trading bot.
🔔 Get -10% discount for the first purchase of monthly subscription!
4. HaasOnline – Advanced Automated Crypto Trade Bots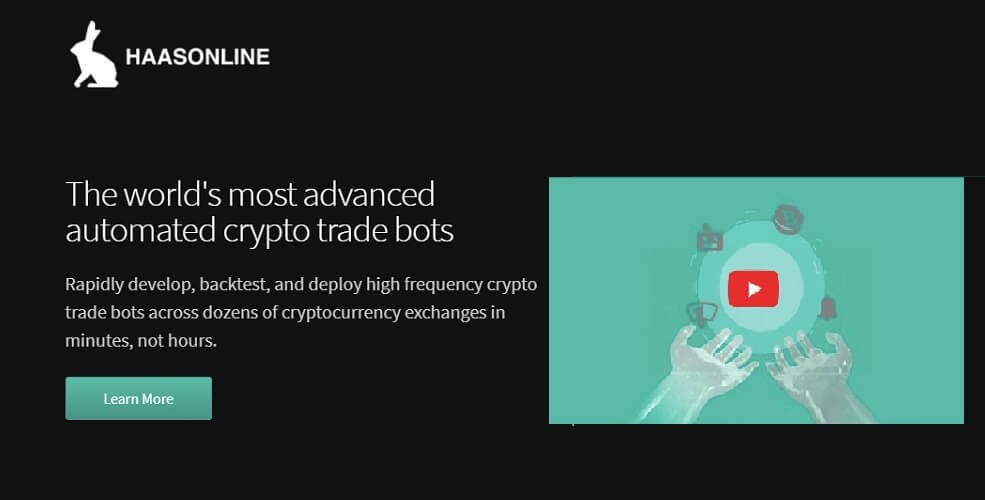 HaasOnline is a unique paid crypto trading bot and has worthily earned its place in our best crypto trading bot list. Like the other crypto trading bots in this list, HassOnline offers its users multiple trading tools, including standard pre-designed trading bots for market-making and arbitrage strategies.
The platform has also released HaasScript, a scripting language, which allows users to develop highly sophisticated trading bots using an intelli-sense editor or drag-and-drop designer. Additionally, you can paper trade or back-test your strategies before executing live trades on more than 25 exchanges.
The current product is hosted on a local non-custodial trade server, which provides absolute discretion and privacy, keeping prying eyes off your trade strategies and data. The proposed launch of a cloud version tailored to service retail traders is also on the horizon. No free trials, however, there's an offer for a discounted 14-day trial license.
5. Cryptohopper – World-class Automated Crypto Trading Bot
Cryptohopper is a premium crypto trading bot. Apart from the free crypto trading plan it offers, users can take advantage of the 7-day free trial on al the other paid plans which means you can get a glance at its features before subscribing to the paid membership.
The platform offers a diverse range of trading strategies, such as Mirror Trading, Paper trading, Strategy Designer, Automated Trading, and Trailing stop loss.
Its market-making bot is the best crypto trading bot and among the most popular on the platform. Though similar to Pionex's Grid Box, it focuses more on profit from the spread on the order book.
6. Shrimpy – Best for Social Trading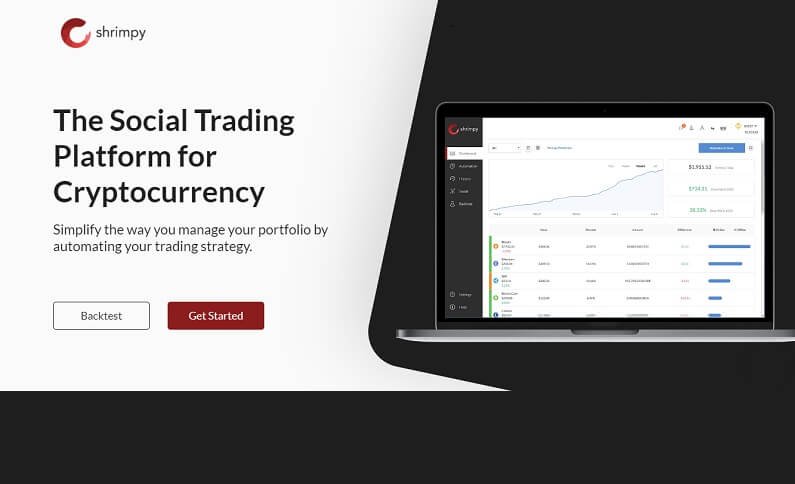 Shrimpy is a premium crypto trading bot service is designed for rebalancing. This unique feature sets it apart from other crypto trading bot services. It helps users to automate their portfolios and rebalance them to a specific proportion.
Shrimpy only executes a couple of trades daily, which makes it suited to a Hodler. So, it's best to rebalance your portfolio with this platform when you're hodling the coins. It supports over ten crypto exchanges.
It's a bot specifically created for portfolio management, rebalancing, indexing, and strategic back-testing.
One of the most important features is its copy trading feature. Apart from your automated crypto trading earnings, you can start earning a second passive income by having other people to copy your trading and earn $4 per month for every follower!
Without a doubt, Shrimpy is among the best crypto trading bots in 2022, hence its inclusion in this list.
7. Pionex — Best Free Crypto Trading Bots
You don't need to bother about API Keys when using Pionex. The platform has nine crypto trading bots currently available: Grid Trading Bot, Margin Grid Bot, Leveraged Grid Bot, Infinity Grid Bot, Leveraged Reverse Grid Bot, Reverse Grid Bot, Dollar-Cost Averaging Bot, Trailing Take Profit Bot, and TWAP Bot.
It's among the best cryptocurrency trading bot platforms. It aggregates Binance and Huobi liquidities and offers a free trading bot upon it.
The Pionex trading bots are user-friendly. Pionex users are guaranteed safety and privacy on the platform. The platform has been granted the MBS and MAS licenses from the U.S. and Singapore.
8. TradeSanta – Best For UI/UX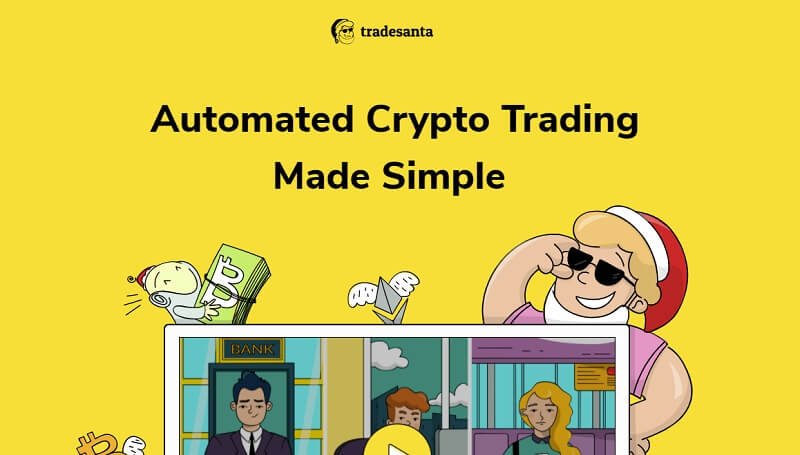 TradeSanta is a cloud-based software designed to automate your cryptocurrency trading strategy and to make trading accessible to anyone. It is one of the easiest crypto trading bots to set-up and use and can be used without any problems by even new aspiring automated crypto trading users.
TradeSanta can be used on eight leading exchanges, Bittrex, Binance, Bitfinex, HitBTC, etc. to help you trade simultaneously across them.
It is a premium crypto trading bot. The monthly subscription costs between $14 and $70, depending on your selected package. All plans come with a 3-day free trial to test the waters.
TradeSanta bot offers 2 strategies: Grid and DCA. The Grid bot, is offered by Pionex for free. If you're only looking for a grid bot, it's not recommended that you join TradeSanta.
9. Coinrule — Best For Newbies
Coinrule is the best cryptocurrency trading bot platform for newbies. The "if-this-then-that" logic rule allows even lesser proficient traders to develop their trading strategy within minutes. The easy-to-use interface guides users in developing their trading bot step-by-step.
The template library contains over 150 pre-set standards that help beginners run the trading system that conforms to their needs. Coinrule allows various trading strategies, including take profit, stop loss, and integrates the fundamental technical indicators.
Coinrule allows limitless trading strategies and regularly post new ideas in the Knowledge Base section of the platform.
Another fascinating feature is the built-in Demo exchange. You can test your trading system within a safe environment with a virtual allotment of coins. The Demo rules operate on the prices that come directly from Binance, risk-free.
Finally CoinRule has four pricing plans including one for free users which is great for those who want to test the waters.
10. Mudrex – Best for Algorithmic Trading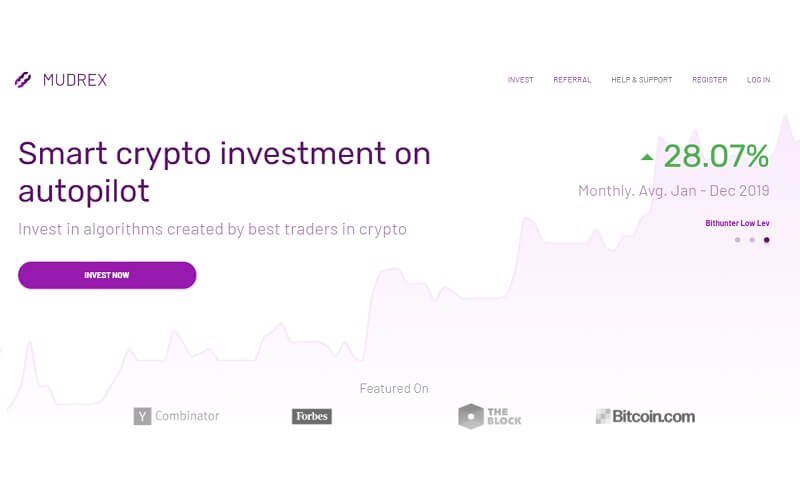 The Mudrex platform makes investing in crypto trading bots as stress-free as investing in a mutual fund. The information provided by Mudrex is very transparent. They have a wide array of bots based on users' risk appetites, and a pricing model that ranks side by side with the best. The Y-combinator backed Mudrex surpasses every other platform on the list!
Mudrex has more than 7000 clients, and more than 400 Mn USD is traded on it. They are supported by notable angel investors and V.C.s and have an exceptionally dynamic and engaged community. They are associated with 8 of the highly-rated exchanges and are among the very few platforms on this list who can support U.S. users.
Mudrex doesn't develop its own bots; instead, it has a curated marketplace of bots designed by professional traders. Mudrex ensures that information regarding the bot's performance is transparent and straightforward for users to understand.
If you're seeking a platform using bots that you can invest in your cryptocurrencies, then Mudrex might be the real deal!
11. Zignaly — One Crypto Trading Platform for everybody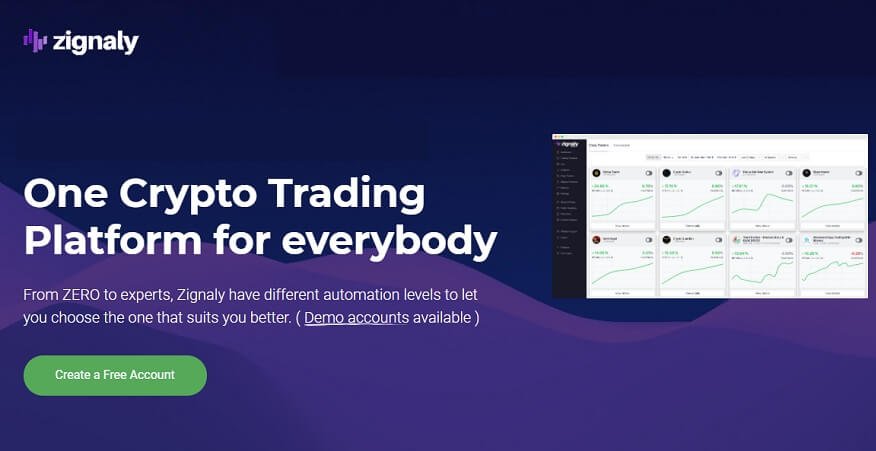 Zignaly = Copy Trading + Crypto Trading Bot + Trading Terminal
Are you looking for an automation tool for your day trading? Zignaly is a tool designed for crypto day traders who wish to automate their trading strategies. You can create your strategies on TradingView and outsource it to Zignaly to trade for you on five leading crypto exchanges: Bittrex, Binance, KuCoin, Poloniex, BitMex.
The platform publicly offers its real-time data on its website. The data offered indicates that Zignaly is a small to mid-size player in the crypto trading bot business.
The best part of this platform is that it offers different plans designed to suit different levels of traders.
12. BitUniverse — Best Auto Trading Portfolio Manager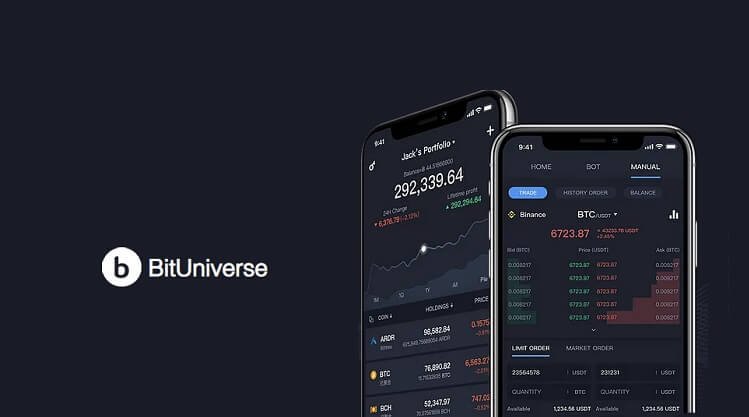 BitUniverse is a FREE Crypto Trading Bot. It charges from exchanges as opposed to charging from their clients.
The Grid Trading Bot is among its top ranking functions, which allows you to automatically buy low and sell high a coin within a specific price range. It supports over 20 exchanges, including Bittrex, Binance, Huobi, etc. for portfolio tracking and crypto trading bot.
BitUniverse has other bots such as Stop limit, Trailing Take Profit, etc. All bots are permanently free to use.
The main reason that BitUniverse is listed as the top crypto trading bots in 2022 is that it's the only cryptocurrency trading bot app that collaborates with exchanges. BitUniverse already has a co-hold trading competition with Binance, KuCoin, Bithumb, and several other major exchanges.
---
When should you use Crypto trading bots?
Some of the numerous functions that a well-executed bot can handle for you include data collection, portfolio management, rebalancing, smart order routing, etc.
So what exactly can trading bots help you improve? Let's take a look.
Repetitive Tasks
Repetitive tasks consume significant amounts of time and effort. Crypto trading bots will essentially "copy and paste" specific tasks to execute trades with ease. Perhaps, one of the ideal ways that bots can help reduce repetition is in periodic rebalances.
For example, do you need to conduct hourly rebalances? As the name suggests, you'll need to rebalance your portfolio every hour. You have two choices:
Set an hourly alarm to rebalance your portfolio every hour and lose your sanity doing it, or
Create a trading bot and task it to rebalance your portfolio hourly until the end.
Timing
Timing and attaining a high degree of trading accuracy is fundamental for trading. Every trade that you execute can significantly influence your potential earning. For example, assume that bitcoin price is crashing, and you'd want to sell your position the second BTC reaches the $8,750 support line.
If this is to be executed manually, you'd have to carefully and patiently monitor the price chart, and even still, the trigger might not be pulled at the most accurate time. Bots can be easily programmed and modified to observe the market and make a trade with precise timing.
Complications can be simplified
Let's consider "smart order routing." The scope here is to route trades through various trading pairs.
Each trading pair needs to be painstakingly determined according to its trading price, timing, and asset quantity.
This entire route will need to be completed within a specific time limit before the market conditions change.
It appears to be truly straightforward, right? However, the execution of such a trade could be almost impossible. This is among the numerous instances of the multiple complexities that should be considered and calculated during training. A few strategies could be practically difficult and sometimes near impossible to execute.
You can use trading bots to automate and effortlessly implement these complex and seemingly impossible strategies.
Conclusion
Subscribing with one (or two) of the above automated crypto trading bots above is probably one of the must-do choices if you are now starting your crypto trading journey. On the other hand, if you have the time to sit down 10 – 12 hours per day and study the rules, the lines, and how to make projections, then you might not need one.
👋 Hey, if you enjoyed reading our Best Crypto Trading Bot article, feel free to share it with the rest of the crypto-trading community. It is something that they'll find extremely interesting and you'll most probably get a few hundred thumbs up for a good share.