Privacy and anonymity are probably the most important things that we should all consider in today's internet era. Although there are a lot of VPN providers that accept cryptocurrencies, only a handful accept Monero.
So, whether you're in the market for a VPN provider or are curious about how to strengthen your online privacy, we've put together a list of the best VPN providers that accept Monero.
Monero is an innovative cryptocurrency that was originally designed by developers at Digital Currency Group (DCG). This company is one of the most active cryptocurrency exchanges and payment processors in the world.
The Monero network uses cryptography to protect transactions on top of a peer-to-peer network with no central authority; this ensures that only authorized users have access to any transactions.
Why Buy VPN with Monero?
That's a great question. The simple answer is that even if the authorities manage to get access to the VPN provider's payment logs, they will never be able to associate your transaction with you.
This fact alone enhances the security and anonymity a VirtualPrivate Network provider offers.
And if you are wondering why not buy with another cryptocurrency – like Bitcoin for example – the answer is because Bitcoin transactions are traceable. Harder to trace than a credit or a debit card – but still traceable.
Meaning, that they [authorities] can associate the transaction with your Bitcoin address and track you down.
Best VPN Providers That Accept Monero
Now we sorted this out, here are the best VPN providers that accept Monero.
1. SurfShark VPN
SurfShark VPN is one of the most well-known VPN providers that accept Monero with thousands of clients around the world.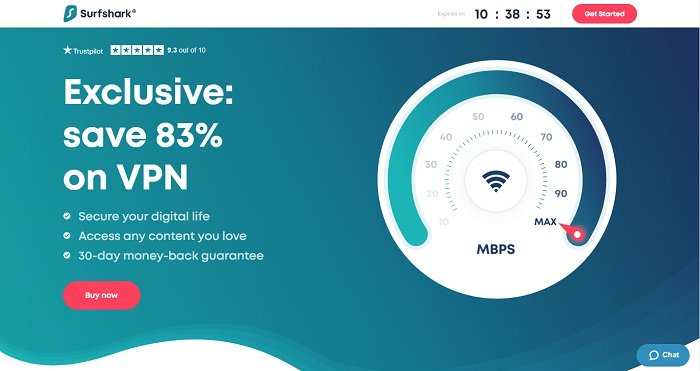 Key Features
Lots of servers: SurfShark boasts 3200 servers in 100 countries allowing it to deliver high internet speeds to its users.
Torrenting & Media streaming: Surfshark supports torrenting and media streaming (e.g Netflix).
KillSwitch: Surfshark offers the KillSwitch option. This feature stops your traffic if your VPN connection drops. It prevents your IP address from leaking and your data from being exposed. This is a critical security feature that all VPNs should offer. Unfortunately, not all providers do.
Bypasser: Select which apps and websites your VPN should be active on manually.
Adblocker: SurfShark offers its own Adblocker with all VPN plans. This is a great feature because it allows you to filter out any ads on any website. This is incredibly helpful when you are browsing social media or news websites as it allows you to get rid of any ads that appear on those websites. Nothing is worse than clicking on an ad on social media only to be redirected to a malicious website where you could have been infected with a virus.
Multihop – This is another great feature as it allows you to be connected to two servers simultaneously. This helps you to improve your speed and adds an extra layer of security because it can hide your IP better.
Operating Systems: SurfShark is available on iOS, Android, Mac, Windows and Linux Devices.
Unlimited devices: SurfShark allows you to connect unlimited devices to your VPN plan. That means all your family can be connected with your VPN plan.
No Log Keeping: Most importantly, SurfShark does not keep any logs of your browsing activity or history. This means that they cannot be hacked or subject to governmental surveillance.
Camouflage Mode: One of my favorite features. With camouflage mode, even your Internet Service provider can't say if you are using a VPN or not.
24/7 Live Support: Surfshar is among the few VPN providers that have a responsive 24/7 live chat support.
Pros
Accepts Monero and hundreds of other cryptos
30-day money-back guarantee
Jurisdiction is not in a 5/7/14 eyes country
Great features
Low Cost
Thousands of 5-star reviews across the web.
Cons
No Free Trial on Windows or Linux systems.
No support for Xbox One or PlayStation 4 console systems.
Surfshark is the best monero VPN provider. All the other VPN providers that accept monero in this list, are not even close to SurfShark, in terms of features, cost and security.
2. HideMe VPN
Hide.me VPN (review) offers a free VPN plan that claims to be the most secure, reliable and effective Free VPN plan on the internet. It provides great security, decent speeds, and a beginner-friendly user interface, along with robust privacy features and regular transparency reports. Additionally, hide.me unblocks many popular streaming platforms, including Netflix US, HBO Max, Disney+, and more. What's even better, HideMe accepts Monero for its VPN services.
Key Features
Unblock streaming platforms: With Hide.me VPN, you can access your favorite streaming platforms without any geo-restrictions. Whether you want to watch Netflix, Hulu, or BBC iPlayer, Hide.me VPN has got you covered.
High-speed servers: Hide.me VPN boasts a network of over 2,100 reliable servers in 78 countries, which means you can enjoy fast and stable connections wherever you are.
Reliable security features: Hide.me VPN uses industry-standard encryption protocols, such as OpenVPN and IKEv2, to ensure your online activities are always private and secure.
No-log policy: Hide.me VPN doesn't keep any logs of your online activities, so you can browse, stream, and download with complete peace of mind.
Torrenting is allowed: With Hide.me VPN, you can safely and securely torrent without worrying about any legal consequences or ISP throttling.
Works in China: Hide.me VPN can bypass the Great Firewall of China, so you can use the internet freely and securely in China.
Connect up to 10 devices simultaneously: You can use Hide.me VPN on up to 10 devices at the same time, which is great if you want to protect all your devices with one account.
Reasonable pricing: Hide.me VPN offers competitive pricing, with subscriptions starting at just $3.99/month.
30-day money-back guarantee: If you're not satisfied with Hide.me VPN, you can get your money back within 30 days of signing up.
24/7 customer support: Hide.me VPN has a dedicated customer support team available 24/7 to help you with any issues or questions you may have.
Does not keep logs: Hide.me VPN has a strict no-log policy, which means your online activities are not monitored or recorded in any way.
Jurisdiction is not part of the 14 eyes: Hide.me VPN is based in Malaysia, which is not part of the 14 eyes alliance, so you can be sure your online privacy is protected.
Killswitch feature: Hide.me VPN has a killswitch feature, which automatically disconnects your internet connection if the VPN connection drops, to prevent any data leaks.
Pros
Accepts Monero
Has a free plan
Jurisdiction is not in a 5/7/14 eyes country
Great security features
Great speeds
Good support
30-day money back guarantee
Does not keep logs
Allows for 10 devices per connection
Killswitch
Supports Torrenting & Streaming
24/7 Live Chat Support
Cons
No Free Trial on Windows or Linux systems.
No support for Xbox One or PlayStation 4 console systems.
Hide.me VPN is a reliable VPN that accepts Monero. These guys seem to be taking their job seriously – and I like it. They've got everything. Speed, security, friendly user interface, P2p, streaming – hey, even crypto.
3. AirVPN
AirVPN is a virtual private network (VPN) that utilizes OpenVPN and WireGuard protocols and is managed by a group of individuals who are passionate about advocating for net neutrality, privacy protection, and standing up against any form of censorship.
Key Features
Operated by cypherpunks – people with vision: AirVPN is run by a group of cypherpunks who believe in privacy and online freedom. They're not just running a VPN service, they're passionate about the cause.
No monitoring nor logging of your online activities: When you use AirVPN, your online activities are not monitored or logged. This means that your privacy is protected and your data is not being sold to third-party advertisers.
Perfect Forward Secrecy – Through Diffie-Hellman key exchange DHE: AirVPN uses Perfect Forward Secrecy (PFS) to ensure that your data is secure. This means that even if someone were to gain access to your encryption key, they would not be able to decrypt your data.
Tor connection supported: AirVPN supports Tor, which is a great option for users who want to add an extra layer of security to their online activities.
Strong encryption, 4096 bit DH and RSA keys size, AES-256-GCM or CHACHA20-POLY1305 encryption cipher: AirVPN uses strong encryption to ensure that your data is secure. This includes a 4096-bit DH and RSA key size, as well as the AES-256-GCM or CHACHA20-POLY1305 encryption cipher.
All protocols allowed: AirVPN allows all protocols, which means that you can use any application or service that you like.
No maximum speed limit: AirVPN doesn't limit your connection speed, so you can enjoy fast and reliable connections.
High-performance physical servers in many countries: AirVPN has servers in many countries, which means that you can choose a server location that is close to you for optimal performance.
Unlimited and free server switches: AirVPN allows you to switch servers as often as you like, without any additional fees.
Five simultaneous connections per account: You can use up to five devices at the same time with one AirVPN account.
No traffic limit. No time limit: AirVPN does not limit your traffic or time, and you have access to all of their exit nodes.
Torrenting & Media streaming: AirVPN allows torrenting and media streaming, so you can enjoy your favorite content without restrictions.
Pros
Accepts Monero, Bitcoin, Ethereum, Litecoin, Dogecoin and Bitcoin Cash.
Operated by a team with vision / cause
No log keeping
200+ Servers in 19 Countries
Netflix Support
Torrenting Support
Hasa KillSwitch
No speed limits or data limits
Cons
No Free Trial
No support for Xbox One or PlayStation 4 console systems.
Based in 5/9/14 eyes country
Website needs update
AirVPN is a privacy-focused VPN service operated by cypherpunks, offering strong encryption, no logging, unlimited server switches, and support for torrenting and media streaming. That's good, but they really need to upgrade their website and user interface a bit if they want to attract more customers and spread their cypherpunk cause to the world.
4. MullVad VPN
Mullvad VPN is located in Sweden and is the only VPN company I have ever encountered that doesn't require you to add ANY personal information to use their service. Not even your email. They have a flat pricing model of $5 per month – whether you choose to buy 1 month or 10 years – and it claims that they don't pay for reviews and they don't have an affiliate program. I have to admit, this shows character.
Key Features
Anonymous account: Mullvad VPN doesn't ask for any personal information. No email, no username and no password. Just a randomly generated account number. Easy to use, maximum privacy.
No logging: Mullvad doesn't log your online activity or store any personal information. No IP addresses, no browsing history, no metadata. True zero-logs policy.
Externally audited: Mullvad's no-logging policy is audited by an independent third party. Audits confirm Mullvad doesn't store any data that can identify users. You can trust them.
Integrated kill switch: If the VPN connection drops, Mullvad app blocks all internet traffic to prevent data leaks. Your real IP address will stay hidden.
Multi-platform apps: Use Mullvad on all your devices. Windows, macOS, Linux, Android and iOS apps with the same great features. Convenient!
Split tunneling: Choose which apps send traffic through the VPN tunnel. Convenient for local network resources or if some apps don't work well with VPN.
Multihopping: Route your traffic through multiple VPN servers for increased anonymity. Make your traffic traceable only to the first VPN server.
Ad and tracker blocking: Mullvad apps block ads, trackers and malware to improve privacy and speed up browsing.
Automatic WireGuard key rotation: WireGuard keys are automatically rotated every hour for maximum security.
Shadowsocks proxy: Mullvad offers Shadowsocks proxy servers to bypass censorship in some countries.
User VPN servers: You can set up your own VPN server and connect to it using the Mullvad app.
Simple pricing: Just $5 per month. No complicated pricing plans or upselling. Unlimited data and up to 5 simultaneous connections.
700+ servers: Mullvad offers hundreds of fast VPN servers across the world so you can always find a nearby server with an open port.
Pros
Accepts Monero
Simple Pricing
You don't need to input any details to user their service.
Great features
Has Killswitch
Good Number of Servers across the world
Many great security features
Cons
No Free Trial on Windows or Linux systems.
No support for Xbox One or PlayStation 4 console systems.
Jurisdiction in a 14 eyes country
Lack's deals and special promos
Swedish VPN with an interesting policy in terms of pricing and affiliate program. They do have a good number of servers across the world and some respected security features that many of their competitors don't have.
5. VPN.SURF
VPN.SURF is another Monero accepting VPN provider located in Lithuania with some pretty good reviews on Trustpilot and other review sites.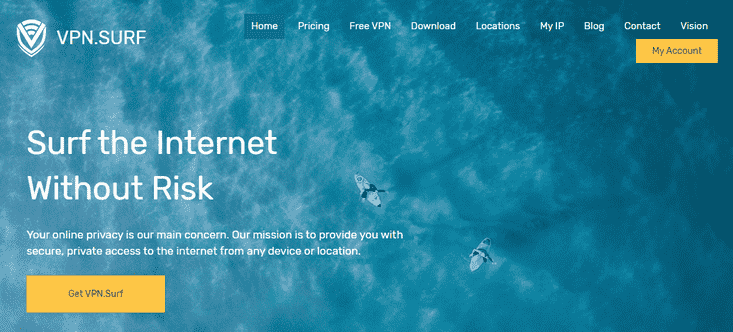 Key Features
Has a free version: VPN.SURF offers a free version for users who want to try the service before committing to a subscription.
Military-grade security: VPN.SURF uses military-grade encryption to ensure that your online activities are safe and secure from prying eyes.
Works with Windows, Linux, MacOS, iOS and Android devices: VPN.SURF is compatible with a wide range of devices, making it easy to protect your privacy and security no matter what device you're using.
Comes with very high speeds: VPN.SURF offers very high connection speeds, ensuring that you can browse, stream, and download without any lag or buffering.
24/7 support: VPN.SURF offers 24/7 customer support, so you can get help whenever you need it.
Pros
Accepts Monero
Jurisdiction is not in a 5/7/14 eyes country
Offers a Free version
Has a 24/7 support team
Works with multiple operating systems.
Cons
Doesn't have Killswitch
No support for Xbox One or PlayStation 4 console systems.
Does not mention anything about allowing Torrenting & Streaming.
Lack server "plurality".
Only one device per plan
Does not offer many great features.
VPN.SURF could use a little bit more persuading on their website. I mean, OK, I get it.. You guys accept Monero – which is good. But, what about Killswitch, Multihopping, number of connected devices?
6. Boleh VPN
BolehVPN is operating since 2007. While it's based in Malaysia, its jurisdiction is actually in Seychelles. It has a relatively small server network and it accepts Monero among other cryptos.
Key Features
Good security features: BolehVPN offers top-notch security features to protect your online activities from prying eyes and potential threats.
Supports torrenting: If you're a fan of torrenting, BolehVPN is a great choice as it fully supports P2P file sharing.
Unblocked Netflix and other streaming services: BolehVPN can unblock popular streaming services such as Netflix, Hulu, and BBC iPlayer, so you can enjoy your favorite shows and movies.
Compatible with Windows, macOS, Linux, Android, and iOS: BolehVPN is a versatile VPN service that works seamlessly across different platforms.
14 Money Back Guarantee: With a 14-day money-back guarantee, you can try BolehVPN risk-free and get your money back if you're not satisfied.
No log keeping: BolehVPN has a strict no-logging policy, which means that your online activities are not monitored or recorded.
Has Killswitch: The Killswitch feature ensures that your internet connection is immediately cut off if your VPN connection is lost, keeping your online activities safe and private.
3 devices per license: You can use up to 3 devices simultaneously with one BolehVPN license, making it a great value for money.
Pros
Accepts Monero
14-day money-back guarantee
Jurisdiction is not in a 5/7/14 eyes country
Killswitch
3 simultaneous connections
Supports Torrenting and Streaming
Cons
Their website looks like its gonna fall appart
Unclear, bit sketchy logging Policy.
No Free Trial on Windows or Linux systems.
No support for Xbox One or PlayStation 4 console systems.
Slow speeds
Not the cheapest VPN around
Poor customer support
No mobile app
Although BolehVPN accepts Monero and has some pretty good reviews on review sites across the web, it's cons outrank its pros. You may check it out if you like, but personally.. no.
Why You Should Pay For VPN With Monero Or Any Cryptocurrency
Before anything else, your primary need for VPN use is for anonymity maintenance. So aside from transaction freedom, your privacy needs are completely met with the use of a cryptocurrency as it makes your payment data completely hidden from everyone.
Another reason you should pay for VPN services with Monero or any cryptocurrency is the ease of payment — it can be done anywhere, and at any time.
Crypto payment also slashes down the cost of transactions where you get almost no charges as opposed to bank payment which can sometimes come with ridiculous charges. Besides, you're also safe with crypto payment with regards to VPN because Monero and other anonymous cryptocurrencies function as a decentralized system where a single failure point cannot collapse it.
VPNs That Don't Accept Monero
Here is a list of VPNs that do not accept Monero, although they used to, but not anymore.
TorGuard had Monero in its options for payment. Even though it was through an indirect coinpayment, that option is no longer available, it currently only works for Litecoin and Bitcoin. You can pay for TorGuard through; Amazonpay, credit cards, gift cards, payment well, and a few other options.
Pure VPN stated on its official website that it wants to spare its customers the rigors of going through tough times when paying for VPN, and as such, it made the following payment options available; Debi card, Credit card, PayPal, and Paysafecard. If the payment is above $500, there's a Western Union bank transfer payment option. Others are Skrill, Alipay, and Payza.
Nord VPN also doesn't accept monero. The payment options available in Nord VPN include; Amazonplay, iTunes, Prepaid card, PayPal, Google Play, Credit card, Sofort,
People Also Ask
Do paid VPNs sell your data?
While it's a known fact that free VPN users trade the "kind" gesture for their personal data, that cannot exactly be said for paid VPNs. But then, I'll advise that you go through the privacy policy, terms, and conditions of your intended VPN of use before signing up on it.
Some of them are pretty tricky. Intentionally loopholes are left in them such that users' data can be gotten away with, and it wouldn't come off as though the data are sold (backed up by the cumming policy).
Because VPN servers have access to users' internet activities, they can make a summation of the percentage of a certain area where users' interests lie. This can be beneficial in the market industry. And for this reason, it has become unfortunate that even some paid VPNs sell users' data.
What are anonymous cryptocurrencies?
Anonymous cryptocurrencies use decentralized technology, cutting-edge cryptography, and other security measures for privacy enhancement so that true anonymity is achieved during transactions.
They can't be tracked. They include Monero, Dash, Zcash, and a pool of others.
Other random cryptocurrencies leave loopholes where, through the wallet address, a user's account can be viewed, the balance can be known, and information about transactions run on the wallet can be known. This is not the same for anonymous cryptocurrencies.
What are the five-eye countries?
The five eye countries are the US, the UK, New Zealand, Australia, and Canada. They form a strong intelligence network that has their eyes on the internet dealings and overall electronic operations and communications of its citizens.
They have their eyes on governments outside their jurisdiction too. The five-eye countries are all anglophone. They are also called the five eye intelligence oversight and review council.
What does "keeping logs" mean?
Keeping logs by a VPN service provider means having a record of the browsing history and the general online activity of an internet user. So this database provides information about a customer's usage of a VPN service and is kept.
However, it is majorly frowned upon because it defeats the whole purpose of why VPNs are used in the first place. With logs keeping, anonymity is not secure and privacy is tempered.
What Is a kill switch in VPN?
A kill switch is an important VPN feature that stops your device from returning to its default internet server upon a disconnection between your device and the VPN — the kill switch in some VPNs, shuts down your internet connection completely, while other VPN types operate by making your internet functional on specific prior set apps and sites.
Final words
Conclusively, I would say that, security-wise and anonymity-wise, the inclusiveness of Monero in the aforementioned VNPs' payment options is a plus. This enhances the primary essence for which a VPN is sought in the first place.
And the fact that Monero is on the upper ladder on the list of anonymous cryptocurrencies, gives users an even more secure end.
So far, it doesn't have any leak history, all thanks to the CryptoNote encryption protocol upon which it was made. I still marvel at the success of this crypto that was just released in 2021.
Read Also