So, you are interested in promoting your crypto-related product or service but you don't know how to go about it. Today we are going to talk about the best crypto advertising networks.
The platforms that we are going to share with you can bring high-quality traffic to your crypto website or app. Crypto ad networks work similarly like Google AdSense does. The only difference is that these Crypto Advertising Networks allow publishers who are dealing with the cryptocurrency industry to join their platforms and show their ad positions.
As a blockchain-oriented business, you can use any of the websites below to set up marketing campaigns and programs using native ads and banners.
Once your campaign is set up the advertising networks distribute your advert on high-traffic websites, and publications. This in turn will bring in quality traffic to your website or product and lead to sales and conversions.
👉 Check Also: The 10 Best Cryptocurrency Lending Platforms
The advertising rate on most of these platforms is normally cheap and affordable. They partner with top crypto news websites that have millions of visits every day.
Your advert is going to be placed on some of the top crypto news blogs and the more you pay the further your advert goes. Like I said earlier there are a lot of crypto ad networks but here are the top 10 best.
Top 10 Best Crypto Advertising Networks
Coinzilla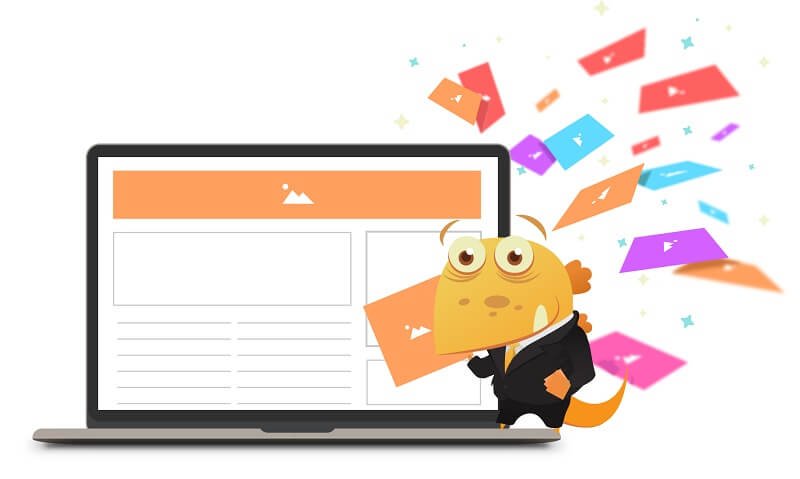 Coinzilla is a top crypto ad network and it was founded in 2016. The platform was designed to promote a greater part of the crypto niche. If you have a Bitcoin blog or website then you are going to get the best out of coinzilla. Their advertising network is situated in UAE, while their headquarter is in Romania.
Coinzilla also accepts both adult and non-adult sites. As a publisher using Coinzilla, you will get paid in Bitcoin. As an advertiser coinzilla will help you improve your business and increase your income.
If you decide to advertise with Coinzilla you will get high-quality leads and an increase in traffic on your website. If you can't create and manage your advert on the platform they have live support that can help you with that. Y
ou will get IAB banners on multiple websites as well as native banners that are modeled to give you the best results for your advertisement campaigns. To start you need to deposit $57 into your Coinzilla account you can also pay with Bitcoin and Ethereum.
Pros
Antifraud System
High-Quality traffic
Accept Bitcoin and Ethereum for payment
Strict Approval of criteria
Cons
Strict website requirements
Use of adult websites for promotion
---
Bitmedia.io
Bitmedia is one of the best crypto advertising networks and it was started in 2015. The platform has been one of the standout crypto ad platforms because of the type of service it offers advertisers and publishers.
The platform received over 1 billion impressions monthly with over 20 million visits.
There are a lot of advertisers that use Bitmedia to promote their crypto-related websites.
They use an advanced AI to show ads to users the ads are mostly tailored according to a user. You can pay on the platform with a minimum of 0.001 Bitcoin. Their pricing methods are also flexible and affordable.
Pros
High-quality traffic
Good support
Amazing user interface
Cons
Only crypto-related websites are allowed
---
Cointraffic.io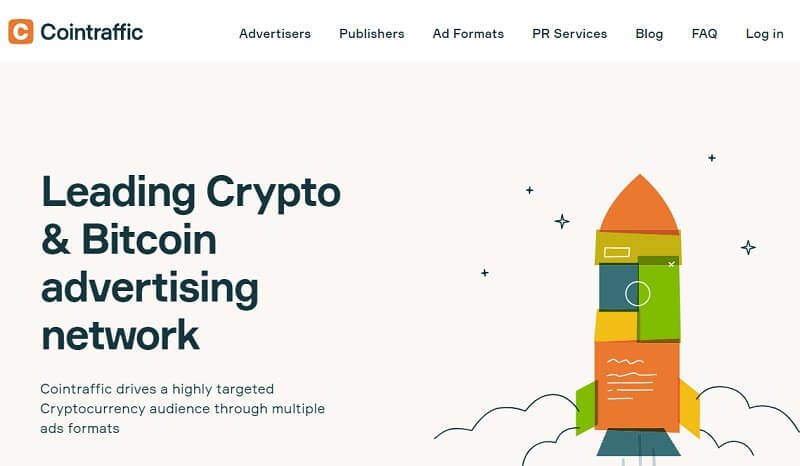 Cointraffic is one of the leading crypto advertising networks and it is very popular. It was started in 2014 and is situated in Estonia.
The platform serves both publishers and advertisers by publishing banners ads and native ads that promote your crypto website or product. If you decide to advertise with Cointraffic then rest assured you will get high-quality traffic.
The platform has various advertisement options and tools for optimizing conversion rates. They have dedicated account managers that will handle your campaigns and track progress.
It is the number one Bitcoin advertising network and there are a large number of publishers that use Cointraffic because of their low payout rate. They have various types and sizes of banners that include premium headers, in-page banners, and sticky banners.
They only work with crypto-related websites that have high-quality content. all payments are done in euro on the platform and publishers can withdraw their money once it reaches 25 euros. this is no doubt one of the best crypto advertising networks in 2021
Pros
Dedicated ads manager
High click-through rate
24/7 support center
Competitive rates
Cons
No referral programs
Takes time to get approved on the advert program
---
Coinverti
Coinverti is another top crypto ad network that is based in Belgium. They only accept crypto-related websites in their ad program. As a publisher, your website must be above 300,000 on Alexa ranking and they don't work with websites built on BlogSpot, crypto faucets, and others. The platform can be very strict for publishers.
They offer advertisers different sizes of banners that include small banners and half-page banners. The rate for advertisers is fair as well you need just a minimum of 0.002 BTC to start advertising. Using Coinverti you have the option to select some advanced targeting options depending on the type of traffic you want.
Pros
Real-time report
Accepts Bitcoin for payment
Traffic from Crypto websites
Traffic tokens for advertisers
Cons
Payment takes up to 2 days for publishers
Very strict for publishers
---
AdEx Network
The name AdEx was coined from the words Advertising Network and it was started in 2017. The platform is a decentralized network that connects advertisers and publishers and allows them to negotiate deals.
They describe themselves as a display ad network for reduced ad fraud and increased user privacy. The platform was specifically designed to bring crypto to a wider audience.
AdEx has a transparent method that lets advertisers know they are paying for real traffic. After signing up as an advertiser you will get access to a dashboard that lets you track your ad spending.
AdEx has its native token called ADX which is used to pay for ad placements. Publishers also have a way of converting ADX to fiat during withdrawals. Some crypto exchange platforms like Binance and Houbi Global have listed ADX.
The platform has a lot of amazing features and will bring organic traffic to your website. It is unquestionably one of the best crypto advertising networks at the moment.
Pros
Decentralized advertising platform
User privacy
The platform has a native token (ADX)
Advertisers determine how they want their ads to work
Quality traffic
Cons
Only ADK token accepted as payment
---
Adbit.biz
Adbit is an advertising platform that is powered by blockchain with a focus on Cryptocurrency, blockchain, and DeFi. They offer text-based ads as well as banners and advertisers can promote their applications and websites.
They have one of the fastest-growing networks of publishers among all the crypto advertisement networks.
Ads are priced per click using the platform's smart bid system that automatically chooses the best value option for your ads. Signup is easy and immediately you sign up you get access to pay depending on what you wish to spend. Payments are made in Bitcoin and then converted to USD.
Ads are not restricted to crypto websites alone even gambling and adult-related websites can publish your ads. As an advertiser, you decide the platforms that can post your ads.
Pros
Friendly user interface
Fast payment method
Cons
Slow customer support
Not very popular
Limited ad format
---
a-ads.com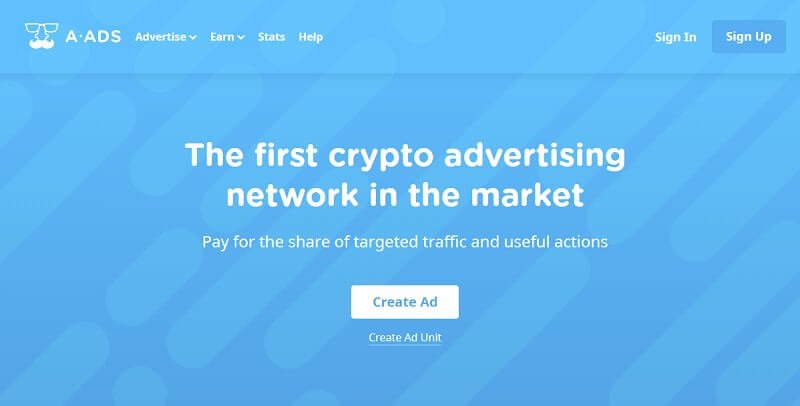 Anonymous Ads (a-ads) is one of the earliest bitcoin advertising platforms and it is still relevant today even with the growing competition.
Anonymous ads promote anonymity your personal information or verification is not needed. You can use your bitcoin address to sign up without using a proper address. The platform protects the privacy of advertisers and publishers.
Payment on the platform is quick and publishers can withdraw money straight to their bitcoin address. They have 24/7 customer support that is always available to help you with any problem.
Every ad on the platform gets a tag. They have a tagging tool that helps them differentiate between advertisers.
Pros
Payments are quick
Great customer support
Provides anonymity.
Cons
Ads can appear on lower-quality websites
---
Adshares.net
This is another top crypto ad platform that is based on a blockchain advertising network and it also allows direct deals between publishers and advertisers. It started on a small scale with experience and specialization in blockchain solutions.
Publishers and advertisers link up directly on adshares without any third party. Advertisers get censorship-free advertising to users and their safe ADS can process over 1 million transfers per second.
This gives the platform the power to serve the international advertising market. The platform has advanced projects that help solve different problems in the advertising digital market.
Payments are made through cryptocurrency after advertisers and publishers agree on which ads to share. You are guaranteed organic traffic if you decide to use adshares.
Pros
Blockchain-based advert network
Quick ads processing
Decentralized crypto ad network
Cons
Very strict for publishers
---
Coin.network
Coin Network was launched in 2017 and it is based in the United States. They offer different types of adverts that include video, in-app, websites, and newsletters.
They don't work with any publishers like some crypto advert networks do as they currently work with not more than 20 publishers at the time of writing. They only partner with publishers that have hundreds of thousands of traffic that are organic.
As an advertiser, you will get access to an account manager that is going to help you get the best out of your advert.
Payment on the platform is only in USD monthly and has no minimum payment threshold. coin network is one of the top best crypto advertising networks.
Pros
Great customer care
High-quality organic traffic
Clean user interface (easy to understand)
Cons
Payment in USD only
Very strict to publishers
---
Coinmedia.co
Coinmedia has an easy-to-use interface that sets it apart from other crypto advert networks. It is more of an anonymous advertising platform. Registration for publishers and advertisers is straight forward they don't ask for too much information.
They offer pop-up ads and banners to those that are interested in placing adverts.
Payment and withdrawals are done in Bitcoin (BTC). The minimum you can spend on the advert is 0.005 Bitcoins while the withdrawal limit for publishers is 0.004 Bitcoin.
You have complete control over where you want your ads to be seen even though prices may differ. I see the platform as a decentralized advert platform where publishers and advertisers can connect and decide what happens in terms of adverts.
Pros
Friendly user interface
Anonymous platform (doesn't require too much information)
Advertisers have complete control over where to advertise
Cons
High withdrawal rate for publishers
---
What is a crypto advertising network?
A crypto advertising network can be simply said to be a platform that offers crypto-related promotions. There are platforms out there that can bring your crypto-related business in front of the right audience.
Banners and pop-up ads will be posted on your behalf on crypto-related websites and applications. this will bring your blockchain product or NFT platform in front of people that are interested in your product.
Using a crypto advertising platform, you are guaranteed to get high-quality traffic that will surely bring customers to your business. listed above are the best crypto advertising networks.
Why should you use a crypto advertising network?
The reason is simple, if you have a crypto-related product then a crypto advertising network will put your product in front of an audience that will be interested in your product.
Platforms like Facebook already have strong restrictions against crypto adverts. A crypto ad network is a right place to promote your crypto-related product.
👉 Check Also: Ethereum Hosting: TOP 10 Companies to Buy Hosting With Ethereum
Conclusion – Best crypto advertising networks
Using a crypto advertising network will bring in more traffic to your website and even go further to convert some of them to customers. if you are just starting out with ads on crypto platforms then it will be better if you experiment with multiple platforms.
The services they offer differ from each other and it's always better to test various platforms before picking the best one for your crypto-related business.
Read Next
Best Metaverse Tokens to Buy on Binance for 10X Gains
The Ultimate Guide on How to Understand a Cryptocurrency White Paper
How to Make Money with Cryptocurrency
Best Cryptocurrency Books For Beginners: 8 Easy To Understand Books To Master The Crypto Space
10 Best Crypto Audiobooks You Don't Want to Miss
13 Best Bitcoin Casinos & Crypto Casinos