Podcasts are slowly replacing radio stations worldwide. One of the reasons why the podcast is getting recognition is because you can listen to previous episodes of your favorite podcasts. The traditional radio however doesn't have that archive or collection of older records. Setting up a podcast is very easy and it can be started with less than $300. Today we are here to tell you about the best crypto podcasts.
Podcasts have grown to be part of our lives and I hardly miss any episodes of the Waveform by Marques Brownlee. He talks about everything tech and keeps me updated with everything happening around tech. As someone interested in crypto you might be looking for podcasts or audio blogs that are related to the niche.
Listening to these podcasts will help keep you updated with industry trends, how to invest in crypto, how to spot crypto scams, and anything in between. By listening to these podcasts, you will also be exposed to the opinion of industry experts all from your comfort zone anywhere in the world.
One of the biggest barriers to traditional radio is that it works within a particular location. If you are in New York there is no way you can listen to radio shows happening in Belfast. Podcasts have erased that narrative and you can listen to them anywhere in the world at any time as soon as they are uploaded.
The Best Crypto Podcasts You Should Listen To
There are some cryptocurrency podcasts out there but in this article, we are listing the ten best crypto podcasts you should listen to in 2022.
Crypto Campfire Podcast
This podcast is hosted by Mitch and The Perfesser it is more of a show where two of them are having simple conversations around cryptocurrency. Their sense of humor will get you laughing at some point. They include talks about other topics but the main theme is "crypto" just as the name implies.
The podcast is always kept simple and even someone without proper crypto knowledge can listen and understand what they are talking about. The podcast is relaxing and they don't make it complicated with unnecessary conversations.
If you want to be updated with the happening in the crypto then this has to be one best crypto podcasts on Spotify you can listen to.
The Crypto Conversation
The crypto conversation is hosted by Andy Pickering and it is simply one of the best crypto podcasts. He mostly invites crypto experts to share market analysis, predictions, and speculations. The experts share insights on the behavior of select cryptocurrencies and how they move.
Andy is a great host and he is the reason why you will enjoy listening to the podcast. He covers everything related to crypto including blockchain technology, and crypto services review. The podcast is One of the services provided by Brave New Coins IPs, an agency that provides crypto information. If you want to stay updated with the trends of the crypto market then this is the right podcast.
The Pomp Podcast
The Pomp Podcast is hosted by Anthony Pompliano and the podcast is focused on inviting high-profile CEOs, Self-made millionaire traders, and top industry experts. listening to the podcast you get to hear the opinion of experts in crypto and business. It lets you weigh in and gets a different perspective around cryptocurrency.
This is the podcast to listen to if you want to listen to the opinion of top industry experts. if you check his previous uploads you will see founders of massive businesses as well as various CEOs.
With every new upload, there is always a fresh opinion to listen to which is great. listening to the podcast you never get bored especially because of pomp spot-on questions to his guests. this has to be on the list of best crypto podcasts
What Bitcoin Did – Best Bitcoin Podcast
Hands down this have to be one of the best crypto podcasts and I listen to it on Deezer. The show is hosted by Peter Mccormack where he invites people to share their opinion on the world of Bitcoin. He uploads twice every week and he covers all the trending news around Bitcoin.
You can learn a lot if you listen to the conversation and as a beginner, in Bitcoin, you can listen to previous episodes and find a lot of value. The conversations are easy to digest without any complicated crypto words from peter and his guests. For anyone interested in Bitcoin then What Bitcoin Did is one of the best crypto podcasts for beginners.
The Bad Crypto Podcast
This one has a weird name but I promise it's going to be a podcast you will enjoy listening to. It is hosted by Joel Comm and Travis Wright. They talk about crypto in general from news, market crashes, and all the happenings in the crypto world.
The Bad Crypto Podcast also covers market predictions and price speculations. They rely on historical data of the market to share their predictions. The hosts also invite guests that are knowledgeable to the podcast and you get to listen to expert opinions. This is a fun podcast that you are going to enjoy listening to when you wake up every morning.
Zero Knowledge
Zero-Knowledge podcast is named after the Zero-Knowledge Protocol (ZKP) which is a proof of statement platform. The podcast is hosted by Anna Rose and she invites like-minded guests where they dive into some micro aspects of cryptocurrency. they also share information on data analysis about cryptocurrency.
Her guests share a lot of educated opinions on specific crypto topics. It is one of the best crypto podcasts and you get to learn several things by listening to the podcast. The podcast is available on various platforms including Apple Podcasts, Spotify, and YouTube.
Stephan Livera Podcast
Just as the name goes the podcast is hosted by Stephan Livera. The podcast has been in existence for a while and the earliest episodes were uploaded in 2018. He talks more about Bitcoin on his podcast more than any other digital coin. If you are into bitcoin then this is a great podcast you can listen to and gain insights on happenings in the bitcoin world.
He talks about the energy consumption related to bitcoin mining, other technical aspects of BTC, and the lightning network.
Episodes of the podcast can be found on Apple Podcasts and Spotify. He invites top industry experts that deal with bitcoin to his show. You will get to listen to their opinions and how to trade your Bitcoin. He uploads new episodes at least twice a week. Make sure you listen to one of the best crypto podcasts centered around Bitcoin.
Thinking Crypto Podcast – Best Altcoin Podcast
The thinking Crypto Podcast is hosted by Tony Edward and he mostly dives into everything crypto. He talks about the latest news in the crypto industry including interviews with top crypto founders, employees, and traders. New episodes of the podcast are uploaded almost every day and by listening you hear the opinions of different industry experts.
The podcast is not centralized on a particular coin but rather everything. He talks about Bitcoin, DogeCoin, Cardano, Ripple, Ethereum, Chainlink, and any other things.
His guests also discuss CBDCs, metaverse, tokenization, Defi, and more. He has been in the crypto space since 2016 and he has a lot of knowledge about cryptocurrency. if you want general knowledge about cryptocurrency and blockchain technology then Thinking Crypto Podcast is the one for you.
Coin Bureau – Best Crypto Podcast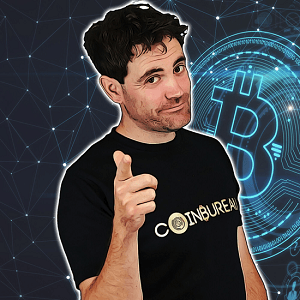 Coin Bureau is hosted by Guy and it is one of the most valuable crypto podcasts that you can find available on YouTube, Apple Podcasts, and Spotify. Coin Bureaus Youtube channel has over 1.6 million subscribers at the time of writing this article.
He covers general crypto topics and a lot of guides and tutorials about different crypto projects. The podcast is run by Guy himself and he doesn't bring anyone on the show.
By listening to the show you are guaranteed to gain knowledge about the crypto world. He reviews various exchange platforms and digital currencies. On the show, he talks about blockchain technology, NFTs, and a lot of other things.
Crypto News Alerts | Daily Bitcoin (BTC) & Cryptocurrency News
This is a podcast covers all the latest Bitcoin and cryptocurrency news. It is a one-man show and you get to listen to all the latest happenings in the world of crypto. There are new uploads daily and you can listen to new episodes on Deezer, YouTube, Spotify, and Apple Podcast. this is one of the best crypto podcasts because of their daily uploads.
If you want to stay updated with all the happening in the crypto space then you must listen to this podcast as is probably the best crypto news podcast available.
Rounding Up – Best Crypto Podcasts
Consistency is very important and all the podcasts listed above upload at least two episodes weekly.
Audio Quality is also important because no one will listen to a podcast without good audio quality.
If you want to stay updated with the crypto world then the podcasts listed here are the right ones for you. Listening to the podcasts above will also give you insights and market analysis on all the relevant digital assets. You also get to be educated about certain industry aspects you don't understand.
Podcasts are certainly going to replace traditional radio as time goes by. It is something you can listen to no matter where you are in the world. Hopefully, you will start listening to one of the best crypto podcasts listed above.