If you are looking for a list with the best cryptocurrency wallets, then you've landed on the right page. Cryptocurrency, as we all know, has become a global phenomenon as it is believed that it provides safe financial transactions and is counted among the digital assets that the world needs today. This works through blockchain technology which is responsible for keeping a database of all the transactions that are being made.
In case you are planning to buy bitcoin, one of the key steps that you would need to consider is to find a wallet in which you can store your currency.
There is certainly a shortage of wallets that support bitcoin, however, a few of them that are available today come with advanced features and high-level security. When you are choosing one for yourself, you need to be aware of factors such as its interface, usability, functionality, security, and backup features in order to ensure that you are choosing the right wallet for managing your finances.
My All-Time Favourite
✔️ My all-time favorite cryptocurrency wallet is Wirex. I have created a Wirex account 2 years ago and since then, I've never looked back. Wirex is a very simple online wallet that has an android and apple mobile application. Wirex has its own Visa card as well. This allows me to spend my crypto everywhere (online & offline) VISA is accepted. I simply log in to my Wirex mobile wallet and exchange the amount of bitcoin I want to spend. Wirex accepts Bitcoin, Ethereum, Litecoin, Ripple, Stellar, and a bunch of other cryptos. To learn more visit their official website.
Best Cryptocurrency Wallets Table
Although there are several mobile and desktop wallets that you can find today, the ones listed below are some of the best cryptocurrency wallets that you can pick up for yourself:
17 Best Cryptocurrency Wallets List
Below is a small description for each of the wallets that are in our best cryptocurrency wallets list.
1. Wirex
As I said earlier Wirex is my all-time favorite. Wirex comes packed with a number of cool features such as – simple desktop wallet, sleek mobile application, you can spend your crypto EVERYWHERE where Visa is accepted.
I have used my Wirex card to withdraw money from ATM's, eat at restaurants and buy clothes both on online and offline stores. With Wirex you can store your crypto, exchange them to fiat or crypto at any time, spend them with your Wirex Card and even withdraw them to your bank account.
2. Coinbase
Coinbase is one of the most popular web wallets which can store cryptocurrencies such as Bitcoin Cash, Litecoin, and Ethereum. It is easy to use and extremely convenient for beginners.
It also provides offline storage, multi-sign functionality along with time-delayed withdrawals. Moreover, you have full control over the private keys. It is advised that you do not store large amounts of cryptocurrencies and instead use an offline method to do so.
3. CoinBox
CoinBox is one of the most reliable and secure wallets in the crypto world, having the broadest selection of crypto coins. In addition to the top 100 cryptocurrencies, including the most popular ones, like Bitcoin, Ethereum, XRP, and others, CoinBox also supports any ERC20 tokens.
The service is perfect for buying, selling, exchanging, and storing coins without any restrictions and limits.
CoinBox positions itself as a cloud-based mobile and desktop cryptocurrency storage and exchange app with a focus on security, speed, and convenience. This platform creates comfortable conditions for carrying out any operations with cryptocurrency and monitoring prices of all cryptocurrencies and tokens.
Recently there was an opportunity to sell crypto to your bank account via SEPA directly from your wallet.
4. eToroX
eToroX is a relatively new addition to the cryptocurrency wallet industry. It is the "child" of the popular trading platform eToro. eToroX is a wallet that allows you to use their regulated exchange platform to instantly exchange your crypto from withing your wallet.
The fees for exchanging your crypto to fiat currencies is 1% for a minimum of $125 (or €113). Their wallet supports over 50 different cryptocurrencies including some of the most popular ones like Bitcoin, Ethereum, Litecoin, Ripple etc.
I included eToroX on the list because I believe it is one of the most secured online wallets mostly because it is backed up by the "Behemoth" trading website eToro.
5. Ledger Nano S
It is one of the safest places to store cryptocurrency and is a kind of hardware wallet that you can find around. This wallet looks like a slick USB device which can reduce the possibility of cybersecurity risk and is absolutely easy to use. To setup Nano S, you would be required to insert a four-digit PIN through which payments can be made.
Moreover, in case there are more than three incorrect PIN guesses, the wallet would automatically swipe away all the information. It comes with a built-in OLED display that can be used to confirm transactions.
6. Trezor
It is one of the oldest hardware wallets that were made for storing bitcoin and became popular among the cryptocurrency enthusiasts. In case you are looking to store a large amount of cryptocurrency, then this wallet would certainly be useful for you. It is a small device that connects to your computer through a USB cable.
It comes with its sets of private keys which can be backed up using a twenty-four-word password that gets available on setup. It also comes with additional security features with a screen that allows you to check the transactions.
It can support different types of cryptocurrencies along with tokens and coins. But if you want to store bitcoin on this wallet, you would need to pay from your pocket.
7. Keep Key
KeepKey is another hardware device that is used in the form of a USB device. It provides great security and is easy to manage so that even beginners do not find it hard to have access to it.
This wallet allows you to make and store any number of private keys and also comes with an OLED display along with the transaction confirmation button. It can be integrated with the desktop software which makes it easy for you to handle private key generation and manage transactions.
This device works well on Mac, Windows and Linux operating systems and can be used to keep different types of cryptocurrencies. As it is new, it is certainly not as popular like the other wallet options that you would find. Also, you would need to think a lot before investing in it as the cost of purchasing it is slightly heavy on the pocket.
8. AtomicWallet

(Recommended)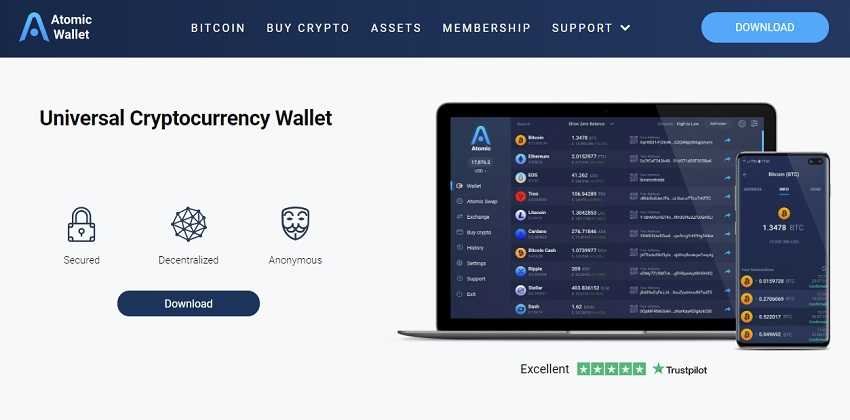 Atomic Wallet is a universal non-custodial app for Bitcoin, Ethereum, Ripple, Bitcoin Cash, Stellar and over 500 top cryptocurrencies. Secure, manage and exchange your portfolio in one place!

Multi-Platform
Atomic Wallet is available for Windows, Mac, Linux, Android and iOS. Auto-update inside the app allows you to install the new version instantly.
Exceptional security
Your private keys are encrypted on your device and never leave it. Mnemonic seed phrase belongs only to you and allows to access to the portfolio. Only you have access to your funds. Atomic is built on top of common open source libraries.
Instant exchange
You can exchange a range of coins and tokens to any other just in one click. No external services are needed. Provided by Changelly & ShapeShift.

Buy Crypto
In Atomic, you can buy any coin (BTC, ETH, XRP and many more) right in the wallet interface. The whole process takes about 20 minutes.
Decentralization and Anonymity
Atomic is fully decentralized application. We don't store any of your data, don't require any verification for basic services. We never have access to your funds.
24/7 Live support
Atomic engineers are always happy to assist you by email [email protected] or live telegram chat @AtomicWalletChat
Smooth and handy interface
Atomic is focusing on exceptional user experience. App is fully optimised for your device.
9. Exodus
Exodus can support cryptocurrencies such as Litecoin, Bitcoin Cash, Ethereum, Dash, along with several others and provides an insight into what more can be added over the course of time. This wallet makes it possible for you to exchange assets but for that, you might need to pay extra funds from your wallet.
The customer support services at Exodus are excellent as they give fast responses. The only drawback with this wallet is that there is a lack of support when it comes to authentication and the security levels are also not high.
10. Electrum
Electrum is one of the best cryptocurrency wallets and can be downloaded for Linux, OSX, and Windows along with the app. This app provides great safety and reliability which is why it is highly popular. The key that is provided with the Electrum Wallet is encrypted and never leaves the computer. Moreover, you can even set up the authentication of your account.
The app that is offered by Electrum offers a fast and lightweight desktop app and can be designed in a manner that it can manage the BTC holdings. The disadvantage with this app is that you cannot use this wallet to hold different varieties of cryptocoins and the interface and prove to be a little confusing for the people who are using it for the very first time.
11. Armory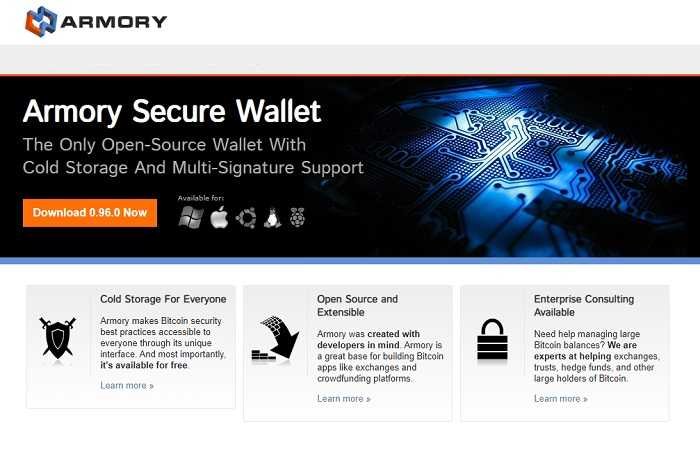 Armory highly lays emphasis on extreme security and offers great flexibility. It is highly functional and comes with cold storage capability along with multisign features.
In addition to that, the user has complete control over the storage and creation of private keys. It can be used for free and can be run on different operating systems. It only supports bitcoin and can prove to be a bit challenging for those who are beginners.
11. Blockchain.com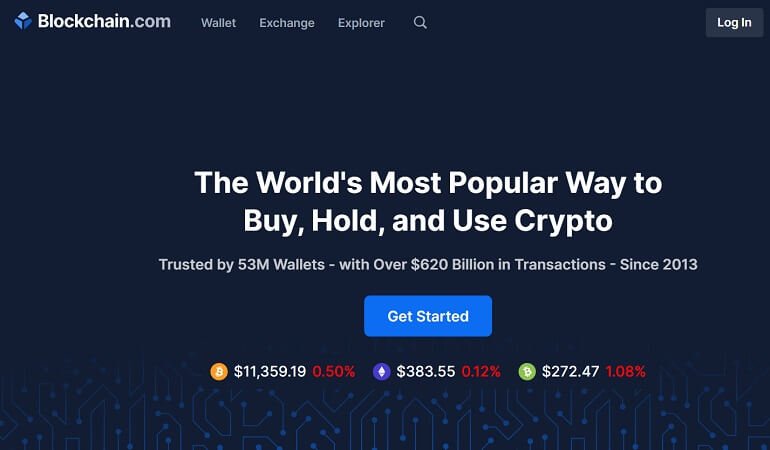 Blockchain.com is ideal for the bitcoin users and is a web-based wallet that can be used over Android, iOS and Android platforms. It is fast to use and easy to operate which makes it ideal for beginners.
You can secure your account by verifying the email, linking up the mobile number, and blocking requests. They are not as secure as expected and it would be better if you choose to store the cryptocurrency offline.
12. Green Address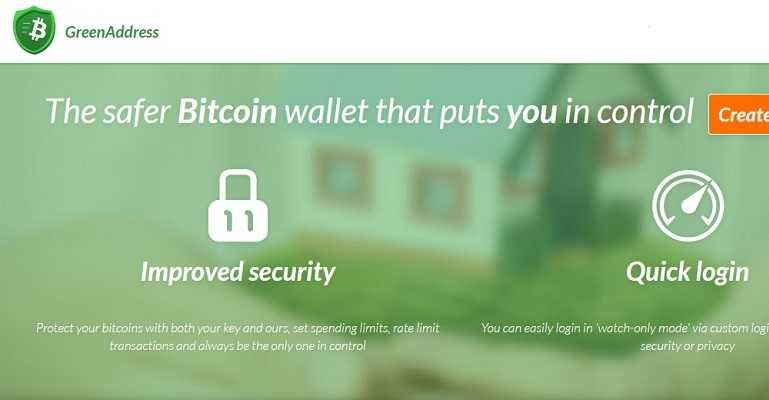 Green Address is another popular option that offers great security and privacy. They come with several security features such as a multi-sign feature which makes it easy for the clients to access the account easily.
It does not store the private keys of the users even when they are encrypted. Moreover, you might claim third-party approval before you happen to make payments.
13. Bread Wallet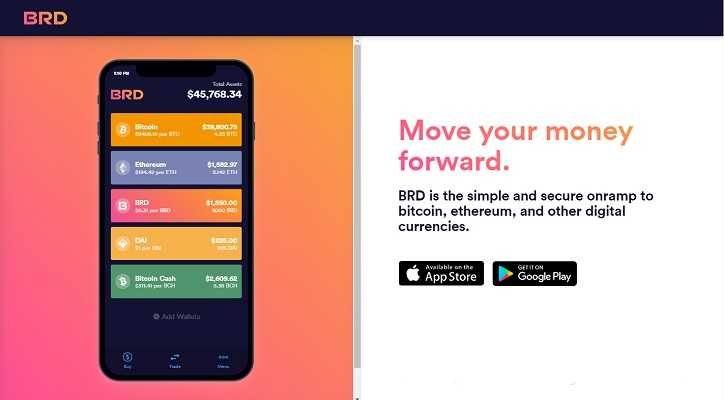 Bread Wallet is a mobile wallet that can be used for Android and iOS devices. It can be freely downloaded and comes with an easy-to-use interface. It has a straightforward setup process which makes it easier for beginners to have easy access to it.
Several other security features that come with this app include a restore and backup facility along with ID protection. However, it does not offer advanced security features which is one of its drawbacks.
14. Edge App (Former Airbitz)
Edge Wallet is a mobile wallet available for both Android and iOS devices and offers an easy-to-use interface that is ideal for beginners. In addition to that, it comes with two-factor authentication features.
It can be used for scanning QR codes and offering easy fund transfers. It is only compatible with bitcoin and Bitcoin Cash.
15. Mycelium
Mycelium is another mobile wallet that offers an open-source program and comes with a wide range of features that make it highly popular among bitcoin holders.
As it has several advanced features when it comes to security, it proves great for backups and offers multi-sign functionality.
It can only be accessed via a smartphone. It is consistently being developed as it is open-source which is why it has a lot of scope of adding new features and increasing security levels for safe transactions.
16. Jaxx
Jaxx is one of the most popular bitcoin wallets which can store currencies such as Ethereum tokens, Bitcoin Cash and around fifty other cryptocurrencies. Its interface is interactive and easy to understand which makes it ideal for beginners to use this application.
Its interface is one of the key features that have made it a prominent application. You can also store private keys on your smartphone and do not need to insert your personal details to access it.
Conclusion
On a final note, cryptocurrency wallets need to be managed carefully and should be chosen only after considering all the factors that you are looking for in an ideal mobile or desktop wallet.
I hope you enjoyed our best cryptocurrency wallets list. If you found this article useful, please consider sharing it with the rest of the crypto-community.
Read Also
The Best Bitcoin Wallet to Choose
This mysterious wallet received $3 billion in bitcoins within 1 week
Wax Cloud Wallet: What Is It, And Why Do You Need It
Upgrading "Gray Glacier" will not affect your Ethereum wallet
Which Blockchains and Wallets Meta (Facebook) is being integrated