Everyone these days wants to earn cryptocurrencies. People are investing in it to large extent.
But earning crypto might not always be profitable. It can pose risks as well. Investing demands extensive research as the crypto space is filled with Ponzi schemes and scams.
Nowadays, even without investing or trading, earning crypto is a possibility. With the help of this best crypto faucet list we prepared for you you can now earn free crypto by simply doing simple tasks or solving captchas.
New users can benefit largely from Bitcoin faucets as these offer a lot of valuable information on cryptocurrency. Performing test transactions is possible with the faucets before investing real money.
The top mobile app development company can assist you in understanding the concept of faucets as well.
👉 To store your newly acquired crypto, you will need a cryptocurrency wallet. Check here the safest and trusted cryptocurrency wallets to start your cryptocurrency journey.
What is a Crypto Faucet
When you are investing in cryptocurrency as a new user, it is vital to learn about the faucet definition.
A crypto faucet is a website or app that rewards users with cryptocurrency for completing simple tasks, such as viewing an ad, answering aCaptcha, or clicking on a link. Faucets are an excellent way to get started in the cryptocurrency world, as they provide a way to earn small amounts of digital currency without having to put any money down.
It might be every hour, once per day, or any interval the webmaster chooses to release crypto to its users.
There are many different types of crypto faucets, but the most common type dispenses Bitcoin. Other popular cryptocurrencies that can be earned from faucets include Ethereum, Litecoin, Dogecoin, and Bitcoin Cash.
A faucet – in the context of cryptocurrencies – is a website that offers small amounts of cryptocurrency at a specific interval.
Like a broken kitchen faucet that drops droplets of water in a specific time interval, this is how crypto faucet – hence the name cryptocurrency faucets.
🔑 KEY TAKEAWAY
Faucets provide essentially free crypto. Although very small amounts, if you use them consistently and join as many as these faucets your time schedule allows, then these small gains can stack up very quickly.
Best Crypto Faucet List 2022
Earn good by only using crypto faucets that pay. The best crypto faucet list 2022 is as follows:
Freebitcoin – Best Crypto Faucet For 2022
One of the best bitcoin faucet – that's been around for over a decade is Freebitcoin. Freebitcoin allows you to earn free bitcoin every hour.
They have this great feature that notifies you with a sound from your browser that the hour has passed in order to claim your free bitcoin.
Freebitcoin has a referral system as well that allows you to refer others and earn 25% referral commissions on the base interest earned by your referrals!. This way you can easily increase your free bitcoin than from the faucet only.
The other great feature freebitco.in has is that it pays you an interest rate on your stored bitcoin. Amazing right? You get paid 4.08% per year in daily intervals.
Every day you log in to your account you will see your bitcoin auto-magically increase day by day. The more bitcoin your store with them the more daily interest you will receive.
The Faucet pays well, and you can roll dices when you claim. When you are using a Freebitcoin quite several times, it is even possible to attain their jackpot.
If you are going to join a cryptocurrency faucet, freebitcoin has to be your first choice.
Cointiply – Best UI/UX Faucet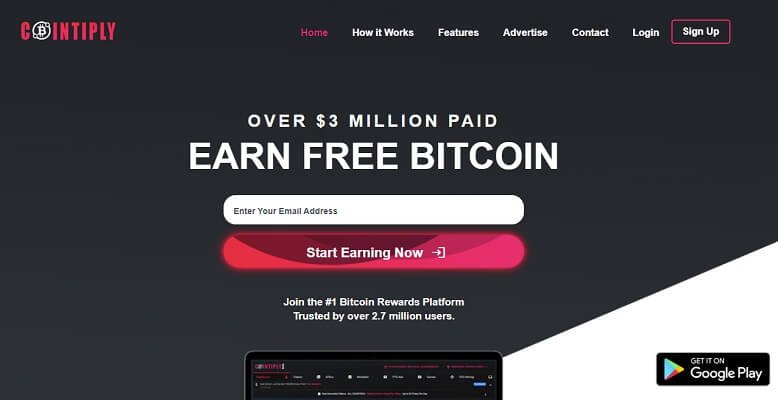 Cointiply is one of the most legitimate businesses you will find today when searching for the best crypto faucet.
Cointiply lets you earn coins, and when you opt for cash out, it is possible to choose from either Dogecoin or Bitcoin.
The amount you receive will depend on the present market value of the chosen cryptocurrency. Here you get two bonuses.
First is the loyalty bonus, where you receive 1% more per claim, up to a hundred percent for every day you claim. Secondly, you get the Cointiplier bonus where for example, if the Cointiplier carries 1.44 values, you will be receiving nine coins per normal roll.
The amount you receive for the role will increase as the Cointiplier goes high.
Coinpayu – Best Faucet For Multiple Crypto
If you are looking for crypto faucets that pay, Coinpayu is the best option. Just register, and you will be able to watch ads for earning Bitcoins. Also, you can craft your ads and promote a website of your preference.
Three varied kinds of ads you can click on for earning Bitcoins. The first one is the Surf Ads, the second is the Windows Ads, and the third is the Video Ads. The Satoshis that you will earn from all three ads is quite rewarding. Give it a try today.
Offering SSL will be a good choice to choose Autofaucet-Dutchycorp as the bitcoin faucet app. You get two ways of earning coins over here. Either you can roll from the Faucet or utilize their Autofaucet.
👉 If you want to learn how to trade cryptocurrencies, this book collection is a must.
It is possible to roll every thirty minutes. The cryptocurrency you receive will change each month. Also, there are two kinds of rolls. Firstly you can earn coins directly, and secondly, at another roll, you will be earning Duchys.
Earning most coins is possible from Autofaucet. There are two options to pick from that are Balance Mode or ExpressCrypto Mode.
Firefaucet – Best Automatic Earning Faucet
The best method of earning cryptocurrency for free is through FireFaucet. It is well paying, where after you begin, it will be claiming more than two cryptocurrencies of your preference automatically.
The currencies that you can earn here are Doge, Tron, Litecoin, Bitcoin, etc. You can claim the currencies after you earn Auto Claim Points. You can think of spending one, two, three, or four claim points every minute.
As you level up, it is possible to attain Satoshis absolutely for free. The higher level you reach, the more you can earn.
The opportunities that you find at grabtc for earning Bitcoins are varied. Here you earn money with the Faucet. You are claiming once every sixty minutes is possible and rolls the dice.
You will be getting more Bits with more rolling. It is possible to earn Bitcoin on grabtc. The value of 1 Satoshi rests in 1 Bit. You can choose to watch the PTC ads. Just click on the ads and solve the captcha.
With Yannik as one of the best crypto faucets that pay, earning IOTA and Bitcoin here is possible. You can assert Bitcoin every ten minutes and IOTA every sixty minutes. There is no need to utilize a short link.
You need to solve captchas, and you receive the coins. When you are claiming one time every twenty-four hours, you will be receiving a loyalty bonus.
Earning Bitcoin free of cost is possible at Goldenfaucet.io. The most important benefit of Goldenfaucet is that it is multilingual.
Crypto faucet apps like these come in both Spanish and English languages.
The earning ways you get here are ad prizes, PTC ads, Clix grid, Faucet, CoinFlip, and many more. Here claim every 5 minutes and get free Satoshis.
The website is a highly sought-after one because it enables users to claim every fifteen minutes.
The average claim that they can make is 24 Satoshis. Also, users will be finding offers/surveys section, coil multiplier on the website.
It is especially useful for people who truly wish to enhance their earnings. BonusBitcoin accounts are linked to CoinPot that is a micro earning wallet that gathers all the payouts.
A single table cash game, Blockchain Poker is the website you play for real bitcoins.
You will find no sign-ups here which mean that the players can be anonymous. New players get hands-on free Satoshis for playing with.
In case you are dropping beneath 50 Satoshis, it is possible to utilize the Faucet for topping up the balance to 100. As a player, you can either play with Bitcoin Cash or Bitcoin.
What are The risks of using a crypto faucet?
There are a few different types of risks that are associated with using a crypto faucet. These include fraud and theft, ads or links to malicious sites, and malware damage.
Additionally, there is always the risk of exposure to potentially illegal content when browsing the internet.
However, the biggest risk by far is the theft of Bitcoin or other cryptocurrencies. This can happen if your account is hacked, or if you use an unsecured Wi-Fi network or VPN. (Check our list with VPN providers who accept crypto).
Therefore, it is important to take precautions to protect your information and make sure that you are using a secure network when conducting any online activity.
5 Tips on how to get started with crypto faucets
1. Make sure that you are using a secure network (https) when conducting any online activity. This will help to protect your information from being stolen or compromised.
2. Be careful about which sites you visit when using a crypto faucet. Make sure that you only visit reputable sites, and avoid clicking on any ads or links that seem suspicious.
3. Make sure that you are aware of the risks associated with using a crypto faucet. These include fraud and theft, malware damage, and the theft of Bitcoin or other cryptocurrencies.
4. Always make sure that you have a backup of your cryptocurrency wallets. This will help to protect your investments in case of an attack or other unforeseen event.
5. Don't forget to diversify your portfolio. While crypto faucets can be a great way to earn some extra income, don't put all of your eggs in one basket. Invest in a variety of different cryptocurrencies, and spread your risk out as much as possible.
Keep these tips in mind and you'll be able to get started with using a crypto faucet without any problems. Crypto faucets can be a great way to earn some extra income. Just make sure that you take the necessary precautions to protect yourself and your investments. Follow the tips above and you'll be able to use a crypto faucet without any issues.
Final Take
If you are an individual just beginning to dabble in cryptocurrencies, using a crypto faucet is one of the easiest ways to get your feet wet. For most people, the best way to get started on the most popular cryptocurrency – Bitcoin – is at a Bitcoin faucet. A typical payout from these faucets is 10bits (0.000001BTC).
This might not seem like much but that's only because bitcoins have a high price per coin. A bit (1/10000000) is similar to 1p in Sterling or €0.0001 in Euros so 10 bits = 0.001 Ƀ which converts as £0.006 or €0.0068 at today's rates and has been steadily climbing.
Using a Bitcoin faucet is one of the most cost-effective ways to get started with cryptocurrencies. Although the payouts might seem small, over time they can add up – especially if you take advantage of multiple faucets. And as the price of Bitcoin continues to rise, so too will the value of your payout!
Another great thing about crypto faucets is that they can introduce you to a whole new world of altcoins. While Bitcoin is by far the most popular cryptocurrency, there are hundreds of others out there – and more being created every day! Many faucets will also allow you to claim other types of coins, such as Ethereum, Litecoin or Dogecoin.
Choosing the best crypto faucet 2022 out of so many can be intimidating. But you do not have to choose just one! You can open numerous tabs and keep on switching between the cryptocurrency faucets.
So why not give it a try? Head over to a Bitcoin faucet and start claiming your free coins today!