Cryptocurrency and blockchain technology are filled with technical terms that beginners find challenging to understand. One of the best ways to learn about cryptocurrency is by reading books. There are hundreds of books available to help you, but we narrowed down the best cryptocurrency books for beginners.
Once you read – at least some – of the books listed below, you will understand the concept of cryptocurrency and how it works. We recommend reading at least three books to understand the topic better. The books below can propel you from novice to almost the same level as industry experts.
The books listed below were carefully selected, and they were written by cryptocurrency experts that are currently on top of the game. It is also advisable to read new articles to stay updated with the industry's happenings.
Best Cryptocurrency Books for Beginners
Here's ta quick table showing the best cryptocurrency books for beginners. Note that the price associated with each book, is for the paperback or hardcover version.
Many of the books mentioned below are sold on Amazon and many of them are available on Kindle devices. Their cost – if purchased for Kindle – is literally Free. You just need to have a Kindle Membership. You can find more information here.
The CryptoUltimatum is an ebook that will guide beginners interested in trading Bitcoin and cryptocurrencies. It explains the meaning and importance of cryptocurrencies. This ebook also teaches beginners on acquiring Bitcoin and staying away from cryptocurrency scams.
You can also learn how to profit from cryptocurrency trading using automated trading bots.
The eBook also guides beginners on how to secure their cryptocurrencies using hardware wallets. If you purchase the eBook, you are entitled to a lifetime update and customer services. The information that are presented in this eBook are easy-to-understand and help anyone start their crypto journey from scratch.
The ebook is recommended for beginners who want to profit from trading cryptocurrency.
Crypto Explained is an ideal book for beginners that want to understand the concept of cryptocurrency. James Prosper wrote the book, and it has 12 chapters. The book is written practically, and readers can easily digest it.
The author discussed the rise of popular cryptocurrencies globally, talking about the top cryptocurrency exchanges.
Beginners can make meaningful decisions about investing in cryptocurrency after reading the book.
Crypto Explained is the perfect guide for anyone looking to get started in the cryptocurrency world. It covers everything from the basics of blockchain technology to how to buy, sell, store, and mine cryptocurrency.
The book is packed with useful information and is written in a clear, easy-to-understand style.
Crypto Explained is an essential read for anyone wanting to learn more about this fascinating new world.
The Basics of Bitcoin and Blockchain was written by Anthony Lewis, a crypto enthusiast who has been involved since 2012. The book breaks down the technology of Bitcoin and blockchain in simple terms. If you read the book as a beginner, you will understand how Bitcoin works, including buying, selling, and mining.
The book guides beginners on investing in Bitcoin and the risks involved. An explanation in the book will help you understand how crypto exchanges work, their regulations, and how to use a digital wallet. Beginners will also understand how blockchain technology powers cryptocurrencies.
Anthony Lewis also shared his views on how Bitcoin and blockchain technology can impact global businesses.
Kolawole Obaseye wrote Crypto for Dummies, and it is a short book that will help a beginner understand the concept of cryptocurrency. The book was written in a simple style, and anyone interested in how the new internet money works will understand quickly.
The book only has 15 pages, and you can even start by reading it before reading other comprehensive books. After reading this book, you should be able to argue and raise points when that friend that always talks about Crypto shows up. The book gives a short introduction to cryptocurrency, and you might read more after reading Crypto for Dummies.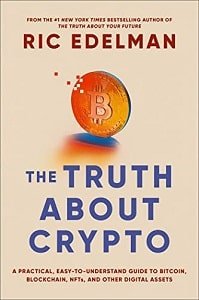 The truth About Crypto was written by Ric Elderman, a Financial advisor and author of seven best-selling books on personal finance. The Truth About Crypto covers all the topics around cryptocurrency and blockchain technology. The author also wrote the book in a way that the technical terms related to Crypto are explained in a simple form.
The author also shared some advice needed to make a profit from trading cryptocurrencies. He also explained the difference between digital assets and digital currency.
Finally, the book talks about the new investment opportunity that crypto presents and how to make the most from buying and selling. The book is a must-read for beginners, but intermediates and experts can also gain new knowledge and strategies from reading the book.
Non-Fungible tokens have generated a buzz since last year, and many new beginners want to understand how it works. The book is a perfect guide for anyone interested in NFTs. Some strategies in the book will help you know the right NFTs to buy.
The book is also recommended for anyone that wants to be an NFT artist.
You will also learn to avoid scams, pump and dump NFT projects, and more by reading the book. The book covers everything that has to do with buying, flipping, and selling NFTs.
Non-fungible tokens are part of the revolutionary blockchain technology, and this book has what it takes to make you understand what it means.
NFT for beginners has just 108 pages, and it pays attention to the fundamental parts of NFTs. The book will teach you what an NFT is and why it is essential. Beginners will also learn the different types of NFTs, how to buy and sell NFTs, and how to create NFTs.
The book will also guide anyone that wants to become an NFT artist on how to succeed. The book is written comprehensively and straightforwardly, and everyone will understand after reading. The author also shared why people buy NFTs and how to keep them safe in the book. Anyone interested in making money with NFTs should read this book.
Bitcoin Investing for Beginners is a comprehensive book covering important topics around cryptocurrency. It is one of the best cryptocurrency books for beginners, and they will learn about cryptocurrencies and how blockchain technology works. The book will also guide you as a beginner on how to come up with an investment plan.
There is an overview of the future of cryptocurrency and blockchain technology in the book, including taxes and regulations set by government institutions.
In addition, reading the book will give you knowledge about the different types of cryptocurrency and emerging use cases of blockchain and cryptocurrencies in general. Finally, it will also guide you as a beginner to buy, store, and sell your cryptocurrencies.
Rounding Up
The books listed above will inform and educate you as a beginner about cryptocurrency, blockchain technology, and NFTs.
The books clarified the risks and rewards of investing in this new asset class that is gaining more popularity by the day. It is also avoidable to avoid reading books that sell out the dream of Crypto without sharing the risk involved.
Some of the books listed above are free if you have Amazon Kindle, while some cost between $5 to $15.