Regular readers of Bitnewsbot are certainly not the first time they have read about Microstrategy (MSTR). It is the first Nasdaq-listed company to buy Bitcoin as cash. It is a US-based software company that specializes in business intelligence and cloud services.
The company was founded by Michael Saylor in 1989, at a time when many tech startups were being created, culminating in the bursting of the dot.com bubble. In that crazy period MSTR's price had soared from $70 to $3,300. A run that left shadows as it was indicted by the SEC.
Almost all of the companies that were listed on Nasdaq at that time were lost. Few were rescued. MicroStradegy may have been among those that survived, but it has never been much heard ever since.
It barely topped $200 for a short time in 2015. The spotlight fell on both the company and Michael Saylor when they started to get serious about Bitcoin.
MicroStrategy may have been the first listed company but today 25 have followed suit, the most important of them all being Tesla. Since then 12 companies have listed, whose main business is cryptocurrency mining and one exchange, Coinbase.
MicroStrategy's pioneering did not stop there. Under the guidance of Michael Saylor, a Bitcoin bull, he issued bonds to buy additional Bitcoin. Together with Nayib Bukele, under whose presidency El Salvador adopted Bitcoin as its official currency (at the same time as the dollar), they will either be written into the pantheon of the most farsighted investors and leaders or history will treat them as destructive opportunists.
MicroStrategy first bought Bitcoin in August 2020. The amount was $250 million. A lot of water has flowed down the drain since then. It now owns 130,000 Bitcoins, currently worth $2.14 billion. However, after the decline in recent months, their acquisition price is much higher. They were acquired for nearly $4 billion at an average of $30,639, which brings the losses so far to 47%.
In September, Microstrategy consolidated all of its Bitcoin holdings into a separate entity called Macrostrategy. The name was apparently inspired by the company's name and its founder's long-standing vision as far as recognizing the value of Bitcoin.
In the chart below that we pulled from the latest quarterly results, we see the rate and amount Bitcoin got acquired.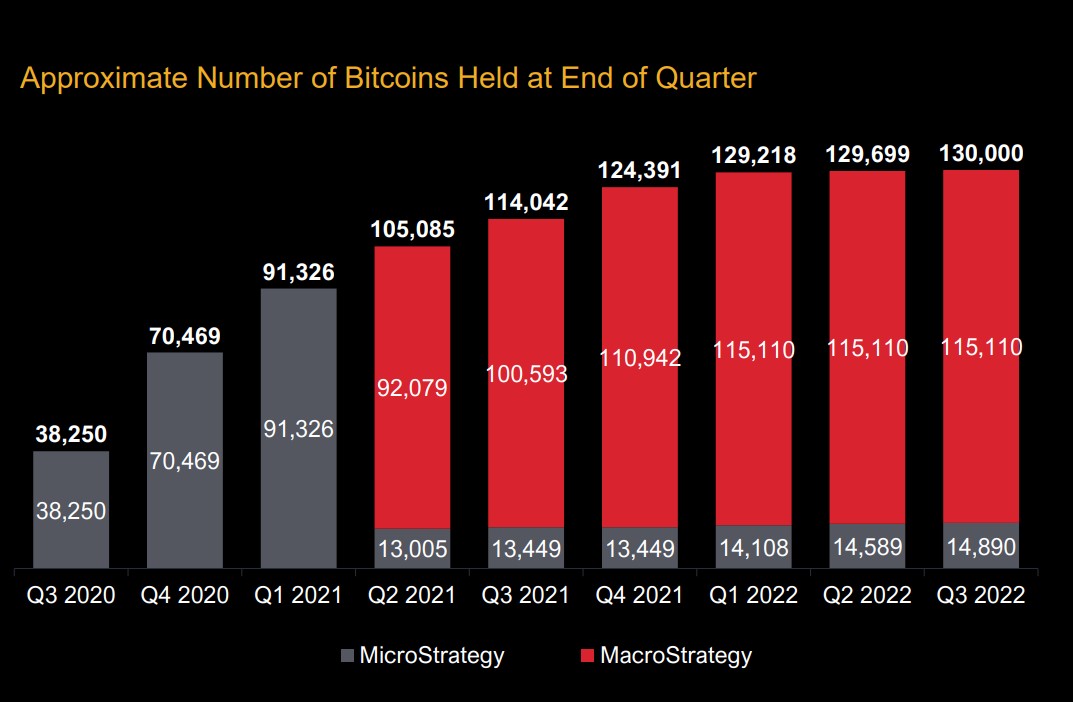 The Problem
The problem is that most of this money spent has not come from the profitability of the company, but from issuing bonds! Specifically, MicroStrategy issued $2.2 billion in bonds to finance its Bitcoin purchases. The company offered a 6% coupon. In other words, if over the next few years Bitcoin rises against the dollar by an average of more than 6%, then MicroStrategy will come out ahead. If not, it will lose out.
Of course, in addition to the company's first cash purchase, there have been others. The last time Bitcoin was acquired was between Aug. 2 and Sept. 19, according to a data filing submitted to the Securities and Exchange Commission. MicroStrategy purchased 301 bitcoins for about $6 million, or an average of $19,860 apiece.
Saylor has made a public commitment to keep buying bitcoin on an ongoing basis. Something he is indeed adhering to, although he has stepped down as CEO in order to have free time to devote to the foundation he has created to (what else?) promote the idea of bitcoin.
Given that now the company's largest asset by far is the amount of Bitcoin it owns, it is estimated that if the cryptocurrency declines to around $13,000, Microstrategy's intrinsic value will be negative. It will owe more than its assets are worth.
This of course does not create an immediate cash problem. It will only have to pay the coupons until the bonds mature from 2025 to 2028. However, he has also taken out a 3-year, $205 million loan, meaning for the Bitcoin purchase. This means that if the price drops from a level or below, it will have to provide additional collateral to provide coverage.
Months ago, there had been a rumor that if Bitcoin got below $21,000, MicroStrategy would be forced to liquidate its coins because margin calls would be triggered. This is not the case, as Michael Saylor assured, citing data from the third quarter of 2022. Of the 130,000 bitcoins held by the company, 85,059 (65%) have absolutely no borrowing costs.
From what Saylor has claimed, for there to be a problem, the cryptocurrency would have to retreat to $3,562. Even in that case, however, the company can use other assets as a mortgage so that there will be no problem.