Cryptocurrency remains an elusive part of financial markets today, primarily because of its nature. After all, cryptocurrency is just a recent arrival in various markets.
Given its mysterious origin in the Deep Web, we can forgive others for looking at cryptocurrency with scrutiny. Thing is, a lot of industries today have begun seeing the value in crypto – trusting it enough, in fact, for it to have a market of its own. And after the "Bitcoin Boom" in 2013, investors and skeptics alike have seen the potential of Bitcoin and other cryptocurrencies to perform in the market.
Bitcoin actually rose from USD 0.003 back in 2010 to a whopping USD 7,300 apiece back in 2017. While Bitcoin experienced a brief dive during the same year, Bitcoin has consistently performed in the market since. It's currently valued at USD 12,637 as of June 2019, in part thanks to developments in both cryptocurrency and blockchain at large.
So if you're looking into investing in Bitcoin and other cryptocurrencies, you might be excited to try out and see whether your investments will pay off. However, if you're doing this for the first time, you might feel a bit overwhelmed. So, how exactly do you start cryptocurrency investing?
1. Choose your currencies and your exchange carefully.
When we say "currency," we're simply talking about the kinds of cryptocurrencies you can buy and sell in the market. When we talk about "exchanges," these are places where you can purchase these cryptocurrencies.
It's important to stay aware and alert of what exchanges you're using, and make sure to read up on reviews to check which are the most reliable for the kinds of currencies you're using. Cryptocurrencies can cost a lot of money, so it helps to be careful not just with what exchange you're using, but what kind of currency you want as well.
In terms of exchanges, perhaps the most popular ones are Coinbase and Binance. These exchanges often allow you to use your debit card to buy your currencies. If you have a limited budget, you can buy a fraction of the currency, instead of buying the whole thing. This is important for currencies like Bitcoin, which cost thousands of dollars for a single "piece."
Choose a cryptocurrency that's "right" for you. There are a ton of coins out there, but the most popular are Bitcoin (BTC), Ethereum (ETH), Ripple (XRP) and Litecoin (LTC). All of them have their advantages and disadvantages, and Bitcoin remains the most popular out there. In fact, 5-percent of all people who are into cryptocurrencies have invested in Bitcoin.
2. Diversify and secure your cryptocurrency portfolio.
Just like how other people have diversified portfolios in different markets, it's important to secure your investment safety by having a diverse cryptocurrency portfolio. This can be done by having a reliable and safe wallet to store your things, and approaching buying and selling cryptocurrency properly.
Choose a reliable cryptocurrency wallet. When you buy cryptocurrencies, you have to store them in what's called a "wallet." These come in both a hardware wallet and software wallet varieties. Hardware wallets act as physical storage units, like external hard drives, that can store currencies you don't plan to use anytime soon. Meanwhile, software wallets usually have currencies you want to trade with. If you sign up to certain exchanges, they often give you a personal software wallet to use.
However, you have to be careful about what kinds of wallet you use. And it's advised to avoid mobile wallets, especially since mobile devices can be easy to hack and compromise. Choose hardware and software wallets as much as possible, as they're usually built with sturdiness in mind.
Diversify your portfolio by purchasing different kinds of currencies and coins. These can help protect you from the rather volatile nature of cryptocurrency in the market. When you do choose other currencies to buy and sell, make sure you study it well.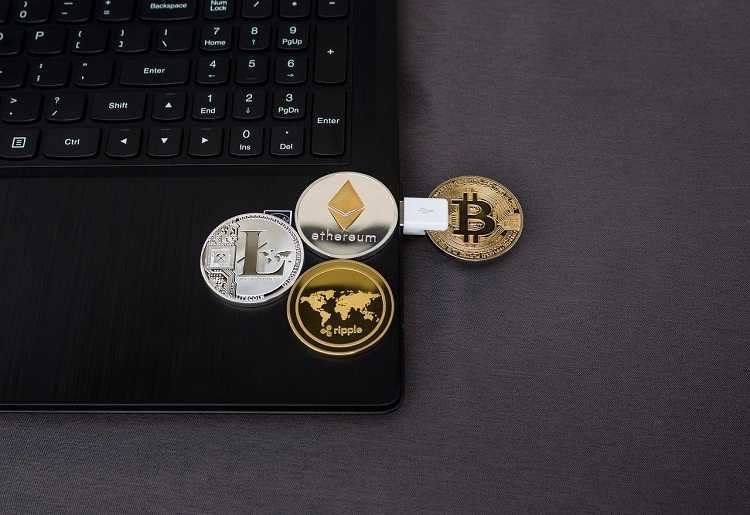 3. Determine the kind of short-term approach you might be using for your cryptocurrencies.
Like other forms of investments, you can actually use cryptocurrencies to secure profits from short-term investments. However, just like other forms of short-term investments, you need to plan your approach to selling your currencies properly to accrue the most profits.
Short-term investments for crypto can act like other short-term investments on assets. These can take just a few seconds to just a few months in order to be at a price that you'd like for it to be.
Determine the kind of profit you want to make out of this investment in the first place. This helps you identify the price you want to sell or buy the currency. At the same time, decide on how much loss you're willing to accept in order to control how much you're going to lose if the price of the crypto drops.
See whether you can study enough about your chosen cryptocurrency in order to make the right technical assessments when investing. It's advised that you do this first, so you make the right call. This way, you can freely do other things you want in your leisure time such as playing games like Madalin Stunt Cars 2 but also keep track of your crypto investments properly.
4. Assess your long-term strategies for investment.
Just like stocks and other kinds of investments, you have to make the call as to what happens to your cryptocurrency after a certain period of time. While you study the way the market moves during your time trading crypto, you need to have an endgame or a long-term plan for your portfolio. This is important, as this heavily dictates what you can do with your cryptocurrencies, and what you have to do in order to achieve these goals.
You can treat your cryptocurrencies in the same way long-term investments work. They usually take up to half a year to a full year in order to start getting returns. Others stick with these investments for half a decade, to more than a few decades in order to reap maximum rewards. This is a huge risk on your end, as the price for crypto might rise or fall dramatically.
Have a clear goal for your long-term investments. Do you want to sell the cryptocurrency after a particular period of time, or after reaching a certain price? Once this happens, do you want to sell just parts of it, or all of it?
When choosing cryptocurrency to invest in the long-term, try to research about multiple aspects of these currencies. For instance, is their technology better than their competitors? Does it have a strong following, and do you know their developers? Do they have a stable plan or roadmap? And what sorts of problems are they solving in the real-world?
Think about contingencies as well. What circumstances will force you to sell your cryptocurrencies early on? Having these in mind can help protect you and your assets.
5. Observe how it functions as a kind of commodity.
When you plan to invest in any kind of cryptocurrency, it's important to understand that it's much less a kind of "currency" in the way a United States dollar would be. Rather, it's more of a commodity, in the same way, limestones and salt was in the past.
The main difference is that today's currencies are substitutes for a kind of "value," and commodities actually have an intrinsic value of their own. This is what makes cryptocurrency so expensive, as its inner machinations let it function more than "just" a substitute for money. Before you invest, you should understand how cryptocurrencies function first.
Cryptocurrencies are a kind of blockchain or a type of decentralized system that allows its owners to make changes to it securely, and anonymously. This eliminates the need for banks, as cryptocurrencies record their own transactions internally through a secure and robust system. All blockchains work in this manner.
Blockchains can only be accessed with computers capable of solving complex puzzles, and each change can only be finalized when all members of the chain acknowledge it. This eliminates the need for a central body to control and handle the changes to the system.
Consider studying other kinds of blockchains as well. Blockchains can be used in other means such as software development, human resources management, and other fields. Understanding just how expansive blockchain is can help you study how you want to invest in them.
6. Keep an eye out for cryptocurrency news.
Despite the popularity of Bitcoin and other cryptocurrencies today, it's not as "mainstream" as our usual slate of potential assets in the stock market. This is especially given the rather complex nature of cryptocurrencies at large, and the tech-intensive aspect of its maintenance.
If you're thinking of investing in cryptocurrencies, you should read up on different cryptocurrency exchanges and assess whether it's worth risking the investments in the cryptocurrency you've chosen.
Pay close attention to the collapse of Bitcoin back in 2017 and its rapid growth afterward. This collapse wasn't expected by anyone in the market. However, this has made a lot of investors be more wary of investing in cryptocurrencies. You should read up on that as well, and see how you should probably place your investments in cryptocurrencies in such a way that helps you become safer in times of such dips in the market.
Aside from this, also pay attention to the news regarding cryptocurrency regulation and how it can affect the market at large. When cryptocurrencies like Bitcoin were first created, they were formed with the idea that they can't be "controlled" by governments. However, its growing popularity sparked conversations on the regulation of these currencies, especially since they now have a huge role in markets today. Make decisions on your investments based on this news.
Invest in Cryptocurrency: It's About Investing in the Future
With the above in mind, you'll hopefully have a general idea as to just how you can invest in cryptocurrencies. However, do remember that our quick tips for beginners are just that – for beginners.
They're not necessarily a one-size-fits-all formula that can guarantee you an instant win, especially considering how volatile and flexible the crypto market can become. We do hope that the tips above would be able to give you a heads up as to how you can better approach your investments in cryptocurrency. It helps to build on the quick tips above with your own planning, research, and personal preference.
Remember, cryptocurrency can be very volatile, but it's starting to make a name in various industries as a handy and reliable means of payment and securing funds and finances. You should also probably look into other blockchain methods as well, so you have multiple options to consider and expand from once you've gotten used to investing in cryptocurrency.
Author Bio
John Salazar is a certified techie-at-heart, but he shares a love for all things science and technology, health and wellness, and even a bit of music on the side. As a creative writer, John makes sure to write both informative and entertaining pieces. He loves writing, and he plays the guitar when he has free time.