When you're about to begin your journey into the world of cryptocurrency, you'll need a crypto wallet to store any of the available cryptocurrencies you choose to purchase. A cryptocurrency wallet offers a secure place to keep your crypto. It functions just like your regular wallet or purse where you keep your fiat money.
In this article, we will explore the best cryptocurrency wallets that offer the functionality to exchange your cryptos from within your wallet's interface. These kinds of wallets are very functional as they allow you to both store and exchange your cryptocurrencies, fast and easy – from a single app/program.
Wirex – The Best Crypto Wallet Exchange
1The Best crypto wallet exchange is Wirex. Wirex allows you to store Bitcoin, Litecoin, Ethereum,Ripple, Stellar Lumens, Waves, Nano, Dai, and Wollo. You can exchange each crypto with each other and also with fiat money such as USD, English Pounds, and Euro from within your Wirex wallet instantly. Wirex comes with a super-sleek mobile application as well as its own Visa Card. This means that you can instantly convert your crypto to fiat and spend them anywhere in the world VISA is accepted. Create a Wirex Wallet here.
Coinbase – Runner Up
2the 2nd Best crypto wallet exchange is Coinbase. Coinbase is perhaps the most popular cryptocurrency wallet and the most innovative. It offers a VISA card like Wirex and it comes with a sleek mobile application. In Coinbase you can store and exchange the following assets: Bitcoin, Ethereum, Ripple, Bitcoin Cash, Litecoin, EOS, Dash, Tezos, Zcashm, 0x, BAT, Augur, Dai, and Chainlink. All these cryptos can be stored in Coibase, traded with Fiat Currencies and exchanged between them. Create a Coinbase Wallet here.
Type of Cryptocurrency Wallets
A crypto wallet is a software program that helps to store public and private keys of users as well as interact with blockchain to allow users to be able to receive and send digital currencies.
Also, a crypto wallet allows users to track and monitor their balances. Even more, a crypto wallet can exist in a hardware format, a software format, as well as paper format.
Desktop Wallets
The desktop cryptocurrency wallets are downloaded and installed on a laptop or a Personal Computer (PC). For users to access this kind of wallet, they'll have to do that from the single computer the wallet was downloaded.
Desktop wallets provide one of the highest levels of security. Users, however, stand to lose their funds if a virus attacks their computers or if the computer is hacked.
Online Wallets
Online wallets are wallets that operate on cloud and accessible from any computer or mobile device regardless of where the user may be. These online wallets are also easy to use. Since their private keys are stored online and are maintained by third parties, they are more susceptible to hacking as well as theft.
Mobile wallets
Mobile wallets run on an application and are compatible with different mobile phones. These types of wallets are useful because they can be used regardless of where you are. These types of wallets are much more portable and simpler than their desktop counterparts. This is often because of the limited amount of space available on a mobile phone.
Hardware Wallets
These wallets differ from software wallets because a user's private key is stored on a hardware device like USB. In hardware wallets, transactions are carried out online and are recorded offline, thereby delivering a high level of security.
These types of wallets are compatible with many web interfaces, and can different currencies can also work on it. This type of hardware makes transactions convenient and easy.
All a user has to do is to plug their device to any device, be it a computer or mobile phone, that enables the internet. Then enter their pin, transfer the currency, and finally confirm.
Paper Wallets
These wallets are simple to use and also provide users with a high-security level. Paper currency refers to a printout of your public and private keys. It also means a piece of software that is utilized to generate a pair of keys that are later printed securely.
To transfer Bitcoin or any other digital currencies using a paper wallet, all you've got to do is to transfer funds from a software wallet to the public address displayed on a paper wallet.
Below are the best crypto wallet exchanges you should consider when dealing with digital currencies.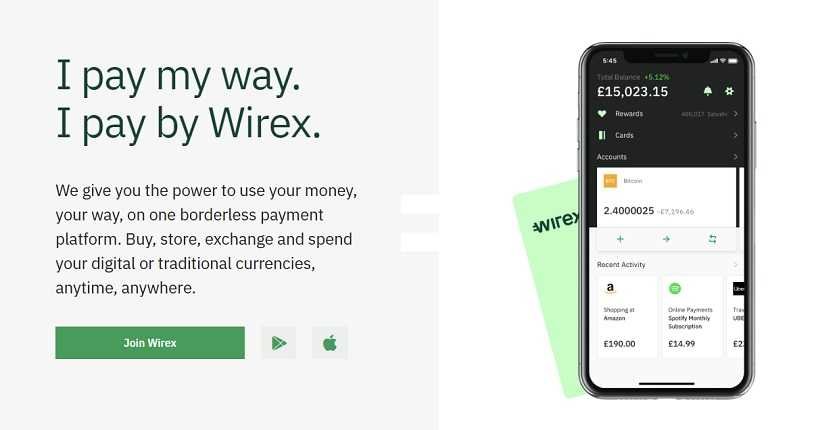 Wirex gives users complete control over cryptocurrencies as well as the traditional financial assets. Also, Wirex provides its users with a banking solution that is a mix of traditional banking and cryptocurrencies. They provide safekeeping for Bitcoin as well as Litecoin, which are supported by an online application and a mobile one.
Wirex improves customer experience, improves security, as well as ensures optimum privacy. Some of its features include the following.
With Wirex, you're able to connect your credit as well as your debit cards.
It provides a platform where you can store Bitcoin. You're also allowed to Bitcoin and other cryptocurrencies of your choice with a high limit and a good exchange rate.
Wirex facilitates the transfer of digital currencies between users in different parts of the world at no cost. The fee charged on the transfer of money compared to traditional banks is also very low.
---
Coinbase wallet allows users to store their Bitcoin. With a Coinbase crypto wallet, users are also able to buy and sell cryptocurrencies, including Litecoin.
The transfer of Bitcoin from one user to another using this digital wallet is very easy and convenient. This digital wallet was once known as Toshi. Special features of the Coinbase wallet include the following.
The Coinbase wallet supports the storage of Bitcoin, Ethereum, ERC 721 collectibles, and ERC20 tokens. Tokens purchased from the ICO event can be received using this wallet.
The Coinbase wallet has a huge range of connectivity. It can be installed on various iOS devices. For users with Android and tablets, they'll need at least the Android 6.0 version.
It also supports over 100 different currencies, including the Euros, Pounds Sterling, US Dollars, Australia Dollars, etc.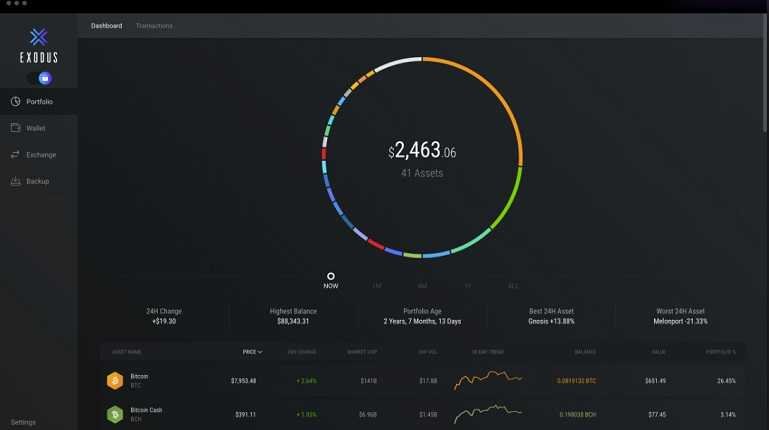 The Exodus crypto wallet falls under the software wallets, and it has just been introduced. The design of this digital currency wallet is user-friendly as well as allows different currencies.
Aragon (ANT), Bancor (BNT), BAT (BAT), Ethereum (ETH), Bitcoin (BTC), Civic (CVC), etc. are some of the numerous digital currencies that Exodus allows. Some of its special features include the following.
The design of the Exodus wallet allows users to use the wallet conveniently. The design includes simple features like each asset's send and receives functions, a complete view of the portfolio, backup/recovery function, etc.
The customer support offered by Exodus is on a different level when compared to other wallets. They generate revenue by charging fees on trades that are carried out with the built-in exchange. Hence Exodus offers proper email support.
The swapping of one currency for another on Exodus is also very simple to do. The ease in trading is made possible by the exchange platform called Shapeshift.
This is a digital wallet that was developed by Blockchain that allows users to store their digital currencies. Blockchain wallet is accessible on mobile phones as well as on the web. The wallet's user interface makes it easy to transfer Bitcoin and Ethereum safely. Some of the features of this digital wallet include the following.
The wallet gives users the flexibility to adjust transaction fees in line with their priorities.
Blockchain wallet has an in-built 'security center' that users through the procedures they can take to backup funds, secure account, and also prevent unauthorized access.
Ir is easy and convenient to purchase and sell cryptos directly from your personal blockchain wallet, owing to the partnership they've built with trusted exchanges.
This digital wallet was launched in 2018. It allows users to purchase Bitcoin, Ether, Litecoin, Binance coin, etc. The wallet allows users to hold these cryptocurrencies as an investment or use them as a means of payment. The features of the crypto.com digital wallet include the following.
The digital wallet allows users to purchase and sell 57 different cryptocurrencies.
As a user, you're able to send crypto and fiat currencies instantly at no cost.
The withdrawal of cryptocurrencies to an external wallet address is possible on this digital wallet at an affordable fixed charge.
Users can monitor their currencies, including their prices, volume, market cap, etc.
This digital wallet is also referred to as the Jaxx. It offers users intuitive designs, and it is simple to use for all kinds of users. The Shapeshift service that has been integrated into the system allows users to purchase and sell digital currencies in the application. The features of this digital currency wallet include the following.
The interface of the Jaxx Liberty wallet is very easy and convenient to use. It is capable of working on all mobile phones, on all desktops, as well as chrome and web extension.
This wallet also has rich features that are backed by professional and well-trained customer support.
Users are given the liberty to customize and personalize their Jaxx Liberty HD wallet to display the digital currencies of their choice.
The wallet provides anonymity and security for its users.
The SpectroCoin wallet is a blockchain wallet that facilitates the buying, selling, sending, receiving, as well as storing digital currencies. Some digital currencies or assets that are permitted on this wallet include Bitcoin, Ethereum, Dash, NEM, etc.
This wallet is online as well as on mobile wallet that provides uses the usefulness of the integrated instant exchange and other functionalities. The security architecture of this wallet's blockchain is improved by an advanced authentication method that prevents any unauthorized access.
Also, 99 percent of digital currencies are stored in protected SpectroCoin offline storage as a means to further guarantee security. The features of this digital wallet include the following.
On SpectroCoin, they have different methods of depositing as well as withdrawing funds, including bank transfers and credit cards.
It supports the exchange of Bitcoin as well as wallet hosting on over 150 different countries in the world.
In addition to the different digital assets and currencies it supports, SpectroCoin also supports transactions in over 30 fiat currencies.
The electronic wallet deposit fee ranges between 2-3 percent.
The wallet is easy to use even for new users, and it is also supported on different mobile platforms.
This digital wallet was designed to take advantage of the potential of atomic swaps and become a portion of a fully developed decentralized cryptocurrency ecosystem. The Atomic wallet is compatible with windows, macOS, Ubuntu, Debian, and Fedora devices. The features of this digital wallet include:
It supports Bitcoin, Litecoin, Ethereum, Dash, ERC20 tokens, etc.
Users are permitted to buy cryptocurrencies with a credit card and sent directly to their wallet.
The wallet also provides an in-wallet peer-to-peer currency trade, which is made possible after paying certain fees depending on the currency a user chooses.
This wallet has an adequate security measure for all digital assets and can prevent bugs, and other concealed vulnerabilities
Abra digital wallet aims to help users effectively manage their cryptocurrencies and fiat currencies from the convenience of their mobile devices. Users can purchase and sell cryptocurrencies on this platform. They have the alternative of trading in over 28 cryptocurrencies and also 50 fiat currencies.
This wallet exists in a mobile app version that allows users to quickly and conveniently transfer funds to other users. Users are also able to switch their balanced between any of the available fiats and cryptocurrencies. The features of the Abra wallet include the following.
The wallet supports different cryptos and fiat currencies, so users have different alternatives to choose from.
The wallet is very easy and convenient to use. The navigation through its platform is also seamless.
It is developed to provide maximum privacy as well as security.
Abra wallet offers users the flexibility in movement between different digital currencies or assets.
Users are given the liberty to purchase cryptocurrencies in fractionalized amounts.
The Abra wallet supports funding of accounts using MasterCard, American Express, or cryptocurrencies.
The Zebpay wallet is an application-enabled cryptocurrency exchange and also a Bitcoin wallet provider. This digital wallet has its headquarters in Singapore.
Zebpay is available on iOS and Android devices. It is developed with extra features that make the user experience thrilling as well as satisfying. This wallet also gives users access to discount vouchers and the chance to purchase Bitcoin conveniently using their debit cards. Zebpay has the following features.
The wallet allows verified users to transfer funds from one account to the other without charging any fee.
It has a user-friendly interface and also comes with extra features that makes using the wallet easy and smooth.
Zebpay has a 2 Factor Authentication (2FA) system.
Its security software is third party encrypted.
Zebpay supports digital currencies like Bitcoin, Litecoin, Ethereum, etc.
To Wrap It Up
These digital wallets offer users the opportunity to store and as well as trade-in different digital currencies of their choice. Whichever one you choose to go for, rest assured that you're joining the millions of those who are reaping immensely from the benefits that blockchain technology provides.
I hope you enjoyed our best crypto wallet exchanges list. If you feel this article is helpful, share it with your peers. It means a lot to us.