If you want to know about the best blockchain games then read this article carefully. We listed the best games you can play and earn in crypto in this article.
The gaming industry is one of the fastest-growing industries in the world and experts are projecting that in five years the industry might cross $300 billion in valuation.
Playing games has become easier with the introduction of mobile phones and gaming laptops. Research has shown that there are approximately 3.24 billion gamers worldwide (by April 2022) and it has contributed a lot to the success of the industry.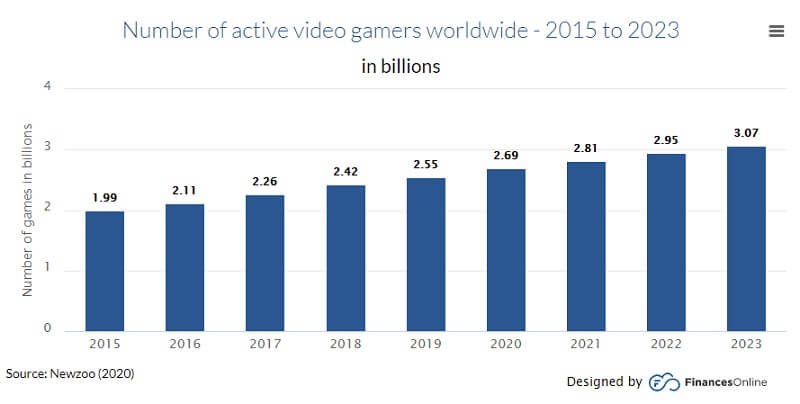 There are many gamers who spend hours online every day playing their favorite games in front of an audience that is always there to watch them. Some professional gamers have built a career out of playing games and having fun.
Gamers are constantly looking for ways to monetize their content and hobby because buying gaming gadgets is very expensive.
eSports have been the number one sponsor and organizer of gaming events globally. Beyond that, there haven't been any other major things going on and this is where blockchain games will come in.
As we all know crypto and blockchain prioritize decentralization and that is one of the major changes that blockchain gaming is bringing to the table.
Blockchain gaming is aiming to make the players the financial decision-makers instead of developers. This is going to change the entire outlook of the gaming industry and players will play games to earn crypto.
Top 10 Best Blockchain Games
Age of Rust – Best First Person Shooter
Age of Rust is the first blockchain game on the list and it is more of a treasure hunt game using puzzles. The game supports cryptocurrency and all the in-game transactions are carried out in crypto. Players will benefit from the in-game economy and get useful collectibles and items.
The game has amazing graphics and a well-detailed storyline. Age of Rust is one of the biggest blockchain games and players are required to have an Enjin Wallet before they can play the game.
Playing is free but to get to certain levels some tokens are required before they will be unlocked. From the start of the game, you solve puzzles and collect bounties as you progress. There are a lot of crypto bounties in the game and players can get rewarded with 1000 to 20,000 Enjin Tokens.
Players are also rewarded with Bitcoin bounties if they make it to the finals of the blockchain game. The game revolves around Quinn the main character as he tries to save humanity from AI. it has to be one of the best blockchain games of 2022.
Rustbits are the in-game currency used for buying and selling items and collectibles. Rustbits can be bought from other players in the game. You can also win NFTs called mission cards that will be used to unlock different tiers of the game.
---
This game is a metaverse or we can say it's a virtual world where you can own land, build, play, and participate in virtual activities. By owning a plot of virtual land in Sandbox you can monetize your activities in the metaverse. All the Sandbox features can be bought using the SAND token, and players play a huge role in the expansion of the metaverse.
Players can also trade NFTs (Non-Fungible Tokens) that can be used to customize their avatar appearance. SAND is the in-game currency and it is an ERC-20 utility token used for every transaction in the game.
Sandbox shares similarities with popular centralized games Minecraft and Roblox and it is gaining more popularity by the day. The blockchain game has a thriving community of players who interact and share ideas on how to make the platform better. Sandbox is simply one of the best blockchain games of 2022 and it has a lot of potentials to become better.
---
This is one of the top-best blockchain games right now if not even the overall best. It has so much value attached to it and it has taken NFTs to another level. The game share similarities with Pokemon but the characters are called Axies.
Axies are digital creatures and each Axie is an NFT that can be sold or exchanged. Players can breed Axies and use them to battle in tournaments.
A plot of virtual land in the game recently sold for $1.5 million rare Axies can also be very expensive. The game is different because of its booming virtual economy because the in-game tokens are appreciating massively. Tokens used include Smooth Love Potion (SLP) and Axie Infinity Shard (AXS).
There are currently players that have turned this game into a full-time job. The Axie Infinity Shard can be withdrawn and converted into ether or fiat money.
---
Lost Relics is another awesome blockchain game that you can play and earn crypto. The game is a dungeon action game where you have monsters dropping collectibles and even rare NFTs that can be sold on the Enjin marketplace.
A player once collected one of one weapon called Voidripper and it is currently listed for sale on the Enjin marketplace for 9,000ENJ which is equal to $25,000.
The game is fun to play and aside from earning blockchain rewards you can cook, fish, mine, buy and sell in-game items one a player to player exchange. At the beginning of the game, players will own a pet and a lot of other things.
The game is still in alpha testing mode and it was developed by a single person called Cliff Cawley with the backing of an amazing community. It shares similarities with Diablo and Runescape if you have played the games before you will understand what Lost Relics feel like.
The view is top-down and the graphic is amazing for a game in beta testing. There is a lot of polishing to be done but so far, they have done an amazing job. Items collected are sold or bought at the royal emporium.
Players can also buy items needed for skills or turn in for bounties. There is no doubt that this game has the potentials to become a huge blockchain game in the nearest future. they currently have more than 10,000 active monthly players. If we are talking about the best blockchain games of 2022 then lost relics most surely be on the list.
---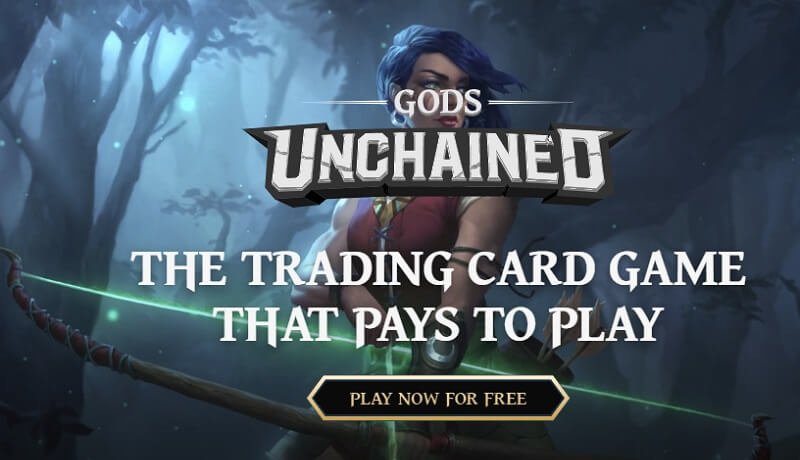 This is another fun-to-play best blockchain game of 2022, players play to earn in crypto. Players build decks and play cards to fight and defeat enemies. The game lets players own the cards they win and they can be sold or traded at will.
Cards in the game serve like physical cards. There are opportunities where players can own a one-of-one card and they have an incredible monetary value.
There is a tournament pool prize money and so far over $17 million worth of cards have been exchanged. This is a game that encourages true ownership of collectibles, unlike free-to-play games that companies pocket all the money from in-game purchases.
The game has its native token which is the $GOD it is a native ERC-20 token and it is used to mint NFTs or purchase packs from the in-game marketplace.
---
9 Lives Arena is a great and engaging fantasy player vs player combat game. It shares similarities with Mortal Kombat in some ways. Players can craft weapons and armor for their characters in other modes of the game.
They can also improve skill levels and spells of their character for better and faster cast times in a battle. The game has a marketplace where cosmetic items and Ooogies are bought and sold.
The game is backed by the Enjin blockchain and it is used by players to craft and customize their character. They use the ERC-1155 is used to own blockchain skins and other rare collectibles. Players can also decide to use non-blockchain items in the game.
The game has a unique approach and they integrated blockchain aspects in a way that I see a lot of developers doing in the future. 9 Lives Arena is currently in alpha but players are having a great experience already.
---
War Riders – Best Post Apocalyptic Blockchain Game
War Riders is a post-apocalyptic car racing game and it shares similarities with crossout – if you are familiar with the game. The racing game is one of the best blockchain games of 2022 and vehicles, weapons, and currency in the game is recorded on the Ethereum Blockchain and owned by the player. The game is still in its early development phase but it has a lot of promising potentials.
Racing games are very popular and players spend between $30 to $55 buying cars and other items in centralized racing games. The War riders game is integrated into the Ethereum blockchain and cars and weapons are solely owned by the player and they can be sold or traded with other players.
There are three sets of vehicles in the game and they have limited supplies currently available. After they are sold out future players will have to buy them from the owners. The game's primary currency is called Benzene, and it is more of a fuel to perfectly align with the racing game.
Players who buy vehicles before the launch will receive a full tank of benzene. You don't need benzene to drive the game has no fuel gauge. Benzene is used to buy upgrades from sellers in the game. The vehicle combat game is one of the top blockchain games you can play and earn crypto at the moment.
---
Big time is another play-to-earn blockchain game that has a massive community backing it up. This is a multiplayer game where you can tag along with your friends and collect some rare NFTs and use them to decorate your avatar.
The game is currently in trial mode and you have to be on the waitlist at the moment.
There are a lot of weapons and players can customize the character to their taste. There is an in-game marketplace where items and weapons can be traded or exchanged.
The game is developed by a team of experts in blockchain technology and it can be one of the best blockchain games to play and earn. You can also invite your friends to join you in your personal time-space that you build over time.
---
Infinite Fleet – Best Space MMO Strategy Game
The infinite fleet is another action strategy game that is currently in alpha testing mode. The game takes place in a specially created universe where players fight a galactic threat led by Atrox.
The game has up to three currencies that include ISK, and PLEX. ISK is earned in-game by competing in missions, selling items, and ratting.
The other coin PLEX can be bought with fiat currency you can buy PLEX with ISK and shop for things in the EDEN store.
They also have the INF token which is not traded on any exchange it can only be earned during gameplay. This is to prevent pump and dump schemes.
While playing the game you build and customize your fleet, claim territories, build infrastructures, and team up with other players.
The game will be fully released in the Q4 of 2022 but it already has enormous potential with a great community of gamers.
Graphics is not at its best at the moment but I am certain before the complete release they would improve the game.
---
Guild of Guardian is a great role-playing game where users can build a team of heroes, complete dungeons, and earn resources.
It's a mobile RPG that is accessible to anyone that is interested in playing and earning in crypto. Players can create heroes and other in-game valuables and sell them for fiat money. This has to be one of the best blockchain games that everyone can play.
Players must collaborate if they want to get the best out of this game. Guilds are a way to contribute to the overall progress of the community.
As you progress further the game becomes difficult and Gems are the in-game currency that can be earned traded with other players. This makes the game a play and earn, it is also the first on a mobile phone.
The game is free to play and it doesn't require you to pay for anything. Progress is made through a player's effort and the effort of their guild. All the in-game items, heroes, and pets are issued as ERC-721 assets, they stand as NFTs.
The items will stay on the Ethereum Blockchain and can be transferred to any wallet supporting the token standard.
---
What are Blockchain Games?
It will be pointless if we don't define the scope and meaning of blockchain games, before we proceed here is the meaning. The crypto gaming industry is still new but it has started gaining popularity.
Blockchain games are decentralized games that promise to give gamers all the power and freedom that is impossible to achieve in the traditional gaming industry. Blockchain games allow users to own certain parts of the game unlike what exists on centralized gaming servers.
Blockchain games give digital assets real-world value for example if you acquire skins, weapons, and XPS on a blockchain game you can flip them for cash when you stop playing. Instead of losing all your assets when you stop playing games, you can trade them as NFTs (Non-Fungible Tokens).
Blockchain gaming places developers and players on the same side. Nobody controls the game's outcome and anyone can analyze the code used in most blockchain-based games.
The games are transparent and decisions are made between the players and developers. If a developer adds an update that the community doesn't like, the game can be split and different versions will be available.
Why You Should Play Crypto Games
This is a new opportunity that is presented to professional gamers to rid them of the shackles of centralized gaming. You need to play crypto games if you are an expert because it lets you own valuable items that can be traded for real-world cash or even cryptocurrencies with high values.
Players wouldn't spend their money buying in-game items like cars and weapons while playing.
In 2020, gamers worldwide spent over $100 billion buying in-game items from centralized games. Blockchain gaming is going to be massive in a few years the early adopters are going to have some valuable tokens and in-game items to trade for a lot of money.
It is better to join now at the early stages because the blockchain gaming industry is gaining momentum.