Elrond (eGLD) has been getting a lot of attention for some time now. However, a lot of crypto newbies and enthusiasts are wondering what is Elrond? Well, I will cover everything you need to know about Elrond crypto in this article.
Elrond is unique, and it solves the problem of blockchain scalability using a particular method that we will point out in a bit.
Slow transactions and high network fees are part of the problems faced by some blockchains. Elrond has a high throughput and can complete thousands of transactions in seconds, but the big question is whether Elrond is justifiable in the long run.
What is Elrond?
The Elrond Network is a public blockchain that uses Sharding to offer fast transaction speed. Transaction fees are low at $0.001, and the blockchain can process fifteen thousand transactions per second.
The network is highly scalable and interoperable. Elrond relies on Adaptive State Sharding and the Secure Proof of Stake (SPoS) consensus mechanism to achieve their goals.
The network is decentralized and also provides users with better privacy. Elrond is directly competing with other blockchains like Ethereum and Cardano.
Sharding breaks down transactions and data into smaller blocks allowing nodes with smaller resources to process them.
As a result, users can create decentralized applications and cryptocurrencies using the smart contract of the Elrond network.
The blockchain is powered by its native token known as eGLD. It provides a means to pay for transactions and serves as a means of entry to the network.
What is the Purpose of Elrond?
Elrond allows developers to create Decentralized apps (dApps) and other digital tools that require smart contracts.
In addition, the Adaptive state sharding adopted by the Elrond network allows developers to scale their dApps or platform in case there is increased usage or transactions on the ledger.
Elrond has a Secure Proof of Stake consensus mechanism that is different from the Proof of Stake on other blockchains.
The Secure Proof of Work makes sure that all the separated networks during Sharding are put together into a functional platform on the ledger. Therefore, deploying decentralized apps on the blockchain is easy developers can use programming languages to create smart contracts and run different types of decentralized apps.
Elrond also hopes to remove centralized exchanges as their main communication point between blockchains. Instead, they plan to allow complete communication between different blockchains.
For example, the team is currently creating secure transactions between Elrond, Ethereum, and other ERC-20 tokens. No exchange will be required to swap the tokens.
Who are the Founders of Elrond? (Brief History)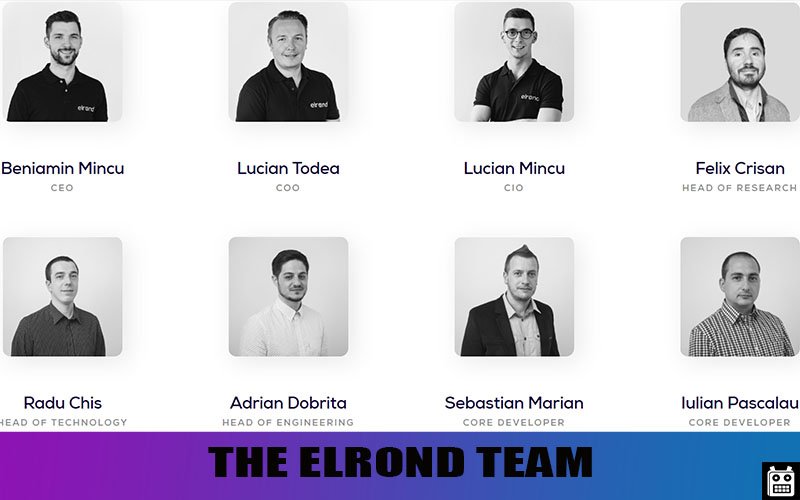 Elrond was launched in August 2017 by Beniamin and Lucian Mincu, alongside Lucian Todea. Before Elrond, the brothers co-started MetaChain Capital, a digital asset investment fund, and ICO market data aggregating information around initial coin offerings.
The Mincu brothers are entrepreneurs, and they primarily focus on blockchain technology.
Beniamin Mincu is a graduate of the German University of Sibiu, Romania, and he holds a bachelor's degree in Economics. He is currently the CEO of Elrond. Before his role at Elrond, he was the Business, Marketing, and Community Lead at NEM.io Foundation, The first smart asset blockchain in the world. He was also the CEO of MetaChain until December 2017.
Lucian Mincu is the CIO at Elrond, and he studied computer science at Industrie- und Handleskammer where he graduated in 2016. He is an experienced infrastructure engineer with experience in complex designing and implementing complex infrastructure and network architecture.
Lucian was previously the CTO at MetaChain, and he also worked as an IT specialist at Cetto Services GmbH and LIEBL systems.
Lucia Todea is the COO at Elrond, and he is also an Entrepreneur and Angel investor in some startups. He is an Alumni of the University of Bucharest of Economic Studies, specializing in Finance, Banking, and Insurance.
At the age of 21, Todea launched his first website as a student known as soft32.com, and it was one of the most popular download platforms in the world. At its peak, more than one hundred and fifty thousand apps were on the website and were visited by more than ten million people per month.
When writing this article, Elrond has a team of over 25 employees. In addition, they have a couple of Software Engineers and Blockchain Experts, including Felix Crisan. He is their Head of Research and Co-Founder of BTKO, Romania's First Bitcoin Exchange Platform.
Who are Elrond Investors?
Whenever you research any cryptocurrency, it is essential to know which investors are backing it. The Elrond team organized private investment rounds and ICO between 2018 and 2019, bringing about five million dollars. Elrond has some notable investors backing them, including Binance, Crypto.com, Maven 11 capital, Electric Capital, Authorito Capital, and Woodstuck Funds.
Binance is a lead investor in the Elrond project; Binance is the largest cryptocurrency exchange globally, and knowing that they are backing Elrond gives me more confidence to buy the token.
Elrond Roadmap
Elrond has a Roadmap they have followed since the second quarter of 2018. The roadmap is available on their Website, and you will see what Elrond has accomplished and what is coming up on the Elrond network. They launched their prototype in the third quarter of 2018 and their public testnet in the third quarter o 2019.
The roadmap shows the progress over time, including launching their first dApp Mair, their native crypto wallet, staking on the Elrond network, and others. The team is visionary, and they plan to launch Staking phase four and on-chain governance in the first quarter of 2022.
Elrond Tokenomics
The official token of the Elrond network is the eGOLD (eGLD); before that ERD was the official token of the Elrond network. The ERD was a BEP-2 token while Elrond was running on testnet. Around five billion ERD tokens were in circulation, and there was going to be a total supply of 20 billion ERD tokens. The token's all-time high was $0.029489, and it was sold for $0.00065 during the IEO.
During their main net launch, they announced a new model for the token, and it was renamed eGOLD (eGLD). The team decided to reduce the total supply from 20 billion to 20 million. They also announced that over the next ten years, there would be a maximum of eleven million tokens produced.
They adopted a bitcoin-like economic model to make the currency scarce and more valuable over time. At the date of the conversion, one eGLD was worth $125. The value of eGLD was 1000 times the value of ERD. The swap was announced in August 2020, and the eGLD token began trading in September 2022.
At the time of writing this article, Elrond has a total market capitalization of 3.9 billion dollars. There are currently over 21 million Elrond in circulation, and it can never exceed 31,415,926 eGLD in circulation.
The number of tokens will decrease the more transactions are processed on the network. It currently sits at 38 in terms of market capitalization on Coinmarketcap.
Where to Buy Elrond
After reading this, you might be interested in buying eGLD. The cryptocurrency is listed on many leading exchanges and comes in different trading pairs.
Binance is the largest cryptocurrency exchange with over 30 million weekly visits. It is one of the most secure crypto exchanges available, and eGLD is traded in different pairs, including eGLD/USDT, eGLD/BUSD, eGLD/BTC, eGLD/BNB, eGLD/ETH, eGLD/USD, and eGLD/EUR.
Binance has the highest number of trading pairs available for Elrond. They are also leading investors in the cryptocurrency project.
Kucoin is another top cryptocurrency exchange with 3 million weekly visits, and eGLD can be traded in some pairs on the exchange.
The pairs include eGLD/USDT, and eGLD/BTC. Crypto.com is among the top 10 best crypto exchanges listed on Coinmarketcap, and you can buy and sell eGLD on the platform. eGLD is traded with the following pairs eGLD/USDT, eGLD/USDC, eGLD/BTC, and eGLD/CRO.
You can decide to store your eGLD token on the crypto exchanges listed above, but using the native Elrond wallet such as Mair is more advisable.
Although their official wallet offers lower transaction fees, you can also use hardware wallets to store your eGLD token, especially if you buy in large quantities.
Rounding up – What is Elrond
The Elrond project looks promising, especially if you go through their roadmap. They have the backing of Binance, which is a primary reason why investors might consider buying and holding Elrond.
In addition, Elrond has a team of competent blockchain experts and software engineers determined to make sure the project succeeds. The eGLD token has also increased in price even though it is yet to be listed on some major exchanges. This shows that the token is truly valuable.
There are a lot of crypto assets that are tagged "Ethereum Killer" if you read and understand this article, then you will know that Elgorand is already Killing Ethereum.
Related: