The Grayscale Ethereum Trust (ETHE), an investment vehicle that provides traditional institutional investors with exposure to the price of Ethereum, is these days trading at an unprecedented 60% discount to the value of the coins it reportedly holds.
The decline in trading price versus net asset value had been underway since early 2021. Prior to that, as we can see in the chart, it was exclusively at a premium.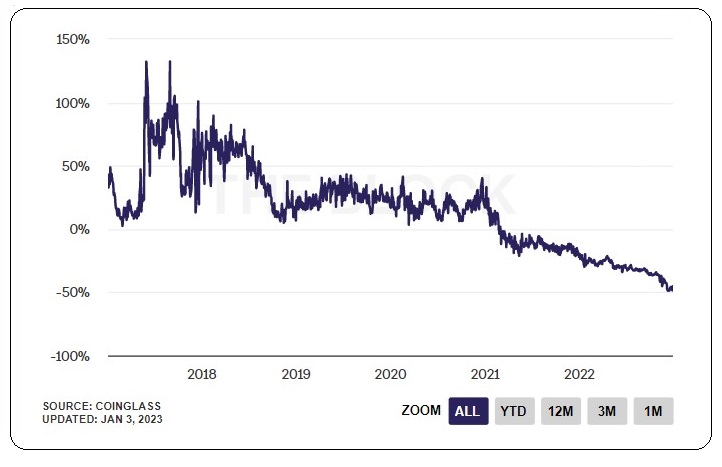 Grayscale's shares of the Bitcoin Trust (GBTC) are not in much better shape, as they are trading at a 45% discount to the value of the coins they reportedly hold, while a few days ago they were close to -50%.
The phenomenon is attributed to investor concern about the solvency of Grayscale and by extension its parent company, Digital Currency Group (DCG). Whether the concern is well founded we don't know, but who can blame anyone for being cautious at this time? The adage "whoever blows on the porridge, blows on the yoghurt" applies.
Read Also: Cameron Winklevoss puts an ultimatum to DCG's CEO over withheld millions
What exactly is going on with DCG.
In July we learned from official liquidators' court filings that Three Arrows Capital (3AC) had borrowed $2.4 billion from Genesis, which is a Digital Currency Group company.
As collateral they had pledged 1.2 billion in cryptocurrencies. Only 3AC went bankrupt and the cryptocurrencies today have a small fraction of their then value. DCG was the largest creditor, by a wide margin over second-place Voyager, with its exposure standing at $687 million.
In July, Genesis filed a $1.2 billion claim from Three Arrows Capital, which was acquired by Digital Currency Group (DCG) to hold back the hit on Genesis' books. The loans with which the acquisition was made were taken out on collateral primarily in Grayscale shares, as well as AVAX and NEAR coins.
However, putting money into 3AC wasn't Genesis' only failure. We later learned that it had put $175 million into FTX, which it will naturally never see again. At least not the full amount and not in the foreseeable future.
Genesis' announcement that it is not in trouble and that it has sufficient funds, in the current era, is of little weight. We have heard the same thing many times and most of the time it has proven to be hollow words. Indeed, after a few days, Genesis temporarily froze withdrawals, acquisitions and the issuance of new loans. The first step before total collapse, as recent history in the cryptocurrency space has shown us.
It should be noted that DCG has already provided $140 million to keep Genesis running smoothly, but not enough.
In addition to Genesis customers, it also affected the users of the Gemini exchange. In particular, those who were freezing their cryptocurrencies in order to receive staking fees. This is because the Gemini Earn program had been entrusted to Genesis by the Winkelvoss twins, the exchange's founders.
They weren't the only ones. Genesis was working with several major players in the cryptocurrency market. It provided lending, trading and hedging services to institutional and highly wealthy individuals. They derived attractive returns from their activities, which they in turn offered to their clients.
However, the "noise" was made by Winklevoss, with a Twitter call to DCG's head, Barry Silbert. Cameron Winklevoss directly accused Barry Silbert of not acting in an appropriate manner that reflects good faith. He charged that the 340,000 users of his exchange who were involved in staking have had their funds unfairly frozen.
He said that their money (over 900 million dollars, he estimates) has become just digital numbers, while they are real people with real needs. And now they are tired of delays, they are scared and deserve better treatment.
He also added that he attempted several times, in many ways, over 6 weeks to work with DCG. But his efforts were unable to unlock the funds, placing the blame personally on DCG CEO Barry Silbert. "Every time we ask for a tangible commitment," Cameron said, "you hide behind lawyers, investment bankers and procedures. But we know that you are the one who makes all the decisions. It's time to stop making excuses and do the right thing," he continued.
The tone and tone of Cameron Winklevoss' letter reveals that he has chosen open and public confrontation with Barry Silbert, perhaps as a last resort, to hold him accountable, setting a final date of January 8th.
On the other hand, Silbert responded, again on Twitter, that the company delivered a proposal to the Gemini exchange on December 29, but has yet to receive any response. In response, Cameron felt that his response was part of his tactic of shifting blame elsewhere.
Whichever one of them is right, it doesn't matter so much. What matters is that this is an extremely uncomfortable situation, revealing that there are suspicions that the largest conglomerate in the cryptocurrency space has a liquidity, if not solvency, problem. This is why investors are afraid to touch Grayscale shares, despite the huge discount they are trading at.
As we mentioned in last year's article, the biggest risk is that DCG will "pop". In that case, the implications will be huge. Neither the collapse of Terra nor FTX can compare in magnitude to DCG.
So, because we can't know who will be swept away by the blast wave of the explosion, in any case, it's good to keep in mind "not your keys, not your coins".