It's no secret that many people lost their jobs and a lot of money as a result of the pandemic. Even so, there are some people who make really big money during this situation.
The question is how?
Of course, by selling pandemic products such as face masks, disinfectants, and fluid dispensers. You can earn up to 400% more on a single product! This is the perfect time to start such a business.
Additionally, it is the easiest and most effective way because you can do it without leaving your home. You can sell on Amazon or any other platform. You can even open your own online store!
Where to get the products?
AllOfMed is here to help. It is a company based in Germany. They have six shipping warehouses located in the USA (Alabama, Arizona), Canada (Ontario), Europe (2x Germany) and India (Jaipur).
This allows for safe and efficient shipment of goods to any place in the world. They have products at a very low price, which allows customers to make a good profit by reselling.
All products have the appropriate certificates that allow them to be sold in other markets.
Below you can see examples of product sales offers from AllOfMed from their customers.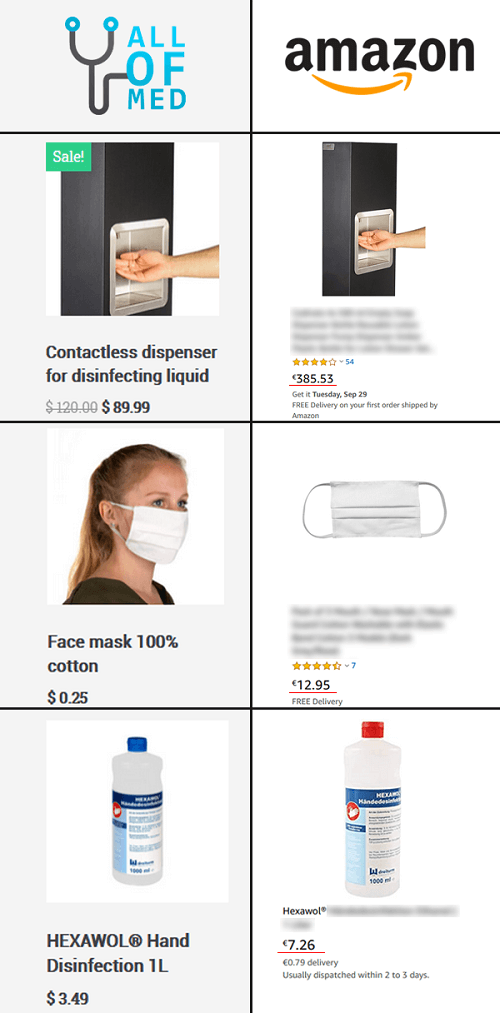 AllOfMed allows you to purchase via a payment card, bank transfer and cryptocurrencies such as Bitcoin, Ethereum and others
Check now: https://allofmed.com/products