Recent reports by Transparency Market Research indicate that by the end of 2024, the Blockchain technology market would be worth $20 billion. Blockchain has certainly taken the world by storm. People are now more careful when sharing their data and they need a secure and tamper-proof platform for sharing it. This is where blockchain comes to the rescue.
The hype created by blockchain technology overshadows its probable benefits and weaknesses. Either way, however, Blockchain is a potential powerhouse with the ability to reduce costs, increase security, and enhance efficiency among many other factors.
Perhaps the best thing about blockchain as a technology is the level of data security it provides. In the modern world, data is an important asset. Some of the world's leading companies like Alphabet, Amazon, Facebook, Apple, and Microsoft, etc. have entire departments dedicated to analyzing customer data. As the databases continue to pile up, securing it is now considered a critical priority. Compared to Cloud and Server based companies, blockchain provides a better alternative.
Let us look at some of the ways in which blockchain can impact data security for the better.
1) Provides state-of-the-art Encryption and Validation
Blockchain platforms ensure that data is kept encrypted. This ensures that data is kept safe and secure from modifications. On a Blockchain, you can save a cryptographic signature of a document or a file. This gives users a way to ensure that a file is un-tampered without transferring and saving the file to blockchain. Because of its decentralized nature, you can always cross check file signatures across all the ledgers on the nodes in the network and confirm that they have not indeed, been changed.
When you will look at your file, it is a guarantee that it is the same version of the document that existed in another time. If someone does not tamper with the record, then the signature is considered invalid. Blockchain provides undeniable reliability and independent data verification.
2) Decentralization in Data Security
As a technology, blockchain is decentralized in nature since it does not have a central point of control. The lack of single control-point makes the system fairer and considerably more secure. Instead of having a focus towards a central authority, blockchain utilizes an innovative system of consensus protocols through a network of nodes, which validates transactions and records the data in a manner that is incorruptible.
Again, since a blockchain system works like a digital account or a ledger, it is very important that the importance that the information being stored within the data is honest and accurate. Since the data is saved on multiple computers, it provides extreme security even if one or two computers malfunction.
3) Gives "Hackers" A Field Day
If you look at it from a deeper point of view, the word blockchain implies a digital chain of "blocks" that record transactions. From the previous section, you are now aware that blockchain does not have a single control point, which ultimately means that if one computer fails to perform or is compromised, then the data will not be compromised in any way, whatsoever. The data remains as it is, safe and secure on another node or control point.
The decentralized and distributed ledger of blockchain is controlled through peer-to-peer networks that are updated continually and kept in sync. Each block is connected to all the blocks that come before or after.
Generally speaking, malicious hackers find it really easy to break into traditional networks. They find all the data within the network repository and corrupt it. The blockchain technology does not provide the room for such an attack, making it an unfeasibly hard choice for them to consider.
As a technology that is growing further and further in popularity across the globe, blockchain is now a primary consideration for companies to store their huge amounts of data. The blockchain is not only secure and reliable but also transparent, which makes it appealing to companies.
For the smaller startups and SME owners, like a hosting company, an E-commerce or web development company, blockchain is certainly an expensive investment. However, if you are looking to scale your business in the digital world, then you should certainly be prepared for any eventualities that might arise with having a larger database in a traditional network. To put it simply, it is a good investment if you are looking to expand your business.
4) Blockchains Can Be both Private and Public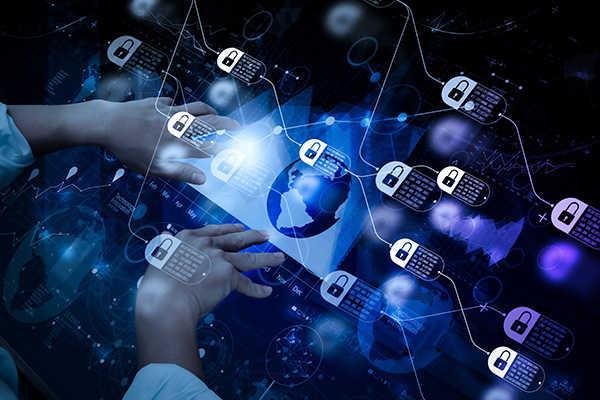 Public Blockchains rose to "celebrity status" after grabbing headlines and gaining praise for enabling anonymity, it is important for us to inform you that you restrict your blockchain access to a specific set of users by establishing a Private Blockchain network.
With Private Blockchains, you get the best of both worlds. The benefits of decentralized peer-to-peer networks are still available to you. In addition to that, you get an added layer of security and exclusiveness in your blockchain. Anyone accessing your private blockchain must first authenticate themselves in order to gain access privileges. Moreover, it can be restricted to a specific amount of transactions.
5) Limitations to bear in mind
The world of blockchain is really exciting, but it is important to understand the probable pitfalls and limitations associated with blockchain. The network size is vital, but if the data is not well distributed, then it is vulnerable to attacks. Because of this, you need to consider network bandwidth demands and the potential size of your communication overhead.
It is still a relatively new technology, so we do not have all the answers as of yet, but blockchain is clearly an influential force in the data security world. You definitely look into the use cases of blockchain in security.
Conclusion
This article provided you with an overview of the benefits of blockchain technology in the world of data security, which is slowly morphing into a market of its own. Blockchain gives your transactions an innovative layer of security with the help of peer-to-peer networks, which are invulnerable to attacks. Even though we have discussed the security benefits of blockchain, it is important to understand that in the online world, nothing is impossible to hack. So far, however, the story of blockchain and security is looking like an impenetrable Holy Grail.