The internet poses many threats to people's privacy. That's why we're looking for the most reliable VPNs. This CyberGhost VPN Review, will show you everything you need to know about Cyberghost VPN; its pros and cons are included. That way you can make an informed decision on whether CyberGhost VPN is good for you or not.
CyberGhost VPN Review
I particularly like Cyberghost VPN because it spans beyond just helping you to maintain your desired location — it also does this with efficiency, and at a good pace. This solves most users' primary needs due to its unlimited bandwidth and fast loading speed, thereby bettering the overall user experience.
Here's a quick overview of CyberGhost's PROS & CONS:
Pros
User friendly platform
Value for money VPN
Compatible with all operation systems and almost all devices.
Accepts cryptocurrency
Large amount of Servers (9K+)
Great Speeds
Allows Torrenting
7 Simultaneous Logins
Has KillSwitch
No Log Records
Headquarters not in a 7 or 14-eyes member country.
Cons
Weak connection from a distance
No free trial
SUMMARY: CyberGhost VPN is everything a VPN should be. Huge amount of servers spread in more than half countries in the world, user friendly interface, great security (Kill switch, headquartered in Romania, no logs etc) and great prices. Not to mention the thousands of raving reviews online (feel free to check yourself). This makes it an ideal VPN partner to secure your anonymity and your identity online.
What is Cyberghost VPN?
Cyberghost VPN is a virtual private network that aims to bridge the divide between internet users and privacy protections in the least challenging way. It was founded on 2nd Feb 2011, and has its headquarters in Romania, precisely in Bucharest. 
Researching further, I discovered that it doesn't work in places with strict internet policies like China, North Korea, United Arab Emirates, Saudi Arabia, and a few other countries.
However, what covers up for these are its privacy claims, rapid and strong connection power, and tight security. All of which I've confirmed to be up to par. 
One major value that sets Cyberghost VPN from others is its fine blend of quality delivery and low cost — here, you get premium features at a relatively affordable rate. You seldom find this elsewhere.
It offers small businesses a trusted security system and a multi-platform to operate on. I'll say it's a statement of true transaction protection services.  
Cyberghost VPN also has the largest server network too, you can almost always find one within your location.
It has over 9000 available servers, all of which are organized into special categories. Experientially, I'll suggest you opt for the optimized servers over the regular ones.
Then again, servers in some locations are a tad slower. Cyberghost has an average of 80 Gbps bandwidth, an average of 6.0 GB RAM per server (physical server), over 50000 active connections, and 18.6 cores per physical server. 
Cyberghost VPN Features?
Overall CyberGhost is a value for money VPN. It offers many features at a low prirce. Let's go through one by one each Cyberghost VPN features:
| | |
| --- | --- |
| 🪵 Log's records | No |
| 💥 Kill switch | Yes |
| 💻 Number of devices per subscription | 7 |
| 💵 Payment methods | Bitcoin, PayPal, credit cards, debit cards, etc  |
| 🔐 Encryption | AES-256 encryption |
| ✅ Money back guarantee | 45-day money-back guarantee |
| 🧑 Torrenting  | Yes |
| 📺 Netflix and Hulu | Supports both |
| 🚅 Speed | Determined by the server's distance |
Log history
Cyberghost offers affordable and highly secure features. This is why it has no record of your logs as it's big on privacy maintenance. Aside from that, you can have up to 7 devices connected on a single subscription. It's economical this way too. 
Kill Switch
It also affords you a kill Switch which stands as a safety mechanism to block unwanted traffic, increases privacy, and maintains anonymity. 
Payment options
When it comes to payment options, Cyberghost allows you to purchae their service using PayPal, cryptocurrencies, credit cards, etc.
The fact that it accepts cryptocurrency though is a huge advantage of CyberGhost over VPNs that don't. More specifically you can buy VPN from CyberGhost using Bitcoin.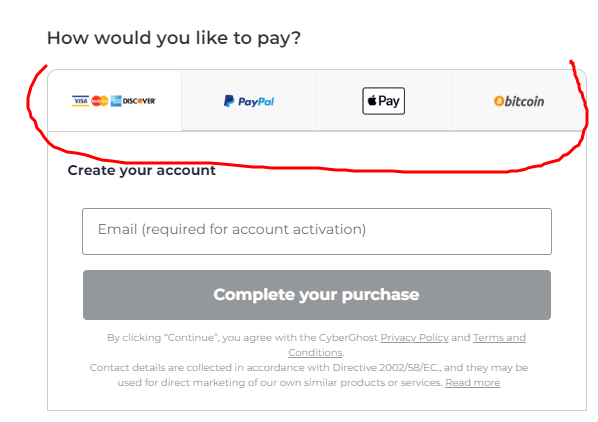 Encryption
Cyberghost VPN uses one of the best types of uncrackable encryption; AES 256 encryption. It helps to convert your plain text into complex ciphertext. With this, your texts become an incomprehensible mess of symbols which makes it impossible to decode.
Hence, all your data are safe. Especially when you use Wi-Fi connections where you can be vulnerable.
Available servers and money-back guarantee
Another cool thing about this VPN is the fact that, despite its available 9299 servers in over 90 countries, it still has a 45-day money-back guarantee. This is mostly enjoyed in the US and other countries around the world.  
Torrenting
This is one of the leading VPNs when it comes to torrenting. It is the first to offer a service where torrenting is made easy through optimized servers.
This was specially made to aid P2P traffic which resulted in faster downloads and a trusted connection. 
Netflix and Hulu
The mobile app and desktop are very compatible and support not just Netflix, but Hulu as well. Best believe this is the go-to place in case of geo-restriction with regards to streaming your favorite Foxtel, BBC iPlayer. Although to unblock Hulu, you would have to use Firefox instead of Google Chrome. 
I've also noticed that many VPNs have been blocked on Amazon prime videos. But it is still penetrable with zero buffer using Cyberghost VPN.
This is the same for Disney too. However, this works very well with optimized servers. Although the pictures initially would come in a lower quality, it doesn't take time before it gets better. 
Speed
The speed here is great. However, the strength of your connection which determines the said speed is dependent on your distance from the server.
But because a distant server means a reduced speed, there is a wide range of servers within many locations to choose from.
By the way, here's a great video from a guy on YouTube who tests CyberGhost VPN's connection speeds from various servers.
Customer support
Cyberghost has 24/7 live chat support so that users' thoughts are effectively communicated for a seamless transaction anywhere in the world. In case of any random hurdle or a possible troubleshooting connection difficulty, you can always get faster help and decide which server is the best for you. 
Privacy laws
Despite the privacy laws in place, law firms have the right to file DMCA (Digital Millennium Copyright Act) complaints for the protection of any proven copyright materials that were illegally obtained through CyberGhost IP.
While Cyberghost tries to protect privacy, it is not a channel through which illegal activities can thrive. Hence, Data centers worldwide can also file complaints about scams, DDoS attacks, illegal access, and other login attempts that are proven to have come anonymously through CyberGhost IP. 
Then again, one thing got my attention and I'm not cool with it, so I thought to share it in this review. While it has been established that Cyberghost is based in Romania which is distant from Europe's 14-eye jurisdiction, I also discovered that Cyberghost's owner had sold it in 2017 to an Israeli company called Crossrider which is company located in the Isle of Man and deals with marketing and advertising.
The lines thicken at this point and I'm a tad wary. I'm concerned about what use a VPN service provider is to a digital advertising firm. Perhaps, it wants to use the session recording scripts. Nonetheless, there has not been any known privacy violation so far. So it's all good. 
Compatibility
One of the advantages of Cyberghost VPN is its wide range of compatibility with many devices. This ranges from iOS to Windows, and Mac. It's also great for Linux devices, smart TVs, androids, gaming consoles as well as routers.
Ease of use
CyberGhost has almost zero complexity to use. Obvious pointers are there to help you navigate through it with much ease.
Value for money
You also get low prices when you use the hidden discounts. The other existing prices are a fair deal for the value offered. Check below the CyberGhost Plans and pricing as picked up at the time of writing this CyberGhost VPN Review.
Cyberghost VPN Plan And Pricing
Here, users are offered the luxury of choice to opt for plans and a price that fits the peculiarity of their demands. For instance, there are:
1 month plan
$11.99/mo
14-day money back guarantee
Billed Monthly
6 month plan
$6.99/mo
45-day money back guarantee
Billed every 6 months
2 year plan
$2.19/mo
45 day money back guarantee
After two years it is billed every year.
CyberGhost VPN Reviews
CyberGhost boasts thousands of five star reviews across the world wide web. Here are some CyberGhost VPN reviews I've found around the web.
For example, on popular reviews website Trustpilot, CyberGhost VPN has average score of 4.6 out of 5 from 15.478 reviewers.
The best part is that 95% of the reviews are 4 and 5 stars.
On Reddit on the other hand, I've found mixed CyberGhost VPN reviews from threads that older than this website. I mean, there are threads from over 8 years ago, saying that CyberGhost VPN is great and others saying that CyberGhost VPN is pure scam.
I couldn't find a poll or something so I had one of our team members to create a poll on our own subreddit. You can vote yourself by clicking here.
Next Stop: Capterra. Capterra is another popular reviewing community. I've searched for Cyberghost VPN there and I've found out that Cyberghost has 111 reviews with an average score of 4.5 out of 5.
Well, not to shabby, don't you think?
Moving forward I checked G2 for CyberGhost Reviews as well. G2 is another behemoth in the review space. There CyberGhost has 20 reviews (as of writing this CyberGhost VPN Review) with an average score of 4.4 out of 5.
90% of the reviews are 4 and 5 stars and 10% are 3 and 2 stars.
Conclusion
This is the end of my CyberGhost VPN Review. To conclude, I love the Cyberghost VPN for its large network coverage and tight security. It has a concrete backing of military-grade encryption. All thanks to the strong privacy laws of its home country, Romania.
The high-end security is managed and controlled by its internal staff. Comparatively, it is far more affordable. However, the company needs to improve its distant servers' speed to meet up to demand and better this business model. 
I also enjoyed the split tunneling as I was able to choose a few apps and sites not to use Cyberghost. I added some local sites as an exception and connected to a server from a different location. It was great. The sad thing is, this feature is only available in Android and Windows. 
Cyberghost as well connects with the Tor browser, however, there's a relatively slower speed. Nonetheless, even Tor cannot access your IP address. 
If you've found this CyberGhost VPN Review helpful, feel free to share it across the web.
CyberGhost VPN Review

Features
Servers
Speed
Torrenting
Streaming
Security
Summary
CyberGhost VPN is a popular VPN provider headquarters in Romania. The country is not part of the 14-eye countries, it keeps no logs and has a kill switch function. It boasts over 9K servers across 90 countries, it allows torrenting and streaming. All these features combined with its low price (especially the 2 year plan), makes CyberGhost the ideal VPN to choose.