Welcome to our BlockFi Review. You can now access the value of your crypto assets without cashing them in. If you want to learn what is Blockfi and how to get a crypto loan then read on.
With so much volatility in the crypto market, you may be hesitant to sell your coins — even if you could use the money. After all, you'd lose out on huge earnings if their value shoots up after offloading your accounts. And it can be expensive to get back into the game.
BlockFi offers a solution: Personal loans backed by bitcoin, Ether or Litecoin. But like anything involving crypto, it's not without risk.
BlockFi Review – Table of Contents
Product Name: BlockFi Loan
Interest Rate: Fixed
Maximum Loan Term: 1 year
Requirements: Have $6,000+ in cryptocurrency, have no recent bankruptcies and live in an eligible state
What makes BlockFi Lending unique?
New York-based BlockFi is a pioneer of crypto-backed lending. Its cryptocurrency loans are available to all credit types, and other factors like your income and monthly debt obligations don't come into play when you apply. Instead, it more heavily considers the value of your crypto assets.
Because cryptocurrency is so volatile, the loan works differently from other types of secured financing. For one, the maximum loan-to-value ratio (LTV) is much lower. And if the value of your cryptocurrency drops by 50% at any point after you take out your loan, you must either post more collateral or pay off your loan within 72 hours.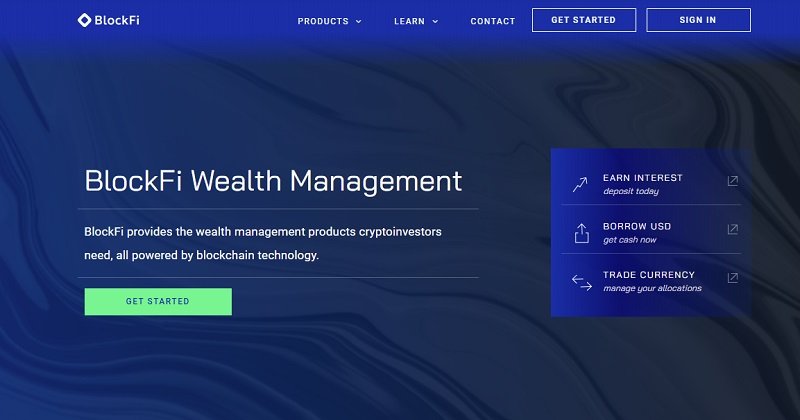 What is a BlockFi cryptocurrency loan?
A BlockFi cryptocurrency loan is a type of asset-backed financing for people who own at least $6,000 in Bitcoin, Ether or Litecoin and want to access its dollar value. Loan amounts start at $2,000 and go as high as $10,000,000, though borrowers must stay below an LTV of 35%. Rates typically run from 10% to 13% APR.
How it Blockfi Lending Works
You're required to make payments on interest for 1 year. After the year is up, you can either choose to refinance the loan at the same rates or pay off the principal in one lump sum. Refinancing works a lot like renewing or rolling over a loan — and it can be expensive.
Interest-only repayments might sound affordable, but you'll end up paying more in the long run. That's because your loan balance never decreases while you're paying off your loan, and your interest payments are based on your balance. However, there's no prepayment penalty, so you can technically repay the principal and interest at any time.
BlockFi Pros and Cons
PROS
Large loan amounts. You can borrow up to $10,000,000 as long as you have the bitcoin, Ether or Litecoin to back it.
No taxes on cryptocurrency. The IRS treats cryptocurrency as an investment, which means you pay income taxes on it when you cash out. BlockFi's cryptocurrency loan helps you avoid these taxes.
All credit types welcome. In fact, BlockFi doesn't look at your credit score when you apply.
No income requirements. You don't need a steady full-time job to get a BlockFi loan.
Flexible repayments. BlockFi's interest-only repayments are ideal if your money is tied up in other projects that you expect to cash in on within a year.
CONS
It can be risky. The value of cryptocurrencies can drop at a moment's notice. Unless you back up your loan with other assets or can afford to pay it off at any time, you'll default if bitcoin has a bad day.
Interest-only payments are standard. It's more expensive than principal-and-interest repayments, which you must go out of your way to make.
There's an option to renew. You can put off your full repayment by renewing, but it's an easy way to rack up the cost of your loan — especially if you're not making payments on your loan principal.
Low LTV ratio. You can borrow a maximum of 35% of your cryptocurrency's value.
Not available in all states. BlockFi isn't available in Nevada, South Dakota, Vermont or Hawaii as of October 2018.
What do borrowers say about BlockFi?
Nothing yet as of today. This isn't a surprise, given that BlockFi is a startup offering a niche product. It doesn't have a page on the Better Business Bureau website. And while it has a page on Trustpilot, it has only one customer review only.
Right now, BlockFi is a rapidly expanding company. If you're interested in a lender that's tried and true, you might want to look elsewhere.
Am I eligible?
To be eligible for a cryptocurrency loan through BlockFi, you must:
Have at least $6,000 in cryptocurrency. BlockFi can work with bitcoin, Ether or Litecoin.
Have no recent bankruptcies. You could have trouble qualifying if you've had a bankruptcy in the past seven years.
Live in an eligible state. Currently, BlockFi doesn't offer loans to residents of Hawaii, Vermont, Nevada or South Dakota.
How do I apply?
Complete the application online in just a few minutes:
Go to the BlockFi website and click Apply Now.
Enter your name and contact information. Then click Continue.
BlockFi texts a verification code to your phone. Enter the code to activate your account.
Select the type of cryptocurrency you'd like to work with: bitcoin, Ether or Litecoin.
Enter a loan amount of up to 35% of the current value of your cryptocurrency.
Select the source of the cryptocurrency you plan on using as collateral and how you plan to use the funds. Click Last Step.
Enter your birthday and Social Security number to confirm your identity. Then click Submit.
BlockFi gets back to you with a decision within 24 hours. It might ask for more information, including your wallet public key or bank details. If you're approved, you review your offer and sign your loan agreement.
Before you get your funds, BlockFi requires you to send your crypto assets to a secure storage wallet run by the third-party company Gemini. After your money is safely in the third-party wallet, BlockFi transfers your loan funds to your bank account. You can get your money as fast as the same day you're approved.
I got a loan from BlockFi. Now what?
While you're only required to repay interest on your loan for the next 1 year, that doesn't mean you should. To avoid extra interest and a large one-time repayment at the end of your term, try to make regular repayments on your loan principal. Figure out how much you'd pay each month on a traditional personal loan with our monthly repayment calculator.
If after a year's time you can't afford the full principal repayment, you have the option of refinancing at your previous loan's rates and terms. While this gives you more time to pay off your loan, it also significantly increases its cost.
Carefully watch the value of your cryptocurrency. If it decreases by 50% or more from its value when you first took out the loan, BlockFi requires you to secure your loan with additional collateral or fully repay what you owe within 72 hours.
Reach out to customer service if you think you might have trouble making repayments.
Bottom line
BlockFi offers a unique way to access the value of your cryptocurrency without having to cash it in or pay income tax. Its rates are competitive, and repayment options flexible. But you could be forced to repay your loan within three days if the value of your coin crashes. It's also a new company, leaving you with few customer experiences to weigh into your decision.
We hope you enjoyed our BlockFi review. If you tried BlockFi Lending let us know your thoughts in the comments section below.