The Bitcoin blockchain will now forever carry the flags of Latin American countries such as Colombia, Argentina, Venezuela and El Salvador, territories known for their use and adoption of bitcoin (BTC) and cryptocurrencies.
This was made possible thanks to Ordinals, a protocol that allows the creation of NFTs (non-fungible tokens) on the Bitcoin network, which has gained popularity since last January.
The NFTs are in the graphics interchange format (GIF), all with a message in common: "Fight inflation, buy bitcoin," as can be seen on the Ordinals website.
It can be presumed that the message includes countries such as, for example, Venezuela and Argentina, as they are nations where their populations have adopted bitcoin to protect themselves from inflation.
In the case of Colombia, like other Latin American countries, currency devaluation has also been a problem.
Although these are not the only flags included in the previously described message, there are also flags from countries such as Cuba, Ukraine, Lebanon, nations with serious economic problems for various reasons such as wars, totalitarian regimes or human tragedies.
The flag of El Salvador and the Central African Republic is also now in Bitcoin. A gesture that stands out due to the fact that both countries have been the first to adopt bitcoin as legal tender.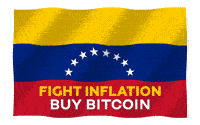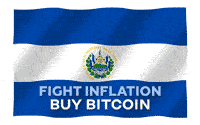 Among other NFTs that stand out are the flags of Turkey and Syria, both nations recently affected by a devastating earthquake and which have received large donations in bitcoin and other cryptocurrencies to help those affected, as reported by CryptoNews.
The new Ordinals protocol has been at the center of much debate in the bitcoin community over the past few days, because of the use to which they are currently being put.
Opponents of NFTs in Bitcoin argue that, in addition to making the blockchain more cumbersome for Bitcoin node operators, they do so by paying extremely cheap fees.
The popularity of Ordinals has been such that, in less than two weeks, nearly 50,000 of these non-fungible tokens were already issued in Bitcoin. Most of the transactions included images such as the Venezuelan flag or even pornographic images; there were also 136 videos, 2 apps and 2 audios, while the remaining ones only included text.
Read Next
What Lessons Can The World Learn From Venezuela's Newfound Love For Crypto?
Colombia is slowly moving toward Bitcoin-friendly regulations
The Central African Republic votes in favor of payments in cryptocurrencies
Argentina's Ministry of Economy to present a bill that will benefit taxpayers who disclose bitcoin and other assets in the Government
Currency Union in Latin America: Brazil and Argentina to Launch Common Currency