I've been trying to diversify my passive income by investing in safe investment "products" that don't require much technical knowledge, neither having to be a DeFi "degenerate" to understand the strategies behind them.
So, after Nexo, Mintos and Anchor Protocol (the last one didn't age that well), I stumbled upon Midas Investments. I've been investing with Midas for six months now, and I am planning on keep investing with them for a long time – for the reasons I am about to explain in this Midas Investments review.
So, this is why I decided to write my Midas Investments Review – to share my own thoughts on whether you should invest or not. Of course you should ALWAYS do your own research (or DYOR as the crypto community says) and don't blindly follow what random people on the internet say and do.
In my Midas Investments review I will be sharing actual screenshots from my account. I believe this will make you feel more "comfortable" – knowing that this Midas investments review comes from someone who ACTUALLY invested in the project and not from people who didn't invest but write reviews 🤔 .
What You will learn in this Midas Investments Review
So, without further delays, let us jump right in.
What is Midas Investments
Midas.Investments is a custodial crypto-investment firm (meaning that your crypto is under their custody after deposited there) that allows its clients to stake key crypto assets (like Bitcoin, Ethereum, Atom, Link etc), participate in DeFi markets and earn high-yields without having to go through the hassle of actually doing the investments themselves (more on how they invest in a bit).
And when I am talking about high yields I mean..
9.4% APY on BTC (Bitcoin)
10.6% APY on ETH (Ethereum)
7.0% APY on ATOM (Cosmos)
9.0% APY on LINK (Chainlink)
13.2% APY on BNB (Binance Coin)
20.7% APY on AVAX (Avalanche)
…and on 17 more crypto assets.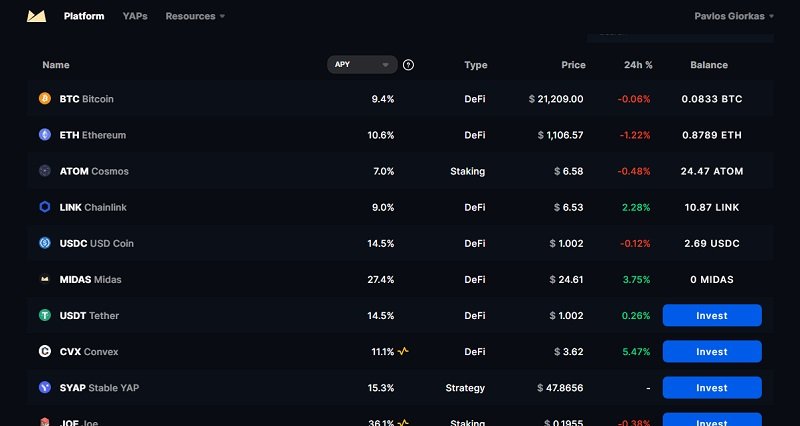 Midas was founded in 2018 by Iakov Levin and Ilya Letunov. In just 4 years, they have attracted over forty thousand investors from across the globe, with over $200 million in assets under management (AUM).
The company is run by a team of financial experts who according to their website "their incredible Midas team has over 20 years of investment experience and 30 years in product development".
Midas Investments is licensed and regulated by FINMA – which is the Swiss authority for regulating asset management, banks and investment companies. This is a very important factor – at least for me. You know it is good to feel "safe" when investing large sums of money.
Finally Midas Investments issues it's own cryptocurrency called Midas Coin – which acts in a similar way like NEXO coin is doing on NEXO. That is holding it boosts your yields and other perks which we will be discussing further down the road.
KEY TAKEAWAY
Midas Investments is a "real" and regulated company who abides by the current socio-economic laws. They are not part of the "DeFi wild west" – like other investment companies in crypto. They invest your crypto using various defi strategies for you. You get high-yields without the hassle.
Who is Midas Investments CEO
Midas Investments CEO is Iakov Trevor Levin. A fully "doxed" person that's not hiding behind fake masks or pseudonyms. Here is his Twitter profile, here is his Linkedin profile and here is his Telegram profile.
Iakov is leading a team of 30 people who can be all seen here. This was one of the main reasons that had me invest with them in the first place. I am sick and tired of this "anonymity" behind investment schemes and companies that are supposedly "protecting" their founders.
Who's protecting me then?
Anw, Iakov is very active on social media and with the Midas community in general. He often holds AMAs in reddit and on YouTube so, its good to be able to know the "leader" of the company who invests your money.
Don't you think?
KEY TAKEAWAY
I know who the CEO is. It's Iakov Levin and he is not hiding. This makes me feel "safer" and this is why I think it is important to mention it in this Midas Investments review.
How they invest and generate their yields
Although not a DeFi expert, I will try to explain in simple terms the strategies Midas Investments utilizes to generate high yields for its customers.
Liquidity providing strategies – This is pretty simple to understand. For example, they provide liquidity on chosen assets on Uniswap V3. The earnings from this strategy earns them about 20% – 150% APR – according to their website's knowledge base. Sometimes they might use leverage (loans) to offer more liquidity on the chosen assets.
Buying and Selling crypto assets – They also engage in buying and selling various crypto assets. Basically, they borrow large sums of money, open positions in an asset and through their investment experience and algorithms they sell it before things turn wrong.
Decentralized Finance Yield Vaults – This is one of the safest strategies that earns them around 15% APR. All the funds that are locked in Yield vault protocols are insured so there's nothing to be feared about.
According to their website all strategies combines offer them yields of around 40% APR they are able to return such high yields on retail investors like you and me.
KEY TAKEAWAY
Midas Investments is using various DeFi strategies that generate them yields of around 40% APR per year – thus they are able to offer such high yields to crypto investors.
What is Midas Coin and its Tokenomics
As mentioned earlier, Midas Investments issued its own token, called Midas Token. Here are some facts about it.
Personally, I am not holding any MIDAS, but, if you decide to buy and stake it via Midas Investments you can earn a hefty 30% APY.
I want to keep my Midas Investments review honest by saying that I am not sure what the utility behind this token is. As far as I understand it helps the Midas team to generate more liquidity for their investments. If anyone knows more, contact me and I will update this Midas investments review.
KEY TAKEAWAY
Midas Token is a deflationary token (only 5M Max Supply) issued on the Fantom Blockchain that is utilized across the Midas Platform. It is also used as a mean to attract more liquidity to the platform.
My Midas Investment Portfolio | Midas Dashboard
As promsed in the beginning of my Midas Investments Review, I am going to share screenshots from my personal Midas Investments account.

I am currently holding around $3.000 in my Midas account earning me $5.20 per week. Note that a couple of months ago (when Bitcoin's price was $40K) these numbers where much more higher.
Anyway, as you can see from the screenshot, inside the Midas dashboard you can see the APY you are currently earning, the coins owned and your total balance.
I am currently earning on Bitcoin, Ethereum, Cosmos and Chainlink. I am also thinking on moving my AVAX from NEXO to Midas – since the yield is higher.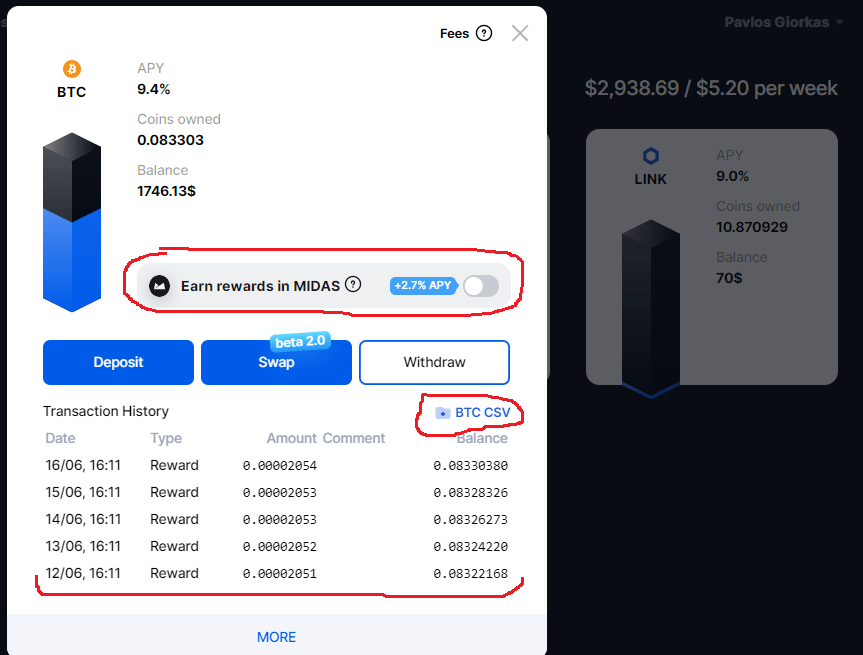 Upon clicking on an asset a popup shows that allows you to perform various actions such as check your daily earnings, download a CSV file with your all your earnings so far, request withdraw, deposit etc and even swap assets between them without leaving the platform (never used it by the way. Might use it when
Midas Investments PROS and CONS
In this section I am going to reveal what I like and don't like about Midas Investments after six years of using their platform.
Midas PROS – What I like about Midas Investments
Very easy to use – The platform is very easy to use. I mean, you've seen the screenshots. Everything is pretty straightforward. No fluff, no unnecessary information.
Easy digestion of information – I like how information is presented to me when I enter my dashboard. I get straight in front of me the amount of money I currently have in my account and how much I am earning per week.
Secure And Easy login – Even their login procedure is easy. No need for passwords. They utilize Google's and Facebook's security to login to your account. You get emailed a simple password to use to login to your account. I find it very easy.
High Yields – I am here for the money. And when I get 9.4% APY on my Bitcoin I feel good about it. Honestly, I haven't found anywhere else to earn such yields.
Regulated – Yes, Midas Investments is licenses and regulated. This makes them even more accountable and you know that they are being audited by a trustworthy authority.
Doxed CEO – As mentioned before, I feel safer knowing who the CEO of the company who manages my assets is.
Community first team – Midas Team has a thriving community on Discord and they are very active on their blog and social media channels. This is something that I consider as a plus because I like getting updated from my asset manager on what's going on in the crypto space and what its next move will be.
No lockups in your Crypto – Probably the most important fact is that you can withdraw your cryptocurrencies at any time. There are NO lockup periods.
Fast live support – They offer fast live support. Although I only needed them once, I got a reply from a live agent in less than two minutes and he solved my problem. This is something Customer support is something I truly admire in any company.
Fireblocks Integration – Fireblocks is a digital asset platform for institutions. By integrating the Fireblocks platform, Midas takes its security to the next level, implementing industry-grade protections to cover user funds.
Raving Reviews on Trustpilot – Whenever I want to join a program or purchase a software or a service, I always scan through Trustpilot reviews. If I consider them genuine, this is major thumbs-up for me. Here some I screenshotted from their website.
Midas CONS – What I don't Like about Midas Investments
KYC – Yes, they have a Know your customer policy if you are going to open an account with them. Personally, I hate KYC's. I like my financial anonymity. I do understand though that If you want to be regulated and play by the financial system's rules, you have to implement this feature. Nevertheless, I don't like it.
Yield change – The team might decide to lower or increase yields offered to investors according to their own crisis. Although I do understand that they are forced to do it because of various macroeconomic factors, I still don't like it. For example, when I first joined Midas six months ago, I was earning 14% APY on my Bitcoin. Now I am earning 9.4% APY. Who knows if the yields will fall further down in the future?
No mobile app – A big no-no for me. In today's internet, it is a must to have a mobile application. All the aforementioned companies – Mintos and Nexo – have their own mobile applications where I can check my earnings on the go. Midas Investments does not have a mobile application and I consider this a no-no.
Midas Investments FAQ
Frequently asked questions about Midas Investments👇
Is Midas Investments Regulated?
Yes, Midas Investments is licenses and regulated by FINMA – Switzerland's independent financial-markets regulator.
Who is Midas Investments CEO?
Midas Investments CEO is Iakov Trevor Levin. You can follow him on Twitter, Linkedin or Telegram.
How much can I earn on my Bitcoin?
Currently, you can earn 9.4% APY on your Bitcoin if you choose to earn your yields in Bitcoin or 12.1% APY if you choose to earn your yields in Midas Token.
What Cryptocurrencies are accepted?
Currently, the native tokens/cryptocurrencies from the following platforms/blockchains are accepted.
Bitcoin, Ethereum, Cosmos, Chainlink, USD Coin, Midas Token, Tether USD, Convex, Trader Joe, Binance Coin, Avalanche, Binance-Peg BUSD, Litecoin, Dai, Fantom, Spookyswap, Tokemak, Spell, Celo, Spiritswap, Tarot.
Final Thoughts
Midas Investments is a licensed and regulated cryptocurrency investment company that offers high yields on your crypto investments. The platform is very easy to use and has been receiving raving reviews on Trustpilot.
The company's CEO is known, the team is a community first team and they take all the necessary precautions to safeguard investor's money.
One downside may be that there is no mobile application, but investors are not locked in for any period of time. Yields might change at any time, so be sure to monitor your investment. All in all, Midas Investments is a great choice for those looking to invest in cryptocurrency.
I am writing this Midas Investments review because I really feel comfortable suggesting this company to other crypto investors. Although I am not an expert and I do make mistakes (I invested in UST and LUNA afterall) I believe this company has a bright future ahead.
By the way, if I missed mentioning anything that you believe it needs to be added in this review, feel free to contact us and we'll make sure will issue an update.