As the time approaches when unstaking (withdrawal of ETH staked in Ethereum) will be possible with the completion of the Shanghai upgrade, the tokens used in protocols that enable staking in the Ethereum 2.0 contract are going up in price.
For example, Lido Finance (LDO) and Rocket Pool (RPL) have already made significant gains in the last 24 hours, according to data from CoinGecko.
LDO, the governance token that powers Lido Finance, the largest staking protocol on Ethereum, has gained over 17.2% in the last 24 hours. Overall transactions in such staking protocols on Ethereum reached $276 million yesterday, a 436% jump from the previous day.
Last week was extremely satisfying for LDO. Lido Finance has become the largest decentralized application in total value locked (TVL), dethroning MakerDAO. LDO is also the big gainer of the week, posting a huge gain of 74.8%.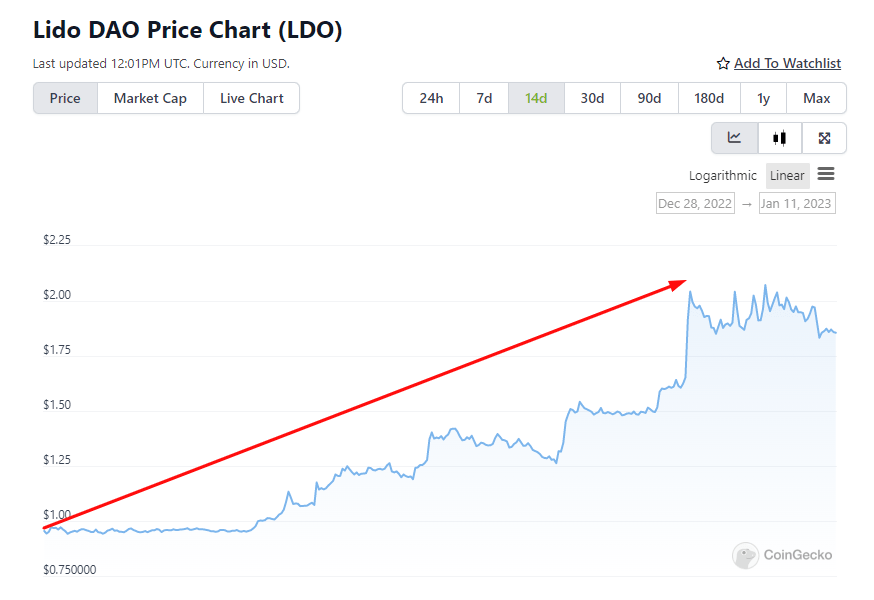 Another protocol token for staking, Rocket Pool's RPL, has also made significant gains of 14.2% in the last 24 hours, according to data from CoinGecko. Moreover, so far in the last 24 hours RPL has seen an 802% increase in its daily trading volume, reaching $7.8 million.
Ethereum, Shanghai and staking
As a reminder, Ethereum successfully transitioned to the proof of stake (PoS) consensus mechanism from the beginning of September 2022 and in order to become a validator of the network, one has to stake 32 ETH in the Ethereum 2.0 deposit contract, while earning a return on the stake capital.
However, the 32 ETH required to make a stake is a sum of money that for many is not affordable. This is exactly where staking protocols such as Lido and Rocket are needed, as they give anyone who wants to stake using any amount and earn their rewards.
As we mentioned at the beginning of this topic, at the moment ETHs that are staked cannot be withdrawn until the Shanghai upgrade is complete. Initially the date of its completion was not made known on Ethereum's part, however recently its developers have informed that they estimate it will happen next March.
The announcement of the possible completion date of the upgrade has sharply increased the staking in the Ethereum 2.0 contract, either directly on the Ethereum network with staking 32 ETH, or through the liquidity protocols with any amount of money anyone can.
Most people think that immediately after unstaking is activated we will see massive ETH sales and perhaps a drop in the price of ETH, but in the long run many people think that the price of ETH will rise again as everyone will feel more comfortable to stake their ETH knowing that they can withdraw them at any time.