In the first two weeks of January 2023 seven companies in the cryptocurrency industry announced heavy job cuts. Among them are the exchanges Coinbase, Blockchain.com, Crypto.com, Genesis and Huobi. Thus, the wave of employee layoffs that began in 2022 continues.
Already more than 7,000 people lost their jobs at companies in the cryptocurrency industry last year, according to estimates. This comes in the face of the bear market that began last year, which intensified near the end of 2022 with the collapse of FTX.
Among the companies in the industry that have made the most cuts in the last year are Crypto.com with 2,260 layoffs and Coinbase with 2,110. This can be seen in the following graph, according to the official data issued by the companies, although there are revelations that estimate that there have been more.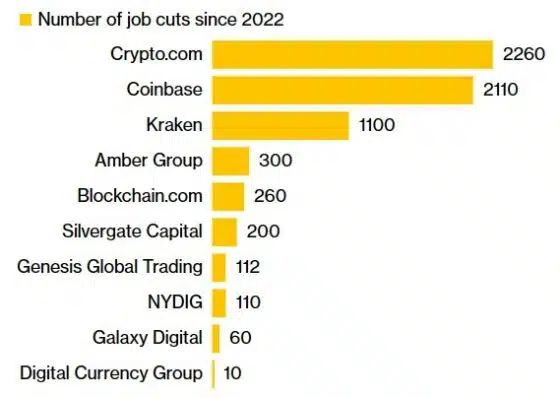 Many cryptocurrency companies did not disclose how many layoffs they made
It should be noted that this chart made by Bloomberg does not take into account all the cuts there have been in the last year in the industry. For example, the European exchange Bitpanda and the Ethereum software company Consensys have been left out, with 270 and 100 layoffs each.
At the same time, the trend of layoffs in the last year has also been seen in Latin American companies belonging to the industry. One of them is exchange Bitso of Mexico with the cut of 80 employees, as well as Buenbit and Lemon Cash with unknown figures.
Likewise, during the last year, other companies have reported staff cuts without detailing the number of layoffs. This has been the case, for example, of exchanges Robinhood and CoinFLEX, as well as bitcoin (BTC) miners Core Scientific, and Compass Mining.
Therefore, it is estimated that the number of people who have lost their jobs in the industry was many more than 7,000. Especially if one also considers the companies in the ecosystem that in the last year closed down, such as Bexplus, or went bankrupt, such as FTX, BlockFi, Celsius, and Voyager.