If you are wondering what is Audius and the Audius Token, you hit the jackpot. Today we are here to answer the question What is Audius, How it works, and everything in between.
Music streaming services have turned into a multi-billion-dollar industry. Streaming platform like Spotify and SoundCloud raked in a record $13 billion in revenue last year.
Music critics suggest that even though streaming platforms are raking in a lot of profits, artists are not compensated fairly for their craft. The platforms have an unfair sharing formula that makes it look as if artists are being ripped off.
Decentralization is bringing a change in how we do things and that's where Audius comes in. Audius is a blockchain-powered music sharing and streaming platform to give artists more power.
The platform gives artists power over how their music is monetized and also allows them to connect directly with their fans.
The platform is open source meaning it is controlled by the community of fans, artists, and developers. The platform currently has more than 6 million monthly active users and also announced a partnership with TikTok.
At its peak – in April 2021- music was streamed on the platform 7.5 million times.
Audius has the potential to compete with SoundCloud and Spotify but it is entirely different from them.
Here today we are going to share all the important things you need to know about Audius.
What is Audius?
Audius is a decentralized music streaming platform that lets artist uploads their tunes and songs. The platform is controlled by artists and owned by the community. Users on the platform can freely distribute, monetize, and stream songs using the app.
The platform was founded in 2018, and it is a blockchain protocol that allows artists to produce records and upload them on Audius. These records are secured by a decentralized network of node operators.
The platform was originally built on the POA network, an Ethereum sidechain but parts of the project were later moved to the Solana network. Developers can also build their apps on the Audius Network, giving them access to a unique audio catalog.
Audius is trying to bring money and power back to the hands of the artist cutting out record labels and middlemen. The platforms connect artists and listeners directly without any third-party involvement.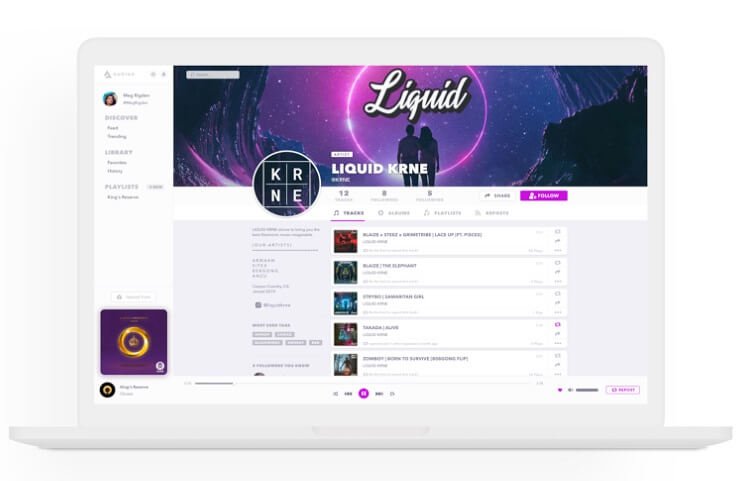 Artists get 90% of the revenue with 10% going to node operators that support the network. The platform doesn't take any pay cut. The platform remains sustainable through funding rounds and incentivizes employees and early investors using the Audio token.
How Does Audius Work?
The Audius Blockchain is secured by two types of decentralized nodes that support the network. They include the node host content (content node) and the node that index contents (discovery node) three groups make the platform work and they are node operators, fans, and artists.
Everyone can become a node operator on the Audius network by holding and staking the AUDIO native cryptocurrency. To become a content node artists can host their songs on the platform without relying on other nodes.
As an artist, if you host your songs on the platform then you have total control over your content-encryption key, giving you more control over your music. You can also upload your song randomly on the platform and get a node automatically. If the content node goes offline it will be replaced automatically by the blockchain.
The AUDIO Token
The Audius Network is powered by the Ethereum based ERC-20 token AUDIO and it serves three major functions:
Governance: Tokens are required to vote or request for any proposals or upcoming proposals on the network.
Security: To support them by running a node, operators have to stake AUDIO tokens to become eligible and earn rewards in return.
Exclusive Features: By staking the AUDIO token artists get premium features that can even allow them to display NFT collectibles on the platform.
You don't need the know much about blockchain to be a community member on Audius. This is why the platform is popular even from outside the crypto community.
The platform automatically rewards certain achievements on the platform. For example, the top 5 trending songs of the week get automatically rewarded with an AUDIO token.
How do you make money on Audius? How do artists get paid?
To earn money on Audius as an artist you need to have a certain number of monthly streams on your songs. The total number of monthly streams on the platform is relatively low when compared to other streaming platforms like Spotify and Soundcloud.
They pay higher than what Spotify and Soundcloud pay and here is how you can earn money on Audius as an artist.
If you have a song on the top 5 weekly trending tracks on Audius you get rewarded with 100 AUDIO sent to your Audius wallet.
Have a top 5 weekly trending playlist and you get rewarded with 100 AUDIO tokens sent to your Audius Wallet.
Be a top 10 monthly API App: if you drive traffic to Audius you will receive 500 AUDIO tokens to your wallet. All weekly tokens are sent out on Fridays at noon Pacific time.
First account verification is also available on the platform once you are verified on Twitter or Instagram. Simply upload your first track on the platform and tag them on Twitter or Instagram and they will verify you. After that you will receive AUDIO tokens.
To trade your AUDIO token for cash you need to use Uniswap to transfer the AUDIO token to Ethereum. After that use a crypto wallet like Binance to transfer from Ethereum to USD, Pounds, or any other currency.
Audius Founders
Audius was founded in 2018, by Roneil Rumburg and Forrest Browning. The Audius team consists of audiophiles, entrepreneurs, blockchain experts, and engineers. They have an 18-man team that handles the workflow on the platform.
Roneil Rumburg
Roneil Rumburg is the co-founder and Chief Executive Officer of Audius. He is a graduate of Stanford University and he was the co-founder of bitcoin peer-to-peer payment company backlash. His most recent project is the Kleiner Perkins and he is responsible for seed investments into blockchain and AI companies.
Forrest Browning
Forrest Browning is also a co-founder and Chief Product Officer at Audius. He was previously the co-founder of StackWare that was acquired by Avi Networks. Forrest is also a recipient of Forbes 30 under 30.
Who Uses Audius – What is its Utility?
There are over 100,000 artists on Audius and one of the most prominent names on the platform is Skrillex and Deadmau5. The platform is used by independent music artists mostly but these days some record label artists are also joining Audius.
Artists can start by uploading their songs on the decentralized platform and later expand as they get more feedback from users and fans.
Users also sign up on the platform and listen to music from their favorite artist for free.
The platform is fun to use for fans because of the remix competitions on the platform. They have at least 5 million streams monthly and the number keeps increasing monthly.
Audius is profitable for both artists, fans, and users. It is one of those platforms that is aiming to revolutionize the music industry by giving music artists more control over their songs.
What Blockchain Does It Use?
Audius is a music streaming platform is built on a blockchain. The platform is built upon the Ethereum side chain but some of its services were later moved to the Solana blockchain.
Developers can build their apps on the platform and they will have access to a unique audio catalog on Audius.
Audius mainnet was launched in October 2020 with a live stream concert by RAC and deadmau5. The platform is decentralized and it is secured by a community of node operators that fall into three different categories. Artists on the platform can have complete control over their music projects.
Where To Buy The AUDIO Token
The AUDIO token is the official cryptocurrency of the Audius platform and it is used to pay artists on the platform. It is also used to vote on certain community issues as well as suggest some change on the Audius network.
Occasionally the Protocol airdrops generous amounts of tokens to artists based on the not just total amount of listening time but also based on the engagement an artist has shown on the platform.
For example, in October 2020 the network distributed a total of 50 million AUDIO tokens between 10,000 artists and users on the platform. The network still doesn't have an efficient formula for sharing the AUDIO token to artists on the platform.
If you are interested in buying the AUDIO token then it is listed on some crypto exchange platforms. It is available on Binance, Uniswap, FTX, crypto.com exchange, and Bitstamp to mention a few.
It has a market cap of $812 million and the total number in circulation as at the time of writing this was 411,910,943.00. the total supply of the AUDIO token is expected to cap at 1,055,192,308.
Rounding up – What is Audius?
Audius is an exciting project for musicians to gain their freedom from the shackles of streaming platforms that rip them off from their hard work. Sharing formula on platforms like Spotify and SoundCloud is not fair when compared to the 90% pay artist get on Audius.
The platform is increasingly becoming popular especially because some notable musicians have started investing in the project. Notable names like Jason Derulo, Nas, and Katy Perry have invested in the platform during their just-concluded seeding round.
They also announced a major partnership with TikTok in August 2021 bringing them closer to a large audience of music lovers.
Audius has a lot of potential and structure in place to kill off SoundCloud and Spotify. if you have any other questions regarding what is Audius? feel free to ask them in the comment section below.