Welcome to our Nexo Review where we will analyze everything you need to know to help you make an informed decision on whether to join Nexo or not.
Nexo Review
Nexo is a crypto lending platform that allows you to borrow fiat and stablecoins using your crypto as collateral. At the same time, it allows you to store your crypto and receive up to 20% interest on your crypto. Nexo is among the highest-rated crypto lending platforms and among the few that take security very (very) seriously.
Lending / Borrowing Terms
Nexo Review
Use the table of contents section below to navigate through our Nexo Review.
What is Nexo?
Nexo is a crypto lending platform that is among the most popular lending platforms out in the Defi space.
Nexo lets its customers deposit and earn passive interest on their crypto savings.
Customers can also take loans in cash using their crypto savings as collateral. The platform is built on an overdraft blockchain that secures all the crypto deposits customers make on their wallets.
Nexo was launched in 2018, but it started getting popular in recent years. The platform aims to replace and imitate traditional bank services but with crypto.
Customers on Nexo have access to instant loans without relying on credit scores. Users can also lend their crypto or get loans for themselves, but Nexo promotes the crypto interest savings methods most.
The platform supports over 17 cryptocurrencies, and they include Bitcoin (BTC), Ripple (XRP), Ethereum (ETH), Litecoin (LTC), and Bitcoin Cash (BCH), to mention a few.
The platform is built on a blockchain making all transactions transparent. It uses the innovative smart contract method of Ethereum, and all transaction details are tokenized.
How Does it Work?
Its main service consists of allowing cryptocurrency owners to get a loan via their platform, using their crypto as collateral.
On the other hand, if you don't want to get a loan from them, you can still deposit your cryptocurrencies and get compensated up to 17% APY paid out daily.
This is a very lucrative opportunity for crypto holders to earn passive income on their idle assets. The best part is that your cryptos are not "locked" away and you can withdraw them at any time to any wallet or exchange.
Unlike platforms where you hold your cryptocurrencies, Nexo allows you to save them and earn interest on your savings. You can also borrow cash and use your crypto holdings as collateral. So Nexo is more like a savings account where you save your money in a bank and earn interest. This time around, you are earning interest in crypto.
🆓 Click Here to Join NEXO and get $10 in BTC once you top $100 or more, to your account.
Nexo Features
Nexo Wallet
The Nexo wallet app is available for Android and IOS devices. If you want access to quick loans and returns in crypto savings, you must use the Nexo wallet on your mobile device. Personally, I find it easier to use the platform's mobile version.
The wallet lets you store all the approved cryptocurrencies on Nexo, and you also have access to the transfer and exchange services using the wallet. In addition, customers can transfer their crypto assets from one Nexo account to the other.
By depositing crypto assets to the Nexo wallet, you are eligible for two primary services: crypto-backed loans and interest on savings.
🔑 KEY TAKEAWAY
Nexo's Wallet is available for both Android and iOS devices. It has all the features the desktop version has and it is very user-friendly.
Verification Levels
There are 3 verification levels when you create a Nexo account. The first verification level is called Starter Verification and it is achieved by just creating the account.
The second verification level is called "Basic" and it is achieved when you deposit crypto to your account.
The third and last verification level is called "Advanced". You need to pass a KYC / AML procedure to unlock this (Photo of your ID, selfie with you holding the ID).
The overall process of verifying myself was relatively easy since it is something that I feel comfortable doing.
🔑 KEY TAKEAWAY
The higher your verification level the higher the number of withdrawals and deposits you can make. To start using their borrow and earn features you need to have at least a level 2 verification or Basic Verification as they called it. Click here to learn more about Nexo's verification levels.
Withdrawals
Depending on your verification level you can withdraw up to $100.000 per day to your bank account. Here's a handy table I've prepared.
| Verification Level | Top Up (/transfer) | Withdraw (/day) |
| --- | --- | --- |
| Starter | $0 | $0 |
| Basic | $0 | $0 |
| Advance | $2,000,000 | $100,000 |
*The table shows how much FIAT you can deposit or withdraw from and to your Fiat bank account.
| Verification Level | Top Up (/transfer) | Withdraw (/day) |
| --- | --- | --- |
| Starter | Unlimited | $20,000.00 |
| Basic | Unlimited | $20,000.00 |
| Advance | Unlimited | $500,000 |
*The table shows how many cryptos you can deposit or withdraw from and to your Crypto Wallet.
Loyalty Levels
Nexo has 4 Loyalty Levels each with its own perks. Your loyalty level depends on the amount of Nexo Tokens you hold in your Nexo Account.
The 4 Loyalty Levels are:
Basic – Up to 1% NEXO in your portfolio.
Silver – Between 1% – 5% NEXO in your portfolio
Gold – Between 5% – 10% NEXO in your portfolio
Platinum – Above 10% NEXO in your portfolio.
Let's see an example:
Let's say you have $1000 in your NEXO account. To be eligible for a Gold Loyalty level you need to have at least 50 NEXO tokens in your account (5% of 1000 is 50).
If you want to be a Platinum member you need to have 100 NEXO tokens in your account.
Keep in mind though that when your portfolio grows, your NEXO holdings must grow too in order to preserve your Loyalty Level.
For example, if you deposit another $1000 to your next account without purchasing more NEXO tokens, you loyalty level will drop. Therefore you need to preserve your NEXO token holdings within each Loyalty level's percentages.
Here's a table comparing the most important differences of each Loyalty Level. For the full list, visit Nexo's website.
| | BASE | SILVER | GOLD | PLATINUM |
| --- | --- | --- | --- | --- |
| Interest Rate (Borrowing) | 13.9% | 12.9% | 8.9% | 6.9% |
| Exchange Cashback | 0.00% | 0.10% | 0.25% | 0.50% |
| Interest Earned (Crypto) | 4% | 4.25% | 4.5% | 5% |
| Interest Earned (Fiat) | 4% | 4.25% | 5% | 6% |
| Interest Earned (Stablecoins) | 8% | 8.25% | 9% | 10% |
| Interest Earned (NEXO Token) | 7% | 7% | 7% | 7% |
| Interest Earned (NEXO Token Bonus) | 0% | 0.25% | 1% | 2% |
| Free Crypto Withdrawals per Month | 1 | 2 | 3 | 5 |
Earning Interest
Customers can earn interest from their crypto savings on Nexo, which is one of the services that differentiate the platform from cryptocurrency wallets or exchanges.
Stable coins pay up to 12% interest, while crypto pays up to 8%. In addition, money can be withdrawn or deposited daily.
Both your cryptocurrency and Fiat money can be withdrawn from Nexo at any time, but there are limits to the number of times you can withdraw.
The amount of time you can withdraw crypto depends on your loyalty, but it can be between 1 to 5 times. So if you want to earn between 8% to 12%, at least 10% of your portfolio will need to be in Nexo so that you can reach the platinum level client. Other levels include Base, Silver, and Gold.
☝ You can check the above sections for more information on the Loyalty Levels, the interest your earn with each loyalty level, and the withdrawal limits.
Supported Crypto
Here's a list with all the supported Crypto and Fiat you can currently deposit to NEXO to earn interest.
Bitcoin
Ether
NEXO Token
XRP
Tether
USD Coin
Pax Dollar
TrueUSD
Dai
USD
EUR

GBP
Bitcoin Cash
Litecoin
EOS
BNB
Stellar
PAX Gold
Chainlink
Tron
Polkadot
Dogecoin
Uniswap
Solana
Avalanche
Polygon
Terra
Cardano
🔑 KEY TAKEAWAY
With Nexo, you can earn up to 17% interest on your cryptocurrency, stablecoins, and fiat money depending on your Loyalty Level. To check the interest rates in all the above, visit NEXO.
Getting Crypto Loans
To get a loan from NEXO, first of all you need to have an Advance Verification. (Fair enough if you ask me. I mean, they are trying to play by the rules).
If you want to get a $10.000 loan from NEXO, you first need to decide wich Crypto you are going to use as collateral.
For example, if you choose Bitcoin as your collateral, then you need to deposit $20.000 worth of Bitcoin in your account. The reason is that Bitcoin has a 50% TVL Ratio (Total Value Locked).
On the other hand, if you choose Polkadot as your collateral, which has a 30% TVL Ration, then you will have to deposit $30.000 worth of DOT to get the same amount of Loan.
A third example is Tether which has a 90% TVL Ratio. To get a $10.000 loan from NEXO your need to deposit as collateral only $11.106 USDT.
As soon as you top up your account, money are instantly available for your to borrow. The benefits are huge since you
Opportunity to grow your portfolio: Get a loan and invest in other projects or High Yield Defi projects.
Lower interest rates – Interest rates are very low compared with our banking system.
No hidden fees like Banks do.
Instant approval – As soon as you deposit your crypto collateral the money are there for you.
No paperwork to fill – Thank you NEXO 🙏🤧
No monthly repayments – You pay at your own terms (or you get liquidated)
No impact on credit score – What credit score?
🔑 KEY TAKEAWAY
With NEXO Loans you get instant cash flow as soon as you deposit your collateral. No paperwork, no questions, no hidden fees and low interests rates. Personally, I feel Liberated knowing that I don't need Banksters to get a loan and grow my businesses.

Join NEXO today and get $10 in BTC once you top $100 or more, to your account.
Security
One thing that I love about NEXO is the security measures they are taking to prevent the loss of investors' money. In fact, this was one of the most important things that made me deposit a huge chunk of my crypto portfolio in their platform.
Third-party Audits – NEXO is frequently audited by Armanino – one of the leading accounting and business consulting firms in the US.
ISO 27001:2013 Certified – NEXO is the only crypto lending company that it is ISO certified. According to the official ISO website, ISO/IEC 27001:2013 specifies the requirements for establishing, implementing, maintaining and continually improving an information security management system within the context of the organization.
256-bit SSL – It is one of the most solid encryption methods used in modern encryption algorithms, protocols, and technologies.
Licenses & Regulations – Nexo Holds several Banking and Money Transmitting licenses from the United States government, various states within the US, from Canada's FINTRAC, from Australia's ASIC, it is an Affiliated Member of the Recognized Self-Regulatory Organization "SO-FIT", it is a registered company in Hong Kong and as a Virtual Currency Exchange Operator and Depository Virtual Currency Wallet Operator in Lithuania. To be honest with you, I might not know what all of these organizations are but I do understand that NEXO is playing its cards correctly.
Insurance – According to Nexo, their Insurance portfolio is now $375 million. They have the most impressive insurance policy of any crypto lending or borrowing platform I have ever seen.
Native Token
Nexo has its own native token called… NEXO token. NEXO Token's utility is primarily to determine your loyalty level within NEXO's platform. As I mentioned before, the more NEXO tokens you hold (in regards to your crypto holdings) the higher your Loyalty level is and the better your perks.
From an investment point, NEXO Token has a 1,000,000,000 MAX Supply, it is build on the Ethereum Network, it currently ranks in position #87 of the markecap and it is up +117.81% the past year as of writing this Nexo Review.
Nexo Card
Nexo has its credit card accepted by over 40 million merchant stores online. The card works anywhere globally, and customers can use it to spend their crypto savings.
Customers can order the card and manage it through their Nexo wallet app. Nexo doesn't charge any fee for maintenance of the card – which is a big plus if you ask me.
The card offers 2% instant cashback, and you can choose to receive it in Bicton or Nexo tokens. before making the transactions. you will be able to make payments in local currencies with the Nexo card.
😫 To get your hands on a NEXO card you need to join a waitlist. Bummer..
Nexo Exchange
Nexo Introduces recently an exchange feature that allows you to exchange between 175+ market pairs and earn up to 0.5% in instant cashback – depending on your Loyalty tier.
Nexo uses a Smart Routing System that connects to the top 10 exchanges at once, providing you with the most cost-effective execution possible.
Through the Nexo Exchange, you can sell your cryptocurrency for fiat (USD, EUR and GBP) or swap your crypto for another one.
The best part – on top of the up to 0.5% cashback your receive – you instantly start receiving interest on your new crypto or fiat money.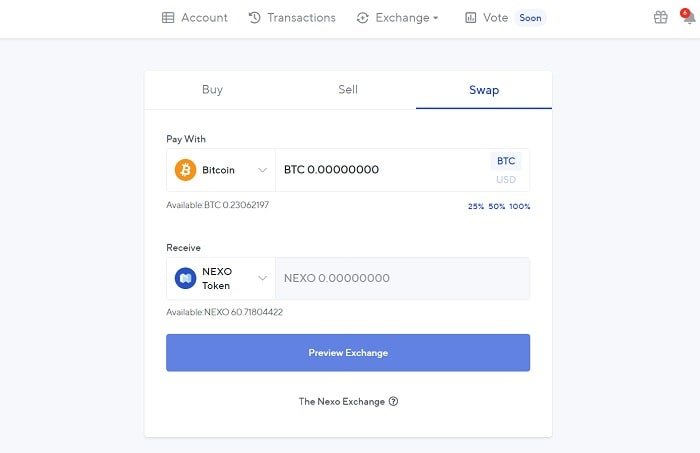 There are no hidden fees or charges for withdrawing or depositing money from your Nexo Wallet. You are eligible for free crypto withdrawals depending on your loyalty tier.
If you want to withdraw fiat money, you can do so as well. One thing I haven't figured out yet is that if a user has exhausted his monthly crypto withdrawal limit, there is no clear way stated by Nexo on what will be charged.
If you want to borrow using your crypto as collateral, there will be interest on the loan amount that will be repaid. However, the interest rate doesn't come with early pay-off fees or origination. The rate also starts from 6.9%.
🔑 KEY TAKEAWAY
There are no hidden fees or charges if you decide to use any of the services of Nexo.
Nexo Reviews
Now, because I am a fan of Nexo, I might as well be biased the way I talk and present their services, right? I mean, I do have a Nexo account which I actively use.
To remove even the slightest doubt from your head, I am "throwing" some reviews from other crypto holders like you and me, found on the popular reviews platform Trustpilot. Btw, if you want to check their Trustpilot profile, you can do so by visiting this link (opens in a new tab).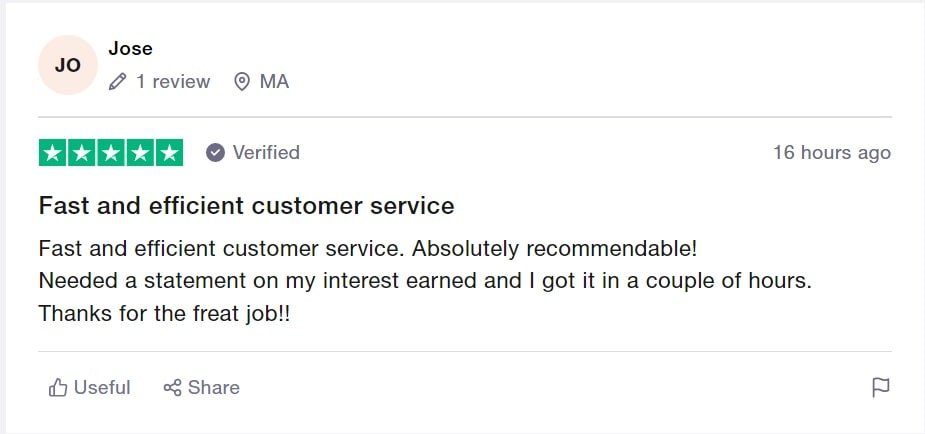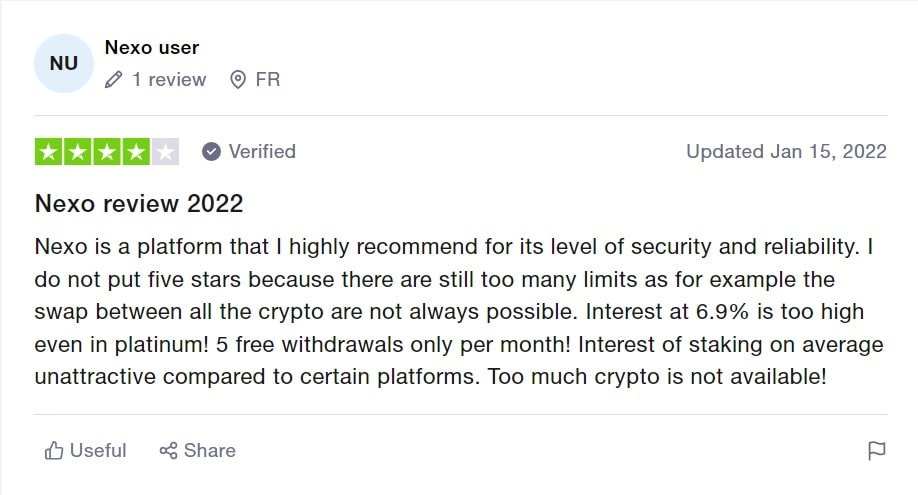 🔑 KEY TAKEAWAY
With over 7500+ reviews on Trustpilot and a commutative score of 4.6 / 5, Nexo – at least for me – earns my trust and my respect. If you want to start earning passive income on your Crypto or instantly borrow cash using your crypto as collateral, Nexo is your go-to place.
How to take Nexo Loans
If you have crypto saved in your Nexo wallet, you can access their crypto-backed loans. Here we will share the necessary steps to get the loans in a few minutes. There is no eligibility mark. You only need crypto savings in your Nexo wallet that will serve as collateral. So you can have access to the loans globally. All that is required is basic and advanced verification on Nexo.
Step one: To access the loan, you must transfer the crypto you hold to your verified Nexo Wallet. Nexo currently accepts BTC, XRP, LTC, BCH, BNB, and ETH as collateral. Transfer between wallets takes a few minutes, depending on the crypto you hold and the platform you send crypto to.
Step two: after transferring your crypto asset to Nexo, you need to accept the loan terms and conditions and the loan's interest rate. The Nexo blockchain will generate your loan as soon as you accept the terms. There is no waiting period. You have access to your loan as soon as it is generated. You can access loan amounts from $10 to $2 million. Nexo will transfer to your bank account, credit card or issue out crypto. If the value of the crypto you used as collateral drops significantly, Nexo will notify you to add up to your account.
Step three: after successfully taking the loan, there is a period that Nexo will give you to repay the loan. They calculate your interest automatically as you pay back your loan. You will get an additional loan limit to borrow more money as you pay back your loan.
Nexo has loaned out over 6 billion dollars in loans. Since its launch in 2021, it has been available starting from 5.9% APY.
Rounding Up
Nexo is a certified top crypto lending platform that is secure. Customers also get to earn interest on Nexo by storing their crypto assets. The Nexo review here is a complete guide on how the platform works. Nexo has grown into managing billions of dollars within a short period, and that has caught people's attention.
They have a dedicated community strengthened by the dividends Nexo shares with them. The Nexo card has made it easier for customers to have more value on the platform. Nexo is easy to use, and they also add new incentives that will benefit their customers. They can become even more prominent because of their traditional finance and blockchain integration.
If you have any questions regarding Nexo, feel free to ask them in the comment section below. If you enjoyed reading my NEXO Review, feel free to give this article a thumbs up and share it on social media..