In this article I am going to show you how to buy dedicated hosting with crypto from one of the best European hosting providers – SNEL Hosting.
SNEL Hosting is based in Amsterdam, Netherlands and offers a variety of hosting plans from Shared to VPS to Dedicated Servers.
Shared hosting was only introduced recently in their portfolio since these guys where focusing only on clients that wanted VPS and Dedicated Servers only.
This is also the main reason why I recommend them. Because focus gives you an edge over your competition.
And since you are looking for how to buy dedicated hosting with crypto, I think you should partner with some of the best the industry has to offer.
Anyway, enough fluff.. Let's jump straight to the tutorial.
How to Buy Dedicated Hosting With Crypto
Click here to visit SNEL Hosting. (Opens in new tab)
Click on the Servers & VPS on their main menu and then click on the Managed Dedicated Servers.
Why not choose Enterprise Dedicated Servers or Budget Dedicated servers?
You can choose whatever you want. I personally prefer managed dedicated servers because I can enjoy peace of mind. SNEL handles all the monitoring and maintenance of the server so you can focus on your online business.
On this page, choose the dedicated server that meets your needs. You can also use the filters above to filter through your options. After you decide which dedicated server you want, click the CONFIGURE button to move to the next step.
This page is the configuration page. You can customize your dedicated server according to your needs. Note that this is an optional step. But, i suggest you go through all your options. You might see something that you need changing.
Here's what you can customize. You can:
customize your ECC Registered Memory,
customzie the storage of your drives,
customize your preferred RAID card
choose between various combinations of bandwidth plans
choose your preferred amount of IPv4 addresses
choose your preferred Operating System
Lisences
control panel
Before you proceed with your order, you may want to use this SNEL Discount Code: CSDED1. It will save you 1% on top of any other discount you are eligible for. It is important to note that the coupon needs ACTIVATION to work. You need to visit SNEL via this link in order for the discount code to work.
In the next step, you are going to get asked to create an account with SNEL. The process is super easy. Just click on the create account button, complete all your details, hit next and follow all the necessary steps. After you finish the account creation process, you are going to be redirected to the Configuration page again (above screenshot). Click the Order now button to proceed.
Next, you'll see a brief message with your details. Click the continue button to proceed.
The next page will be your SNEL account dashboard. For your payment method choose Crypto. Then scroll a bit down and click the Checkout now button.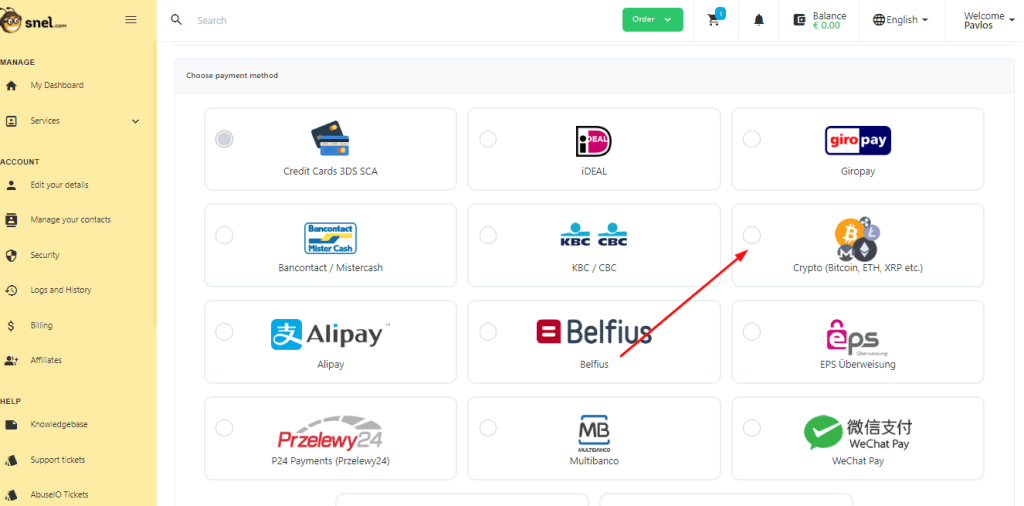 As soon as you click the Checkout now button you'll get redirected to a Coinpayments payment gateway. Choose your preferred crypto that you want to pay for your dedicated server and click the "Complete Purchase" button.
MONERO?
Yes, with SNEL, you can buy your dedicated server plan with Monero for a complete anonymous transaction.
This is the final step. As soon as you hit that Complete Checkout button, you will be redirected to a page to pay with your crypto. The page will feature a QR code which you can scan to send your crypto and the address, which you can copy and paste to your crypto wallet.
The confirmation process usually takes 10-45 minutes but varies based on the coin's target block time and number of block confirms required – so be patient.
— THE END —
---
So this is it. This is how you can buy a dedicated server with crypto.
SNEL is my go to place for Dedicated servers and VPS and I highly recommend them.
Also, the steps might seem a bit to much, but trust me, its a really simple process.
Don't forget that if you want to take advantage of our unique SNEL discount code (CSDED1)(1% OFF recurring), you have to visit SNEL via our special partner link. Click here to visit SNEL.
Finally, if you enjoyed reading this guide on how to buy dedicated hosting with crypto, feel free to share it across the web. It really helps.
READ ALSO