Twitter user (@IamNomad) revealed that a single crypto address has been responsible for at least 50% of the Bitcoin Cash (BCH) transactions in the last 28 days, reported Cointelegraph.
This one address accounts for over 50% of $BCH transactions in the last month.https://t.co/eSfJswoZqN

— I am Nomad (@IamNomad) May 5, 2019
BCH address qqrxa0h9jqnc7v4wmj9ysetsp3y7w9l36u8gnnjulq first receive BCH on April 4 and has since made 598,435 transactions. This accounts for 50% of the total 1.17 million transactions made on the Bitcoin Cash in the last three weeks.
The balance of the account (as of Monday 6 pm) currently stands at 4.29812196 BCH ($1,231.63) and has received 81.21829627 BCH ($23,273.10) during this period.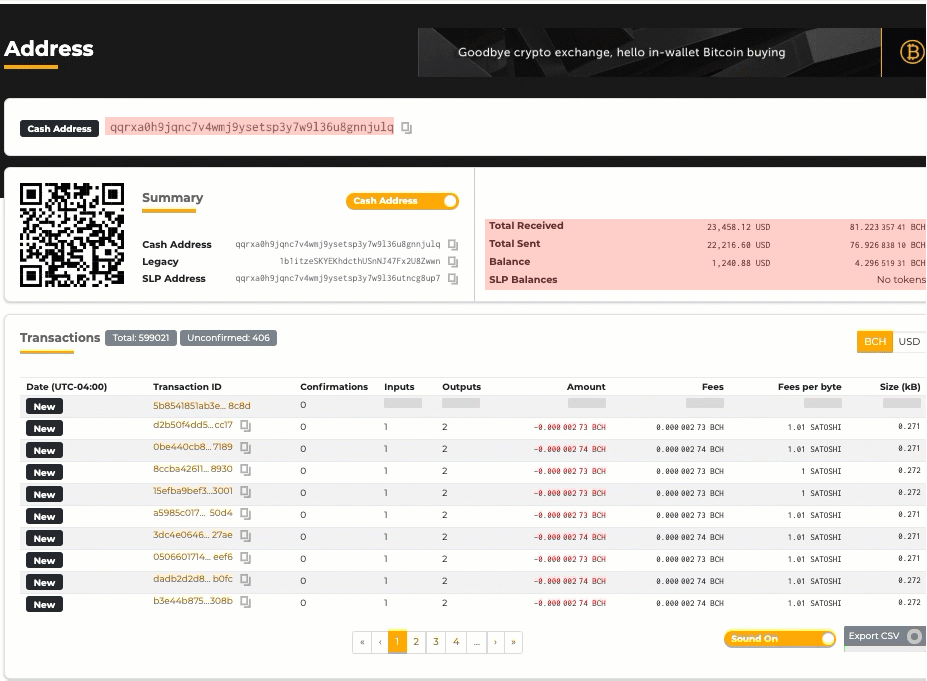 Another Twitter user (@djangobits) believes the account could be connected to a Transaction Volume Booster (TVB). He tweeted:
"It's the TVB, the transaction volume booster. You don't want to make your cryptocurrency look useless, right."
We made a video and condensed the file into a GIF, showing a 10-second burst of at least ten transactions with an average value per sale value of .00000273 BCH.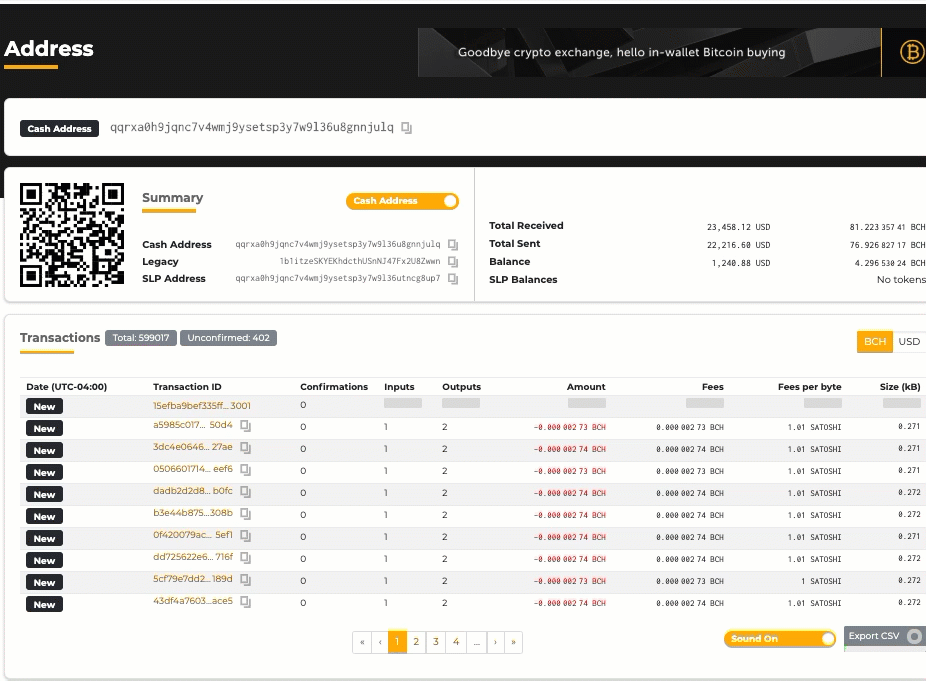 Glancing through Monday's time and sales – most of the transaction amounts average .000273 to .000274 BCH every few seconds on the blockchain. With transaction fees virtually non-existent on Bitcoin Cash for this dollar amount, the consistent transactions have overinflated volumes, deceiving investors of real activities on the blockchain.
A hard fork of BCH is scheduled for May 15, with a scaling and privacy code change being enforced to improve its privacy and scalability, said Cointelegraph.
Several days before the mysterious BCH address came online, the coin surged 104.64% in 43 hours – the goal of the address with thousands of trades per day is to make the cryptocurrency look attractive, thus allowing some whale to dump the remaining of their coins onto unsuspecting retail. Thanks for play.