CB Insights, a company that provides a technology market intelligence platform that, "analyzes millions of data points on venture capital, startups, patents, partnerships and news mentions," has noted a stark decline in mentions of the term "blockchain" in quarterly earnings calls.
According to the firm, "If executive mentions on earnings calls are any indication, it looks like blockchain's best days are behind it after peaking in the 1st half of 2018."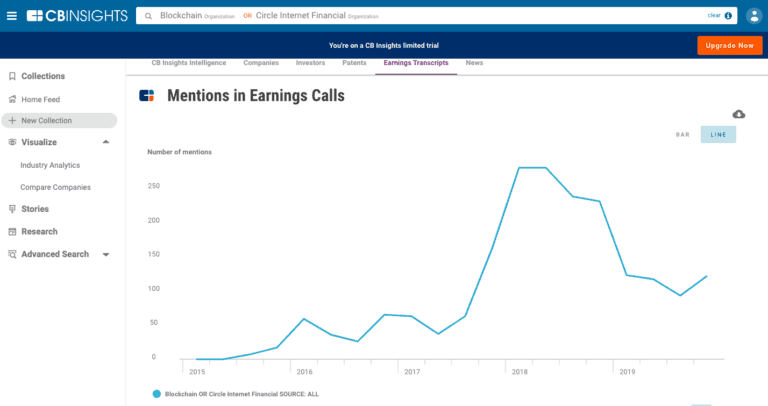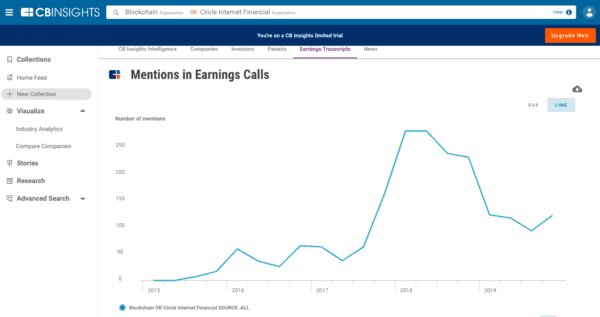 CB Insights site, which can be trialed for free, also shows a big decline in mentions of the term "cryptocurrency."
Mentions of that word tend track use of the other term but tend to spike up and down more than "blockchain," which is regarded as a more mainstream word.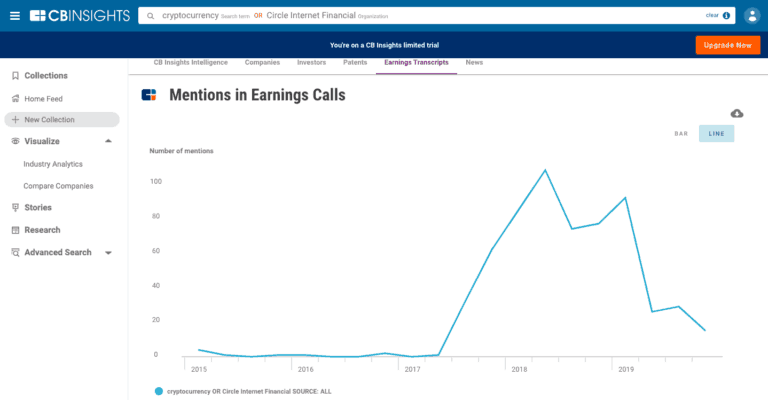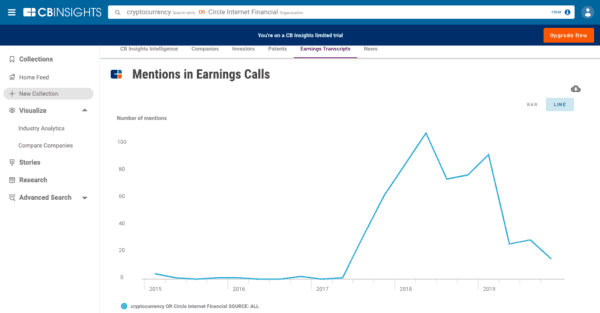 According to the CB Insights website, the company's data is used by Cisco, Citi, Comcast, GE, Microsoft, Red Hat and Sequoia, among others.
During the year or so leading into the crypto bull market of 2018, when Bitcoin achieved an all-time high price of $20 000 USE, "blockchain" technology was being widely touted as capable of revolutionizing and "disintermediating" (cutting out "middlemen" in) almost every industry that uses a database.
Thousands of nascent companies used Ethereum's Bitcoin-like system to raise money directly from retail investors in the hopes that the tech would be regarded as important and novel enough to escape laws prohibiting the unlicensed sale of securities.
Some projects, like Ethereum and EOS, appear to have proven themselves "decentralized" ("public") enough to have gotten away with it. Public or no, Ethereum and EOS founders are now multimillionaires, by the way.
Many other ICO-funded (initial coin offering-funded) projects have been sanctioned by the SEC for issuing unlicensed securities. Most of the remainder, after failing to deliver viable products, took down the shingle and bowed out, leaving investors holding the bag.
Ethereum founders have worked hard to develop "enterprise blockchain" applications. Walmart appears to have successfully implemented a DLT (distributed ledger or shared database) system for its trucking supply chain in Canada.
But many financial firms are likely finding, as critics have long suggested, that an expensive and slow blockchain like Bitcoin's is simply not needed in a private setting.
Bitcoin was engineered to make it resistant to control and destruction, but to do this, it uses very dense encryption that is expensive and slow to produce.
To make matters worse, every computer in the network maintains a long duplicate record of every transaction ever sent in the coin's histor. Then every computer competes in a math-grinding periodic guessing game for the chance to win a "block reward" of bitcoins for going to all that trouble.
There are estimates that it costs $5000 to produce one bitcoin. As well, a single Bitcoin transaction can reportedly consume as much energy as 20 loads of laundry washed and dried.
By comparison, a single Visa transaction costs about 6 cents USD to produce.
If bubble-driven, minimally-informed or technically-agog mentions of blockchain have indeed diminished in earnings calls, this is probably a good thing.