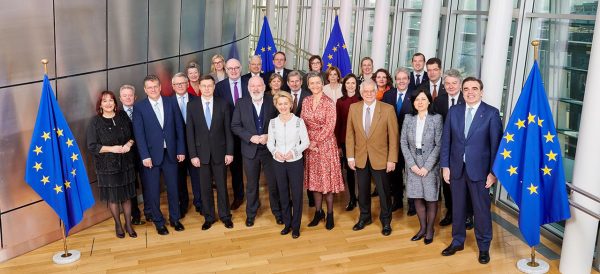 Yesterday the European Commission announced the launch of two consultations. The first is on digital or crypto-assets including stablecoins. The second is on cybersecurity.
The consultation on digital assets is due to President Ursula von der Leyen determination to keep abreast of innovation in the sector. According to the consultation:
"[it is] crucial that Europe grasps all the potential of [the] digital age and strengthens its industry and innovation capacity, within safe and ethical boundaries. Digitalisation and technology is significantly transforming the European financial system and the way it provides financial services to Europe's businesses and citizens. Almost two years after the Commission adopted the Fintech Action Plan in 2018, the actions set out in it have largely been implemented."
EU Executive Vice President Valdis Dombrovskis is working towards a new "Digital Finance Strategy for the EU," according to von der Leyen.
"Key areas of reflection include deepening the Single Market for digital financial services, promoting a data-driven financial sector in the EU while addressing its risks and ensuring a true level playing field, making the EU financial services regulatory framework more innovation-friendly, and enhancing the digital operational resilience of the financial system."
Dombrovskis commented on the two consultations:
"We want to ensure that our financial sector is vibrant and safe. We need to get feedback about how to make digital finance more robust against cyber attacks and other new types of risk. We also want to be open to financial innovation, so that the EU builds scale and can compete globally in the payments market. That means we need to develop a common approach on crypto-assets, while addressing risks in a proportionate way. We therefore invite investors, banks, supervisors, consumers and other stakeholders to share their views on how the financial sector could benefit from digitalisation in a safe manner."
The consultation on crypto assets will remain open until March 18, 2020. Cybersecurity closes on March 12, 2020.
Obviously there is a strong relationship between the two consulations.
We've just launched 2 public consultations on #cybersecurity and #crypto assets. Our aim: to have common EU rules to ensure our financial sector is vibrant, competitive and safe. More here? ⁦@EU_Finance⁩ @EBA_News⁩ ⁦@ESMAComms⁩ pic.twitter.com/madzrq0xak
— Valdis Dombrovskis (@VDombrovskis) December 19, 2019