Crypto and Blockchain Crucial For Venezuela, Argues CSIS
Cryptocurrencies and blockchain are helping with the humanitarian crisis Venezuela is facing. And the Center for Strategic and International Studies (CSIS) argues their use should be encouraged.
Also see: Basis Stablecoin Project Bites The Dust Before Launch

Subscribe to the Bitsonline YouTube channel for great videos featuring industry insiders & experts
The Maduro Government's Economic Monster
Diphtheria and measles had been a thing of the past in Venezuela. They've now made a comeback. Hyperinflation expected to reach one million percent by the end of 2018 has ravaged one of the world's richest oil nations. Almost one-and-a-half million Venezuelans have fled the country, most across informal crossings into neighboring Colombia.
Maduro's Venezuela is facing a humanitarian crisis rivaling those in war torn Syria, Yemen, and South Sudan. The CSIS believes cryptocurrency and blockchain technology can help. And no–they're not talking about the sanction-busting Petro.
If Blockchain Is a Solution Looking for a Problem, Maduro Has Created One
The CSIS is a nonpartisan institution that examines international public policy issues. The think tank argues that blockchain technology could be used by Colombia to help asylum seekers integrate into society by providing digital identification services.
The use of blockchain to help refugees has been successfully deployed in Finland to help newly arrived immigrants, with IDs linked to prepaid Mastercards. Blockchain technology can also be used to assist in the transparent distribution of the aid in which most Venezuelans are in desperate need.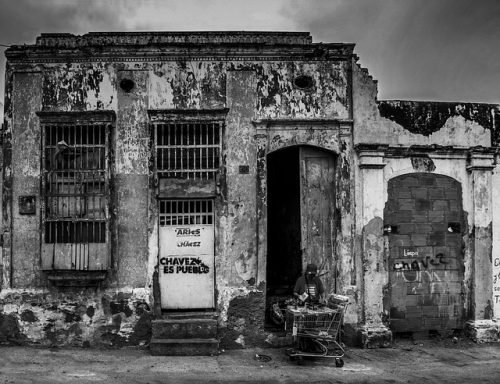 Crypto to Evade the Crypto That Evades Legitimacy and Sanctions
Venezuelans trust the Petro about as much as they trust their government and their national fiat currency. The use of cryptocurrency is rising among Venezuelans seeking trustless ways to exchange cash on a peer-to-peer basis. Venezuela represents almost 12 percent of total bitcoin trading worldwide:
Where Is Your Country On This List? ?#bitcoin #btc #blockchain #crypto #cryptotrading #ethereum pic.twitter.com/4ZgiveY6Lu

— TheCryptoTimes (@TheCryptoTimes_) August 23, 2018
Dash has proven particularly popular among merchants.
Crypto is also the most viable method for the Venezuelan diaspora to send funds home to family and friends. Remittances are now the country's second most important industry behind oil. Crypto remittances allow people to send money home outside of the Maduro government's control.
Humanitarian campaigns such as EatBCH are using the pseudonymity and efficiency of cryptocurrency to send aid to those suffering food shortages. Bitcoin Venezuela is using crypto to feed those in need in the South American nation.
Censorship-resistance is a consistent argument against crypto cited by skeptics who see it as a proxy for criminality. Clearly, examples like Venezuela's prove that freedom from predatory governments is a positive feature of cryptocurrencies, not a flaw.
Sound off below. Can crypto help Venezuelans endure their disastrous government?
---
Images via Pixabay