Last week, a devastating rainstorm in China's Sichuan province triggered mudslides, forcing local hydropower plants and cryptocurrency miners to halt operations, reported CoinDesk.
Torrential rains flooded some parts of Sichuan's mountainous Aba prefecture last Monday, with mudslides seen across 17 counties in the area, according to local government posts on Weibo. 
One of the worst-hit areas was Wenchuan county, China Daily reported. The flooding knocked out local power stations and severely damaged communications infrastructure in the region. 
Several major cryptocurrency mining facilities in Wenchuan were destroyed, with the Twitter account Poolin posting footage of the destruction. 
A local mining farm based in Sichuan, China was DEVASTATED by the recent heavy rainfall in the region, video attached 1/2 pic.twitter.com/CvdEAUeq3x

— Poolin (@officialpoolin) August 21, 2019
The mining pool operator said rainstorms led to dangerously high levels of water in local reservoirs used by local hydropower plants, which forced several power stations to reduce energy generation. This, in return, knocked out energy for miners. 
Red Li, the co-founder of 8BTC, also posted a video of the mining destruction. Li said: "Some mining facilities were wiped out by a flood in Sichuan yesterday."
Some mining facilities were wiped out by flood in Sichuan yesterday. pic.twitter.com/lZ12tapVga

— Red Li (@redtheminer) August 21, 2019
At the moment, it's still unclear how many bitcoin miners were taken offline last week. 
Low-priced hydroelectricity in Wenchuan county has attracted bitcoin miners in recent years, which some miners, as shown in the videos above, set up facilities next to flood-prone areas. 
Bitcoin mining data from Aug. 19 to 21 [period of the flooding] showed a slight move down in the hash rate but nothing that warranted a red flag. It appears the hash rate of the blockchain was unfazed with a bunch of miners getting wiped out in China. One could say the network was resilient.
Late last year, we reported how the hash rate plunged -35% from Oct. to Dec. Now the hash rate is setting new record highs. 
Bitcoin's hash rate continued to break previous records throughout summer, hitting a whopping 76 TH/s last Sunday.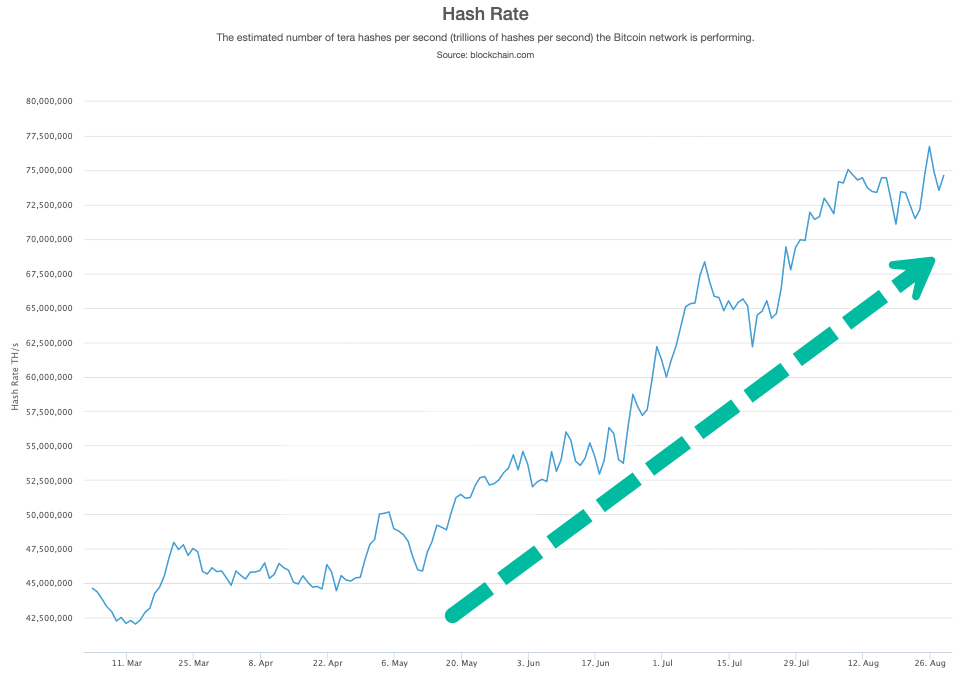 Bitcoin investor Max Keiser tweeted earlier this month: "Price follows hash rate and hash rate chart continues its 9 yr bull market. #Bitcoin." 
Price follows hashrate and hashrate chart continues its 9 yr bull market. #Bitcoin pic.twitter.com/Rh49V9gaJw

— Max Keiser, tweet poet. (@maxkeiser) August 8, 2018
The argument is that the higher the Bitcoin hash rate, the more secure the network, and the higher the confidence of market participants, which would result in increased demand for the coins. 
Therefore, Keiser argues Bitcoin could soon be a catch-up trade to network fundamentals.