Ironically on what has become known as Safer Internet Day, users of Bitdefender Antivirus are reporting today that the security software has suddenly stopped working. After installing an update, Bitdefender users are seeing errors that state "Bitdefender Security Service has encountered a critical error!" or "The Bitdefender Security Service (vsserv.exe) is unavailable at the moment" .
Both of these errors appear to be caused by a new update pushed by Bitdefender that has caused the program to not be able to communicate in some manner with the vsserv.exe executable. This executable is part of the Windows service called Bitdefender Virus Shield. 
User's on Bitdefender's forums have reported installing a routine update, which then caused an error to appear that stated "Bitdefender Security Service has encountered a critical error!".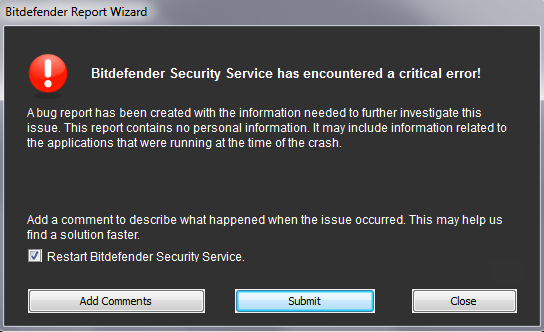 On reboot, Bitdefender would then show the following "Bitdefender services are not responding" message, which further indicated that it was problem communicating or connecting to the vsserv.exe executable.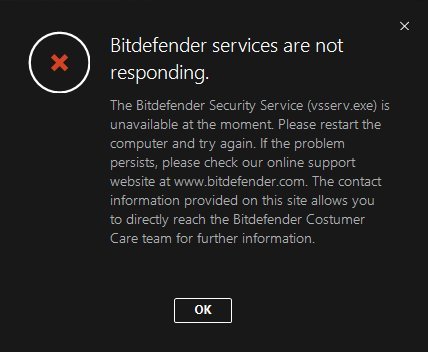 According to a statement provided by Bitdefender, this issue was caused by an update not being completely delivered by certain customers. The full statement is below.
Earlier today a number of Bitdefender customers running consumer and GravityZone business products on Windows were presented with an error report regarding the unexpected stop of vsserv.exe.
An engines update (version 7.74880) scheduled earlier today was not completely delivered to some customers, which caused the engines to report the error. Our automated quality control mechanisms retired the update immediately and rolled back the engines to the previous good configuration (engines version 7.74879).
The update was online for 15 minutes and was received by a limited number of users.
During this window, no files were lost or removed from the devices. The rollback reverts the effects of the update and is delivered automatically. In order to expedite the rollback, you can manually force an update via the product's user interface.
How to fix the Bitdefender Security Service error
According to users in the Bitdefender forums, a fix has been pushed that supposedly resolves this issue.
If you are receiving either of the two errors above, you need to install a new update that has recently been pushed out by Bitdefender. To do this, right click on the Bitdefender icon on your desktop's system tray and then select the Update Now as shown below.
After the update is installed, the BitDefender icon should turn from grey to red (
). Once it turns red, reboot your computer. Some people have reported that if your icon does not turn red after installing the update, you should reboot anyway. 
Once you reboot and login, your Bitdefender icon should now be red and your screen should look like the one below.
Update 2/6/18 3:15 PM EST: Updated to include a statement from Bitdefender.